As far as tradition goes, not many schools stack up to Ohio State. From Script Ohio to "Hang On Sloopy" to Skull Session, Saturdays are full of rituals that date back decades.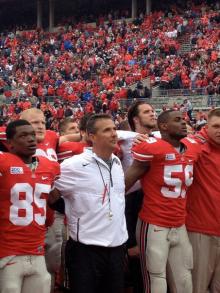 Now another will be added to the list, and it includes 29,000 Ohio State students. Head coach Urban Meyer and strength coach Mickey Marotti will lead the team down to south stands 23 minutes before kickoff to go through "quick cals," a set of calisthenic exercises the team does during every practice.
The Buckeyes' five captains, along with Marotti, did a demonstration for incoming freshman at Ohio Stadium. The drill, similar to the Haka, a famous New Zealand war cry, has a high degree of difficulty, especially for a group of students with limited experience.
"We kept thinking of ways to get the students involved," Meyer said. "Sometimes, not always, but we lose sight of why we do what we do. One is to enhance the collegiate experience. I love students. That's a big reason why I do what I do and our coaches do what they do. We believe in that.
"This was what I wanted to somehow tie the students in with our team. We sent out 50,000 or 60,000 emails with a YouTube video on it. Everybody has a dream. My dream is to see that entire stadium before a big game getting ready to rock and roll with 23 minutes left. The last thing we do before we go in the locker room is address our student body with some kind of energy."
One of Meyer's heroes, Woody Hayes, started an OSU tradition in 1968 that has since morphed into one of college football's signature images: buckeye leaves scattered about a silver helmet.
Shockingly, Meyer will continue this grand tradition. OK, maybe it isn't a shock. But when the question was posed to Meyer on Monday, he was able to find humor in it.
"That's a correct assumption. We'll continue the Buckeye leaves," he said. "Could you imagine that? I would need security everywhere I went."
The criteria for earning a leaf has undergone a slight change, but Meyer has put an emphasis on the honor being a defining moment each week for the team. 
"Buckeye leaves are something I remember," he said. "I have two former players on my staff, and I love the Buckeye leaves. I want it to mean something to them. We'll call them up in the front of the room. I remember back when Coach Bruce did that in 1986. I just sat back there and said, 'Wow, we got eight Buckeye leaves. It will be a huge deal.
"We changed it, adapted it a little bit. I want to make sure I'm not doing something that I wasn't supposed to with all the former players. It was approved.  It's a little different. We have team and individual awards like they've always had. But it will be a little different. (Earning a buckeye leaf) will be one of the biggest sources of inspiration and pride we have."
Two traditions started by Jim Tressel – the walk from the Blackwell to St. John Arena for Skull Session and the singing of "Carmen Ohio" following the game – will also continue under Meyer.
"This is a school where you don't have to create a whole lot of traditions," Meyer said. "We're honored to be able to keep the traditions that Coach Tressel started.
"I've never witnessed (the team walk to St. John). It's a great idea, and I can't wait to be a part of it."
At the spring game, Meyer required guidance from former Buckeye offensive lineman Kirk Barton on the postgame ritual of singing the alma mater. 
"Where do I go, what do I do?" Meyer asked. "He said, 'You park it right here (in front of south stands) and look at the scoreboard.'"
MACtion
Urban Meyer is no stranger to the Mid-American Conference. He coached in the league for two seasons at Bowling Green and faced MAC teams during his time at Florida.
The Miami RedHawks, in particular, have been a thorn in Meyer's side. In 2001, they were one of the Falcons' three losses on the season, as Miami topped Bowling Green 24-21 at Doyt Perry Stadium. It was Meyer's only home loss during his BG tenure.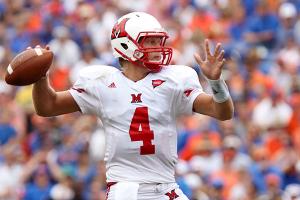 He avenged that loss in 2010 when Miami traveled to Gainesville, but it was the ultimate test. In the first game for the Gators post-Tim Tebow, the RedHawks led 3-0 at the end of the first quarter and only trailed 21-12 in the fourth quarter. Florida pulled away, though, for a 34-12 win.
"I know Miami very well," Meyer said. "I have a great deal of respect for them as a university. I know the history and tradition, and I also know their coach and their quarterback. I've been watching them play. It's going to be a good challenge for us."
Miami quarterback Zac Dysert finished the 2010 contest 25-of-44 for 191 yards, but he threw four interceptions with zero touchdown passes. He has since improved on that stat line.
In 2011, Dysert threw for 3,513 yards, second-most in school history, and 23 touchdowns. His 8,530 career passing yards trail only Ben Roethlisberger on Miami's all-time list. Needing only 2,229 yards, Dysert is a shoo-in to overtake Roethlisberger.
"That quarterback is a tremendous player," Meyer said. "And that receiver (Nick Harwell) is really good. Those two kids can play anywhere in America."
Ohio State's secondary was a point of contention a season ago, and they should be tested immediately with Miami's pass-heavy offense.
"Our secondary has some experience," Meyer said. "I can't say they played great (last season). Scheme-wise Miami will challenge us. They do things to put you in tough situations. Hopefully we're able to get after quarterback a little bit."
COMEDY HOUR
Jim Tressel's job was to win football games, and he did it well. But his press conferences were generally uneventful and containing few comical anecdotes.
During Meyer's first weekly press luncheon, there were several moments that drew laughter, including Meyer reflecting on the two times he's been fired – once by Ohio State.
"At Ohio State, I was a graduate assistant but we still got thrown out," he said. "And I was 27 years old and got fired at Colorado State. Shelley was seven months pregnant, too. It was a bad deal. It makes you want to work that much harder."
Since he left Fort Collins, Colo., in 1995, Meyer has had four jobs (not including Ohio State), three of which have been head coaching positions. He's left each on his own terms.
After five seasons as Notre Dame's wide receivers coach, Meyer took his first head coaching job at Bowling Green. Two highly successful years gave way to an even better two seasons at Utah and then the apex of college football at Florida for six seasons.
Ohio State earned the infamous nickname "The Graveyard of Coaches" for the revolving door policy from 1944-50. Carroll Widdoes, following the 1945 season, was the last OSU head coach to leave on his own accord. Three of the schools most legendary coaches, Woody Hayes, Earle Bruce and Tressel, were all fired or resigned under pressure.
When the subject was broached Monday, Meyer cracked, "What are you getting at? I haven't coached a game yet."
"I want to work on getting this team ready for Miami Ohio. I'm not worried about what's the legacy, what's this, what's that. I want to make the great state of Ohio proud and win this darned game coming up and look good doing it."