Monday marks the true beginning of the season: the first game-week practice and, of course, head coach Urban Meyer's first media luncheon. The Ohio native revealed a great sense of excitement for running on to the Ohio Stadium turf and even hinted at making sure he's focused on what's going on on the field instead of the crowd around him.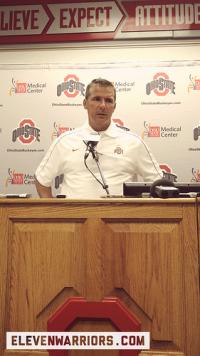 The last time Meyer ventured into the Horseshoe was for last season's opener. A lot has changed in the past year, the most important of which is quarterback Braxton Miller's maturity. Meyer highlighted that today and also revealed that Nathan Williams is expected to see game action on Saturday. 
There were no Earth-shattering revelations, with the entire starting unit healthy. However, freshman running back Warren Ball appears headed to a redshirt season after suffering a mid-foot injury that required surgery. He is out indefinitely. 
Meyer says he is very excited about running out of the tunnel at Ohio Stadium on Saturday. Meyer said he is honored to be the coach at Ohio State and coach in the great state of Ohio.
Meyer said he has a set of notes to keep him from being distracted when "Hang On Sloopy" plays. He said "I'll be coming out of my shoes a little bit" and that it'll be an emotional time.
Having coached for two seasons in the MAC, Meyer is very familiar with the Miami program. He commented on the history and tradition and said the RedHawks are a well-coached team. Meyer said Miami should be a good challenge.
Meyer wanted an angry team and he believes he has that. He said they have been chomping at the bit and are ready to go play.
Entering game week, Meyer said some areas of the team are stronger, others still need work. He said talent-wise the Buckeyes have the potential to be a really good team.
To be a great team, Meyer believes some positions have to step up with offensive skill being the obvious one.
Nathan Williams should be available Saturday. Meyer said today is a big day for his progression, but he should play on a limited basis.
Corey Linsley, Carlos Hyde and Philly Brown made the biggest jumps, according to Meyer.
Meyer said Linsley went from being a nobody to being the apex of the offense. The center position in Meyer's spread offense has to be a "grown man," Meyer said.
Meyer said there was no blame-game with Linsley. He took ownership of his problems.
On defense, Garrett Goebel and Travis Howard stuck out to Meyer as the most improved players.
Meyer raved about Howard and said Kerry Coombs' coaching style contributed to Howard's rise.
The team will practice in full pads today and tomorrow and go to shoulder pads only on Wednesday and no pads on Thursday if the team practices well. Friday is reserved for a walk-through.
Meyer's Tuesday practices are known as "Bloody Tuesday." He classified them as awful practices that work the team to the brink.
Fourteen freshmen are listed on Ohio State's two-deep. Meyer said that's normal at big schools now. They recruit guys who can play immediately.
There will be three true freshmen on the kick coverage unit.
Meyer said the things that have stuck out to him in regards to Braxton Miller are his leadership, urgency and the way he attacks preparation.
Braxton has come a million miles from last season, Meyer said. The goal now is to make him a quarterback who's a good athlete.
Comparing him to past quarterbacks, Meyer said Miller reminds him mostly of Chris Leak based on their evolution as leaders.
Meyer said Miami QB Zac Dysert and WR Nick Harwell are good enough to play at any school in the country.
Everyone is aware of Jim Tressel's fondness for special teams, but Meyer is similar. He said they want to be a punt-block team. The special teams philosophy will not be a drastic change, according to Meyer.
Asked about the Buckeye Leaf tradition, Meyer said it will continue. "Could you imagine that," Meyer said laughing. He said he'd need security everywhere he went.
Meyer said he's going to make the handing out of buckeye leaves a big deal. Players will be called out in front of the entire team. It'll be one of the biggest sources of pride and inspiration for achievement, Meyer said.
Another tradition that will continue is the walk from the Blackwell to St. John Arena for Skull Session.
Reid Fragel and Taylor Decker were neck-and-neck, but ultimately Fragel was a smidge ahead.
Ed Warinner contributed Fragel's veteran status as a big reason in why he's the starter.
Decker will play Saturday. He will be the first backup tackle (right or left) into the game.
Warinner said Linsley has embraced the new regime and is a hard working, blue-collar guy.
On offense, the WRs have made great strides, Warinner said. The passing game, as well as the development of the QBs and receivers, continues to evolve.
Warinner said he recruited Chase Farris during his stint at Notre Dame. From that experience, Warinner was aware of the potential Farris had at O-Line, so he came up with Farris' move from defense to offense.
Jacoby Boren is 100 percent.
Warinner said the Buckeye O-Line is the best conditioned unit he's ever coached and possibly the best conditioned in the country.
Kyle Dodson is nearing redshirt territory, according to Warinner. He said he's got great potential but is still a year away from being Big Ten ready.
Another player that will likely be redshirted is running back Warren Ball. He had surgery on a mid-foot injury and is out indefinitely.
Being at middle linebacker, Curtis Grant occupies the "quarterback" of the defense spot. Everett Withers said he's grown comfortable into the role of calling plays.
Withers said the starting linebackers have all had a good camp, but that position is more about developing the young guys and producing depth. Every backup at LB is a freshman.
Nathan Williams' leadership and and on-field production will provide a big lift to the team, Withers said.