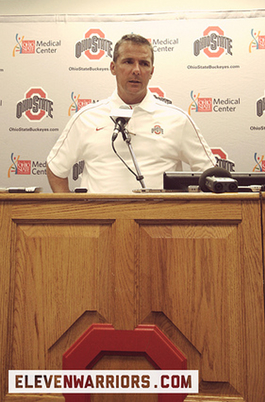 Ohio State's annual media day took place Sunday afternoon. Among the interviews to take place was the head coach's "State of the Program" speech. Through one week of practice, Urban Meyer is pleased with what he has seen. But to become elite, he knows strides still need to be made. 
The biggest news out of Ohio State this afternoon centered on Jake Stoneburner. The previously suspended tight end is now a reinstated wide receiver. Because of Stoneburner's versatility and the emergence of Jeff Heuerman and Nick Vannett, Meyer feels moving Stoneburner to an underwhelming wide receiving corps is warranted. 
Urban Meyer compared the taking over of Florida and Ohio State, saying the transitions were very similar. Both are big schools and Ron Zook and Jim Tressel were good coaches.
Through one week of practice, Meyer said the quarterbacks are on schedule. He said the level of play is much different from the spring.
Meyer called Carlos Hyde "really solid." He said Hyde has caught his eye and stepped up in camp. Meyer said he's been one of the biggest surprises.
On defense, Meyer singled out Joel Hale as a surprise performer. Meyer said you have to give him credit for where he was in the spring to now.
Meyer said Ohio State had arguably the best linebackers in the country in the past decade. He said he didn't see that kind of unit last year. Meyer said Etienne Sabino and Ryan Shazier are two guys that have been great in the spring and fall. He said Curtis Grant has to keep improving.
At yesterday's scrimmage, Meyer said David Perkins was "great." Meyer described Perkins as a "fly and hit someone guy." Meyer said he is a guy you want and that he will play this season.
Most Improved Player: Meyer mentioned Carlos Hyde, Marcus Hall and Nick Vannett.
Meyer said Vannett is going to split time with Heuerman. Meyer called Vannett not functional in the spring.
Vannett studied the playbook all off season and worked a lot with Tim Hinton, Meyer said.
Jake Stoneburner is now officially a wide receiver.
Meyer and the entire offensive line raved about the coaching of Ed Warinner. Players have talked about how much he's improved their on-field knowledge. 
Right tackle is still a battle. Meyer said it's not a battle between all-Big Ten players. "The production is not where it needs to be."
Meyer phrased the quarterbacks as being "caged tigers." He said they are limited in practice because of restrictions and their style is changed because of that.
Scrambling was a topic of conversation. Meyer said there is difference between scrambling while running and scrambling with your eyes down field. He said they practice the art of scrambling often in practice.
Meyer said he wouldn't mind coming up with package where Braxton and Guiton are on the field at the same time.
He added that neither knows about the possibility.
Meyer deemed the wide receivers "not Ohio State caliber" yet. He did say Devin Smith, Philly Brown, Michael Thomas, Verlon Reed, and Jake Stoneburner were performing well.
Evan Spencer's injury is not as severe as though. Meyer said he will be back this week.
The wide receivers have numbers but are still improving on quality, Meyer said. He added that he is much more optimistic about the position.
Meyer said Bri'onte Dunn and Rod Smith are in a battle for the backup running back spot.
Meyer wants team players and he said everyone better hand the ball to the official. He said if they don't, it will be the last time they score.
Meyer said this week will be the hardest week of camp. He said it will make or break the team.
Meyer started using the black stripe at BG to stop hazing. But he said every program has some sort of initiation. Meyer said the coaches and players love it. "It's a rite of passage." Meyer said guys who are committed tear up and it's emotional when the stripe is removed. De'Van Bogard and Noah Spence are the only two who have had their stripes removed.
Nathan Williams' return takes the Ohio State D-Line to another level, Meyer said. He said it will be an SEC line. "If you want a bad football team, have a bad defensive line."
Meyer called John Simon as good a player as there is in college football. Also said "Oh Boy" when Adolphus Washington was mentioned.
Bradley Roby is a great player, but Meyer said he hasn't stuck out until the most recent practices. Meyer said Roby is a different person. "He's grown."
Ohio State's move to semesters is a disadvantage. Previous coaches told Meyer that they could have the players 24/7 before.
Najee Murray is no longer a candidate for the No. 3 hybrid position. He's too good on defense, Meyer said.
Jordan Hall is ahead of schedule in his recovery. He's currently wearing a walking boot.
Meyer said he has plans on paper for the offense and defense once Hall and Williams return.
Asked about Honey Badger, Meyer said he tells his players 1,000 times to stay out of trouble and that it can happen to anyone.