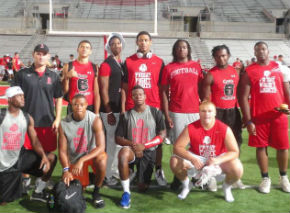 Ohio State scored commitments from two offensive linemen in the 2013 class when Centerville (OH) star Evan Lisle committed back in February and Lawrence Central's Timothy Gardner committed to the Buckeyes a couple of weeks ago.
With the staff likely to take only one, if any, more offensive lineman for this year's class, they are starting to turn their full attention to prospects at the position in the class of 2014.
One of the top rising junior targets the coaches are looking at is Chicago (IL) De La Salle Institute OT Jamarco Jones. Standing at 6-5/290, Jones is considered by many to be the top player at his position not only in the state of Illinois, but also across the entire Midwest region.
The mammoth lineman made his first trip to Columbus back on June 10, when he earned an offer from the Buckeyes following his camp performance. Jones had good things to say following that trip and made a return visit to OSU with his training group, Core 6, for Friday Night Lights. 
We caught up with Jamarco to learn about his FNL experience, his overall interest level in Ohio State, what his timetable is to make a decision, and more. Keep reading to find out more about rising 2014 offensive tackle, Jamarco Jones.
You were at Ohio State for Friday Night Lights. How did it go?
It went well. There were a lot of former players there. I got to work with Orlando Pace and Coach Warinner more.
How did you like working with Orlando Pace?
It was great learning from one of the best tackles to ever come out of Ohio State and a guy that was a great NFL player. It was a great experience.
What did the coaches tell you while you were on campus?
They were just giving me advice about my game and telling me they wanted me to be a Buckeye.
Who is your primary recruiter?
Coach Vrabel. He talks to me about my high school team and also gives me tips on ways to improve my game.
Are any schools standing out at this point?
Not now. I'm keeping all my options open.
Do you have a timetable to make a decision?
I don't have a set timetable. I'll decide when the time is right and when there's a clear cut leader out of all the schools that have offered.
Is it likely you'll stay in the Midwest to play college ball?
It's definitely a possibility. It wouldn't bother me going away. It's just whichever school is best for me.
Which schools are expressing the most interest right now?
Illinois, Indiana, Iowa, Michigan, Michigan State, Northwestern, Notre Dame, Ohio State, Purdue, Iowa, and Toledo have all offered. Florida and Oregon are showing interest as well.
What will be the biggest factors in making your decision?
First off, academics is key because there's life after football. I want to go to a school where I can earn a good degree. My relationship with the coaching staff will also be important.
Have you and your teammate, Mikale Wilbon (stand out 2014 running back), talked about going to the same college?
We've talked about it. We have a lot of the same schools looking at us and are looking for the same things in a school. It could happen.
Do you have any other planned visits?
I want to try to visit a few schools before the season starts. I also want to go to games at Ohio State, Michigan State, Michigan, and other teams close by. So, basically Big Ten schools and Notre Dame.
What goals do you have for your junior season?
I want my team to win our conference and win a state championship.
HIGHLIGHTS: