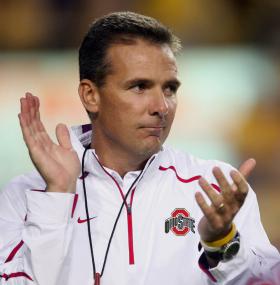 Well, the day has finally come. At 6 a.m., Ohio State's veterans reported to Camp Urban. Football runs deep in the state of Ohio, and with the start of the high school, college and professional seasons, the air is thick with anticipation.
The beginning of the Buckeyes' fall camp is always a momentous occasion. It's usually because a national championship is within reach, though last year it was for all the wrong reasons. 2012, however, is all about a renewal under Urban Meyer. Ohio State faces a bowl ban, making a national title a long shot, but the Buckeyes still feature a talent-laden roster.
August always brings a smorgasbord of questions. Leading the way, though, are those surrounding Urban. Do you guys think he can come into the Big Ten after a one-year sabbatical and run roughshod over the competition? Keep in mind, and no offense to the rest of the Big Ten, but this is someone who had his way against the best league in the country. 
Johnny: To be blunt: no. Here's the problem; it's not so much the overall ability of Big Ten defenses (as outside of maybe Michigan State there really isn't a team that anyone would confuse with "elite"), it's more the fact that Ohio State football has been playing some of the most regressive forms of offensive football for the past decade or so. It worked because Jim Tressel is a genius and also benefited from a consistently excellent defense, but the point is that Urban Meyer's brand of football couldn't be any more different than what the players are accustomed to, and that's going to take time to implement effectively. Add in a thin RB and WR corps and I'm not super high on what the offense will bring to the table.
Still, Zach Boren recently mentioned that he's pumped about not running ISO plays 50 times a game, and, uh, yeah. Me too.
Kyle: It may not happen this season; Meyer did go 9-3 his first season at Florida. But the Big Ten is about to have a big wake up call.
Ohio State won six straight conference championships with Tressel's conservative style dictating games. Meyer will recruit players that Big Ten teams can't contain.
If he's at Ohio State for eight years - just throwing a number out - I think OSU makes five Big Ten championship games.
Ramzy: Whenever a new coach comes in to anything healthier than a post-war reconstruction, the first season is Iron Chef on grass.
Meyer has had to dig out programs before. Last season Ohio State was abysmal, though they legitimately could have easily won all but one game (Miami). Coaching was the reason. "Braxton do something" isn't coaching. That is going to change in a manner that will be blinding before September closes.
In that same vein, almost as important as Meyer's arrival is the coaching meritocracy that he appears to have installed. There isn't a single Siciliano, a Bollman or another Meyer in the bunch. I'm not as concerned about returning player depth; it's Ohio State and aside from numbers at the OT position there isn't an area where coaching up what's already there cannot be the antidote. Superior coaches are able to make chicken salad out of chicken turds. That's the essence of Iron Chef on grass.
Ross: I don't know about running roughshod, but Ohio State certainly has the talent to win every Big Ten game they play this year. While most of the focus has been upon Urban's offense, it should not be overlooked that OSU may have the best defense in the Big Ten this year. This is particularly true across the defensive line. To me, a dominant defensive line may be the most important asset a defense can have (see, 2002 Ohio State).  So that defense will keep OSU in a lot of games. The offense will be improved, simply because they will be operating from a coherent framework the entire year, and Braxton Miller will take a big step forward. And I think the offensive line is a strength. So while I do think there will be some offensive hiccups, particularly in the downfield passing game, I think that Ohio State has the talent to play with anyone in the conference. It also helps that the Big Ten does not have any great teams this year.
It's strange to think that Urban Meyer has still yet to coach a game at OSU - it feels like we have been talking about him being here forever. Yet we still have so much to learn about how his offense and defense will play and how this OSU team will come together. To me, the bowl game is not the end all, be all--college football has always been about the regular season, and Ohio State's goal should simply be to win every game. It will be fun to watch. 
Johnny: One thing that I will say is that the 2011 season taught me, in painful fashion, the importance of coaching. I think a lot of us really underestimated just how important Tressel was to making his system work, and I agree that a coach like Meyer has the ability to make lemonade in a fairly short period of time. Still, given Meyer's often blunt assessment of where he deems the offense to be right now, I'd be surprised to see them hit the ground running.
Kyle: A big part of Ohio State's success - or lack thereof - will be the play of Braxton Miller. His freshman season offered up some bright spots but also the typical growing pains.
He's had the spring and summer to pick up the nuances of Meyer's offense. What do we expect from Miller this season - does he make the big leap or struggle like Chris Leak did in 2005?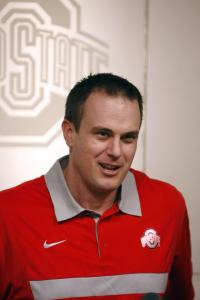 Johnny: Frankly, I don't see how Braxton isn't much better as a QB than what we saw last year. He had essentially zero real coaching, no veteran QB to learn from, and an offense run by a guy whose system is tailor-made for Ohio State circa 1982. Meyer is going to give Miller every opportunity to succeed, and he'll be smart enough to know that if one approach isn't working, he can always mix it up and try something else. Seriously, just imagine the look of relief on Braxton's face as Herman and Meyer explain the concept of the screen pass to him.
Ross: With respect to Chris Leak, he struggled because he did not fit Urban Meyer's offense. In particular, he was not a run threat. The same cannot be said of Miller.  Miller could not have been put in a worse position last year--he was a true freshman thrust into game four after getting yanked in and out by the coaches and had no consistent coaching or framework. So I expect a full offseason under Meyer and Herman will do wonders.

My impression in the spring was that Miller has good command of the offense, he is deadly with his feet, but he still holds the ball too long in the passing game. I know Meyer was constantly on him about that. In this system, however, any deficiencies in the passing game can be made up with how deadly Braxton can be on the edge, particularly if Ohio State can establish the inside run game. Just because of that Braxton is likely one of the top five weapons in the Big Ten.    
Kyle: Just the fact that Miller had the bowl practices, spring practice and summer workouts, I can't imagine how he won't be vastly improved. That's a lot of practice time and situations where you learn from. Then you factor in Meyer and Herman. It would be shocking if Miller had just a so-so year and left people wondering if he's the guy they saw in high school. If that's the case, I think 2012 could be a head-scratching year.
But I don't think that will happen. Keep in mind Meyer's offense is similar to what Miller ran at Huber Heights Wayne, so familiarity will be to OSU's advantage. It's not like Miller is going to struggle to pick up the system. Josh Harris, Alex Smith and Tim Tebow all did fine in Year One under Meyer. The only guys who struggled were Leak and John Brantley, and neither of them was a true spread quarterback.
Aside from Braxton, how do you envision Ohio State's offense evolving?
Ross: Can I just tell people to go read all my articles? Haha. In all seriousness, I expect OSU to be fairly run-oriented this year, just because that is where their talent lays. I discussed why with Miller above, and that equally applies to the rest of the offense. OSU's tailbacks are bigger threats than their wide receiver corps. So look for OSU to base around their run game, using lots of play-action passing that gets Braxton on the edge, attacking with an underneath passing game and then taking an occasional shot downfield.  Oh and lots of screens.
Ramzy: The departure from Bollman's hourglass plays that took ages to develop is the immediate evolution. There is no link between eras aside from the players. Ohio State playing faster will pair nicely with Ohio State's actual plays developing faster.
Kyle: You have to imagine it will take hold. I think it is clear as day that Zach Boren and Jake Stoneburner are going to be utilized. It happened in the spring, and everyone knows Meyer's love of the tight end. Jordan Hall's absence will certainly hurt the hybrid position, but you have to think at a place like Ohio State, there is someone on the roster that can fill the void.
But that is my point: Ohio State has athletes, and more specifically, the athletes that Meyer needs. It's not like they are in meeting rooms studying nuclear physics. It is still football. I'm not saying the offense will be as efficient as the New England Patriots come Sept. 1. But I think fans will smile more on that day than they did halfway through the season as they watched Tressel-coached teams.
Johnny: I think you'll see a lot of involvement from the tight ends, partly out of necessity, and partly because that group is going to be the most dynamic pass-catching unit on the team. Stoneburner will get all the pub and will likely be moved around quite a bit, but don't sleep on Heuerman or Vannett. Heuerman in particular, I think, could be a big surprise this year in a lot of respects.
Kyle: Johnny, couldn't agree with you more. Heuerman is a star in the making. You could see how much potential he had in fall camp last season when he was a true freshman. Stoneburner had a great year last year, but I'm surprised we didn't see more of Heuerman.
We'll just cut to the chase: Stoney and Boren, do they become an integral part of the offense? It could cause mass fainting spells at Ohio Stadium. It would actually be the second year of that after the opener last year, which was played at roughly 110 degrees.
Johnny: Yep, although Boren might give more people the vapors than Stoney simply by virtue of sheer surprise. I've written about Boren and how he's been overlooked as an offensive threat; I think Meyer recognized that, and I think Boren's weight loss signals some significant reps in the offense.
Ramzy: [faints]
[drool comes out of mouth]
[drool spells "yes, definitely"]
Ross: Haha, well, hopefully, we are giving people a heads-up so they can prepare themselves because the answer is yes. Both will be integral 'pivot' players for Meyer.  Stoneburner is the best all-around receiver right now on Ohio State.  So look for him not only as an H-Back but also flexed out. So long as Braxton can get him the ball, he may very well be OSU's leading receiver in catches.  Boren is simply too good of a football player to not utilize. Look for him as the H-Back when Stoney flexes out (and on Meyer's infamous shovel option play) but also in the backfield in short yardage and other situations. And, yes, they still need to take advantage of his blocking skills.
Kyle: Hope you didn't bump your head, Ramzy. But, yes, I think at this point it's obvious if you have some sort of offensive skill, you're going to be very much involved. It really is incredible that Boren's skills were never utilized under the previous staff. Seems to me there is just a stigma with fullbacks these days. Everyone just assumes they can't do anything remotely athletic in regard to the offense. Boren is shifty, has good hands, can be elusive, etc. Not to mention he's great in the locker room and a leader that younger players seek out.
As for Stoney (and other tight ends), I think you're going to see HUGE numbers put up. This may be hyperbole, but Stoneburner is a legit All-American and Mackey Award candidate. I think he's possibly the offensive MVP of the entire season – he's that good.
What is the opinion on who fills Hall's  role for the time being?
Johnny: Nobody. At least, as far as it was envisioned by Urban Meyer. At running back, Carlos Hyde should perform pretty well in Hall's stead (and frankly, I think he was easily the better running back overall last year), but as far as a combination of rushing and pass-catching goes, I think his touches are going to be spread out among guys like Stoneburner, Boren, and maybe whichever WR they feel comfortable giving an end-around to.
Kyle: Somebody will step in, though I do agree with a couple things you said. The first being about Hyde. I think he was the better "true" running back last season and will be again this year. Hall's injury will likely hamper the depth at running back, but I don't see a big drop off in production.
I always envisioned Verlon Reed taking over Hall's role. But it doesn't look like that is going to happen. Philly Brown is another candidate, as far as a pass catcher who can get in space and create. They may not have a "Jordan Hall" somewhere, but there has to be someone that can alleviate his absence. It's Ohio State.
Ramzy: I know Chris Fields sounds like a foolish answer, but someone like that.
Ross: I may be the only one, but I think this issue is completely overblown. First off, I expect Jordan Hall to be back by the second or third game so I do not think it is pressing.  Second, in my opinion, the 'Percy Harvin' role is completely overblown. Meyer used Percy Harvin how he did because a) Harvin was a generational athlete and b) Meyer did not have any other run threat beyond Tebow.
Is it nice to have someone that is a threat on an option play or bubble screen? Sure, but I do not think that requires someone who can also run counter-trey like Harvin did. Third, I never saw Jordan as someone who perfectly fit that role. In the spring, Hall played primarily in the backfield, and that is where he is strongest. Harvin was a wide receiver who would occasionally motion into the backfield. The closest player OSU has to that is Philly Brown.
Kyle: Let's talk about freshmen. No, not girls - the freshman football players. Is there an impact player (or two) on the roster?
Ramzy: Taylor Decker certainly will, and it will only keep the embers that fuel the justified resentment of Jim Bollman's gross incompetence burning bright. I can see the defensive line haul making themselves very well known in the back half of the season.
Kyle: Hard to argue with Decker after the spring he had. Wouldn't be shocked if he wrestled that starting right tackle spot away from converted tight end Reid Fragel. It's taking the easy way out, but one of the freshman defensive linemen – Adolphus Washington, Se'von Pittman and Noah Spence – will be a big contributor. Obviously that position is loaded with talent, but all three of those guys could be deemed as special players.
Then you have Michael Thomas on offense. He put on a display in the spring game, and I think he could be the next Michael Jenkins-type wideout for the Buckeyes. Keep an eye on Bri'onte Dunn, too. Loved what he displayed in the spring.
Ross: Yes, I think one if not all of the defensive ends have an opportunity for playing time. In particular, Noah Spence has a chance for an immediate impact because OSU does not have a comparable pass rusher on the roster. Taylor Decker has a significant opportunity to wrestle the right tackle job away from Reid Fragel. With Hall's injuries, Bri'onte Dunn has an opportunity to step up and grab carries. Dunn has a different gear than any of the other tailbacks on the roster, so if he can make the most of his opportunity he may be hard to get off the field.  Finally, a dark horse for an impact is Najee Murray. Meyer has recently been singing his praises as a potential threat in that slot role, so look for him to get opportunities to use his speed on the edge.

Johnny: The new dudes on the defensive line are pretty much the default answer here, but I wouldn't sleep on Jacoby Boren (when he's healthy) and Kyle Dodson on the offensive line. They've been getting rave reviews and will provide some greatly needed depth.
Kyle: The D-Line seems to be a popular subject. Will that unit truly be dominant?
Ross: That is a great question. On the one hand, I am hesitant to say yes because I do not know if they have a dominant pass rusher (see my comments about Spence above).  Nathan Williams' return would go a long way to rectifying that as well. But on the other hand, Johnny Simon was literally unblockable in the spring--to the point where the coaches had to pull him out simply so that they could get reps in without him blowing things up. So look for him to have a huge year. Then when you put him with an even better in shape Hankins, Michael Bennett, whose motor never stops, and great depth...well, they are going to be pretty good.
Johnny: They'll be better than that. I'm not quite drunk on the Simon juice, but even if he's less than all-world, he's going to be surrounded by some incredible players. Hankins might actually be more talented than Simon, and the incoming freshman are the real deal. If Nathan Williams can be a factor coming off the edge, it will be an utterly complete unit and possibly the best in the country.
Ramzy: Yes, in 2013. And in 2012 if Nate Williams is 2009ish in his return.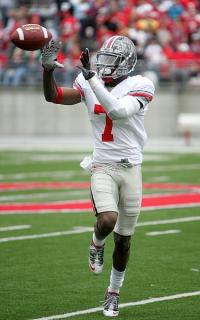 Kyle: Buzzkill, Ramzy. I think fans are going to start throwing random household items your way. I'll have to go with Johnny here, though I have blitzed out of my mind on Simon juice, which I believe is the same as purple drank. He tailed off in November and the Gator last season, but now teams can't simply focus on him and throw double teams his way. I mean, they can, but that would be a mistake. You have Big Hank, Garrett Goebel and Adam Bellamy as the other three starters. We all know what Hankins is capable of (and I see no way he doesn't go pro after his All-American season this year), but Goebel and Bellamy are vastly underrated. They both had flashed last season, and with attention being center on Simon and Hankins, I expect both of them to have sort of breakout years.
I haven't even mentioned Michael Bennett, Steve Miller, Joel Hale or any of the true freshmen yet. Obviously injuries are a part of the game and guys could have bad years, but the pieces are in place for this to be one of the best, if not the best, defensive lines in the country.
Now we'll back it up a little bit – linebackers and secondary. What are the concerns?
Ramzy: I haven't been concerned about Ohio State's defense in 10 years. Last season was awful and yet the Buckeyes finished 19th nationally in total defense. Tell me they'll be worse this year. I love to laugh.
Johnny: Both of those units concern me, although really just the play of the safeties and the second corner. Collectively, I like the play of the safeties, but their propensity for dumb mistakes and for being out of position has to be cut down. Roby is a rising star, but Howard has to understand that he's going to be a target this year and embrace that. If he can handle the added pressure, he should be fine. But no one in the secondary, save maybe Roby, will get any breaks this season.
Ross: I know Shazier is ready to go. Is Curtis Grant? Can Sabino finally live up to the expectations? We will see. Of course, they will also be aided by that great defensive line play. Barnett and Bryant not so much in terms of talent, but in terms of playing assignment football.  OSU is going to run a lot of Cover 4, which puts a lot of pressure on the safeties to be active in the run game but in so doing not get fooled and beat deep. That happened a few times last year. I think they are really good, but just need to be sound. OSU's top three corners are really, really good, but there is no depth.
Kyle: I don't think either position will be at the level of the D-Line, and I think the linebackers will be a big-time surprise. I wouldn't be shocked if they are one of the best units in the Big Ten, but the secondary definitely has some question marks.
Travis Howard was supposed to be a great shutdown corner but was lackluster all of 2011. Christian Bryant and C.J. Barnett don't elicit great fear in opposing offenses either, though Barnett does seem like he could emerge into a solid player this season. All three guys I've listed are not bad players, they just didn't deliver the goods a season ago. As we are aware, Roby has stud written all over him. I also like what Doran Grant and Orhian Johnson bring to the table.
I think the secondary can scrape together a decent unit. The importance Meyer puts on defense and, like Ramzy pointed out, Ohio State's D was rated 19th a year ago and everyone thought it was the worst defense ever. That really put in perspective how great they had been for about 50 years. The power of Kerry Coombs will likely make the secondary outstanding.
We'll close with a question that's been asked for months: can Ohio State go undefeated?
Johnny: Nope. Too many depth problems at key positions, and if Braxton goes down you might as well just blow the entire offense up. I'm still not sold on the secondary; statistically they probably weren't quite as bad as many felt they were last year, but I'm still queasy about the safety play. They could easily be improved, but I'll believe it when I see it. Those holes combined with some rough road games (Wisconsin, Michigan State) make it really hard for me to envision an undefeated OSU team.
Ross: They can but I don't know that I expect them to. Partially, it's just a factor of schedule. OSU does not have a top-tier non-conference game (sorry Cal) and, as I said, the Big Ten is somewhat limited this year.  Nevertheless, OSU still has to go to Michigan State and to Wisconsin. I would not bet on OSU winning both of those game. But I think there has been so much change that we are all just guessing right now.  
Kyle: They can, but I think it highly unlikely. I see two losses, maybe three. Four would surprise me, but I would think that is the max. 10-2 is still my standard prediction. Sweeping Michigan State, Wisconsin and Michigan is asking a lot, especially with the first two on the road. Keep your eye on the UCF and Cal games, as well. My opinion is a road loss to either MSU or Wisconsin and one loss that no one really expects.
Ramzy: They'll lose at least two games. Running the table with no pot allowed at the end of the rainbow is nothing my fragile psyche is prepared to handle, so I'm personally hoping they lose at least two games.
That wraps up our preview of the Buckeyes, as Camp Meyer is now underway. Hope it greatly contributed to your Friday football fix.