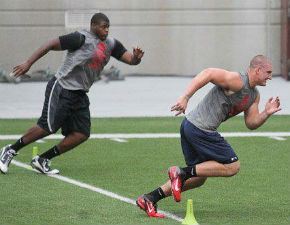 A surprise visitor to some, Donovan Munger made the trek to compete in Ohio State's first Friday Night Lights camp.
A player who stays out of the spotlight, it has been relatively unknown which direction Munger's recruitment has taken, but a trip to the OSU campus shows his interest in the Buckeyes remains high.
Having the ability to play both sides of the line, the Shaker Heights (OH) product had the attention of Coach Vrabel and Coach Meyer throughout the camp.  Munger appears to be high on the Buckeye radar for the class of 2013, but it has been unknown if the coaches prefer him to play on offense or defense.  Munger did don a gray jersey at the camp, however, which was the designated color for defensive players.
Before one-on-one competition started in the 'Shoe this past Friday Night, specific position drills took place.  During the defensive line drills Munger was taken aside by Coach Vrabel, along with commits Joey Bosa and Billy Price, where he received what seemed to be specific and very detailed instruction.  The coach took Munger through a series of techniques and hand positioning before stopping to chat with him for a couple minutes.  
We caught up with Donovan to hear his thoughts on Friday Night Lights, see who stood out to him at the camp, check in on the latest in his recruitment, and more. Keep reading to find out the latest on a potential future Buckeye in Donovan Munger.
What did you think about the Friday Night Lights camp at Ohio State?
It was a great camp.  I learned some good stuff about my technique and my game that I can bring back to the team.  Coach Vrabel really helped me to expand my game.  He is just someone to sit back and listen to.  He knows the game as well as anyone.  He is a great coach.
Who were some of the top performers in your group? Did anyone give you a tough time during competition?
Joey Bosa and Billy Price were outstanding players.  I'd say Tim Gardner, the new Ohio State commit, was the best offensive lineman I went up against.  He's going to be a great player.
What position has the Ohio State coaching staff told you that they want you to play?
Right now they want me on the defensive line.  That could change though, depending on circumstances.  I can play both and I don't necessarily have a preference for what I would rather play, either.  I just like doing what I can to contribute to a team's success.
Do you have a top list of schools that you are focusing on?
I have a top three. They are, in no order: Ohio State, Michigan State, and Tennessee.  The coaching staffs at all three schools are why they have made my top list.  It's hard not to like who's running those programs.
Have you visited all of those schools?
I've been to Ohio State three times now.  I have been down to see Tennessee once and I have yet to see Michigan State.  I'm not sure if I am taking any other visits, but it is possible.
Do you have a timetable in which you plan to announce where you will go to college?
I have a goal to be committed before my season starts.  It is not set in stone yet and I do not know if I will be ready, but that is what I am shooting for.  We will have to wait and see. 
HIGHLIGHTS: