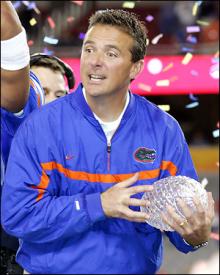 Urban Meyer's entire career has been about Year 2.
At Bowling Green, it meant a 9-3 season; at Utah, Meyer orchestrated an undefeated season and Fiesta Bowl victory; the second season at Florida turned out to be one of Meyer's grand experiences: winning his first national championship.
So excuse people if they're already looking ahead to next year in Columbus. For one, the Buckeyes won't be bowl bound in 2012 regardless of the number in the win column. An absence from the Bowl Championship Series is enough to make a team irrelevant to some. There is still intrigue surrounding Meyer and the Buckeyes this year, but not the level that usually encompasses an Ohio State regular season.
All the hubbub regarding the future prompted Meyer to ask, "What about this year?"
Meyer's first foray into Big Ten media days was entirely uneventful, with a bulk of questions directed to him about a different program in the Big Ten – Penn State. From his opinion on the scandal to whether conference schools should be in the practice of pursuing Nittany Lion players, Meyer was asked about it all.
But it was another topic that Meyer spoke most passionately about, and that was the here and now of Ohio State football.
"There's no such thing as a buffer year in college football, certainly not at Ohio State and certainly not with myself and our staff and our players," he said.
The sentiment is true – Buckeye fans are pining for instant gratification – but three loses this season will not warm Meyer's seat. After tallying a less than stellar 6-7 record in Luke Fickell's lone season as head coach, John Simon said Ohio State needs that "winning attitude back." The entire team became overwhelmed at times last season with so much turmoil at every twist and turn.
Before, during and after the season, bad news seemed to envelop Columbus. The biggest smack was that of a two-by-four, according to Meyer, into the team's gut when the NCAA ruled they wouldn't be eligible for a bowl. Suddenly, it was rally time in the locker room again.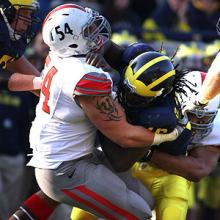 "It's uncomfortable," Meyer said of the postseason ban. "I see Zach Boren walking across the hall here. That kid deserves to play for a championship. He's earned that right. John Simon is one of the hardest working guys I've ever been around in 26 years, same with (Etienne) Sabino."
The displeasure with the ruling is understandable from Meyer's viewpoint, but through the years it's become a reality that when punishments are handed down in intercollegiate athletics, there is always going to be collateral damage.
A lack of playing for a championship won't leave the Buckeyes any less motivated, though. The games will still be played and at the end of the season, 10, 11 or 12 wins still signifies that Ohio State was among the best teams in the Big Ten and the country. With a quarterback built from the Meyer mold – Braxton Miller – behind center and a stout defensive unit, Ohio State likely would have been the preseason favorite to win the Leaders Division and compete in its first Big Ten championship game.
"Is there a light at the end of the tunnel for (the seniors)?" Meyer said. "Yeah, we can go win the Leaders Division. Can we go to the championship game? That's out of our control. But they're playing for something.
"I hear 'What about next year?' No, no, no. We're about this year. Just look at those three guys. We're going to give it all we can."
Instead of Pasadena, New Orleans or Miami being a season-ending destination, it will be Ohio Stadium. The old Horseshoe will host the 109th edition of the Ohio State-Michigan game in November. It also marks the 2012 finale for the Buckeyes and Meyer's first bout with the Maize and Blue as Ohio State's head coach. Already, fans of both schools are anticipating that day.
"I certainly imagine in our home stadium there will be a buzz about that," Meyer said. "I've already heard it. I haven't made that decision on how we're going to attack that game other than it's the biggest game of the year and we will get ready for it."