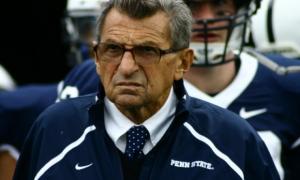 For years the NCAA has been roundly criticized for not punishing college football's powerbrokers harshly enough when a severe blow was warranted. Those criticisms can now rest.
On Monday, the NCAA hit the Penn State football program with a $60 million fine, four-year postseason ban and the vacation of all wins dating to 1998, effectively removing Joe Paterno from the top of the all-time wins list.
When Paterno was fired in November he was atop the list with 409 wins. Now he is credited with 298. Bobby Bowden assumes the top spot with 377 victories.
Penn State also must slash 10 initial scholarships and 20 total each year over a four-year period. Players will also be allowed to transfer immediately to another school. All combined, the penalties are akin to a living death penalty. Penn State will be afforded the opportunity to play in games, but any hope of being competitive is all but lost.
In statement, the NCAA said Penn State's fine "must be paid into an endowment for external programs preventing child sexual abuse or assisting victims and may not be used to fund such programs at the university."
NCAA president Mark Emmert and Oregon State president Ed Ray, also the chairman of the NCAA's executive committee, revealed the penalties at a news conference NCAA headquarters in Indianapolis.
Emmert used the words "perverse" and "unconscionable" to describe the actions Jerry Sandusky and those involved in the cover-up.
"No price the NCAA can levy with repair the damage inflicted by Jerry Sandusky on his victims," Emmert said.
"We cannot look to NCAA history to determine how to handle circumstances so disturbing, shocking and disappointing. As the individuals charged with governing college sports, we have a responsibility to act. These events should serve as a call to every single school and athletics department to take an honest look at its campus environment and eradicate the 'sports are king' mindset that can so dramatically cloud the judgment of educators."
The NCAA's actions were swift and decisive, coming a mere eight months after news first broke of the Sandusky scandal and 10 days after former FBI director Louis Freeh published an investigation of how Sandusky's actions were hidden from the authorities and public by Penn State employees.
The Freeh report was highly critical of Paterno and other high-level university and athletic department employees. It said allegations of child sex-abuse made against Sandusky were concealed and said the motive was to keep the university and football program's sterling reputation intact.
The most damning part of the Freeh report centered on university officials not alerting the appropriate authorities in 2001 after assistant coach Mike McQueary saw Sandusky committing a sexual abuse against a young boy in the showers at the Penn State football facility. That came three years after the university first became aware of initial allegations against Sandusky and two years after his sudden retirement.
The famed Paterno statue outside Beaver Stadium was removed Sunday morning.
The Big Ten also announced sanctions against Penn State, banning the school from appearing in the Big Ten Championship Game for four years and making the school forfeit its share of bowl revunue split evenly among the conference's 12 schools. The money, estimated to be approximately $13 million, will be donated to Big Ten area charities dedicated to the protection of children.
"Penn State University is a great institution and has been a valued member of the Big Ten Conference for more than 20 years," the Big Ten said in a statement. "Since early November 2011, it has been working very hard to right a terrible wrong.  There is more to be done. The intent of the sanctions imposed today is not to destroy a great university, but rather to seek justice and constructively assist a member institution with its efforts to reform. From this day forward, as Penn State continues to make amends, the Big Ten conference and its member institutions will continue to engage with them in every aspect of conference membership."
The NCAA's timeframe and decision-making process was unprecedented in that a Committee on Infractions hearing never took place, nor was there an issue of allegations or university response. The process can take more than a year.
Instead, it was widely reported that Emmert had full authority to levy the punishment. The Freeh report was used as the document and investigation of record by both the university and NCAA. The report was commissioned by Penn State's board of trustees.
The case has received attention from around the world due to the high-profile individuals involved, but also because of the uniqueness. None of the traditional NCAA rules were actually violated, but in terms of ethics and an institutional cover up, it was groundbreaking.