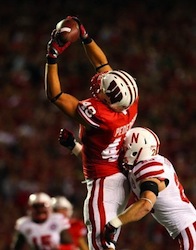 This week, the National College Football Awards Association began releasing preseason watch lists for some of the sport's major awards1. None of it is particularly gripping, but it's football-related news that doesn't make everyone want to vomit, so we'll take it. 
As of now, several Buckeyes have been named to watch lists, and the Big Ten as a whole boasts quite a few players who have been singled out. Still, certain positions are better represented than others.  
When I was putting together a hypothetical Big Ten All-Star team for both offense and defense, I noticed that it was difficult to make a decision for some spots, either because there were too many worthy candidates or too few.  
Around the same time, ESPN's Big Ten Blog asked readers to vote on the conference's strongest and weakest position groups. The results were rather conclusive; fans clearly hold the opinion that the B1G is loaded at running back and deficient at wide receiver.
If you surveyed Ohio State supporters to find out which units on the team were first-rate and which were lacking, there would be a similar consensus. Scarlet and Gray faithful recognize that the defensive line is stacked and the receiving corps has issues.
Comparing Ohio State to the conference at large, I will look at both the best and worst position, as well as which group in the Big Ten is poised for a breakout season.
Overall, I think that the conference's defensive lines are underrated2. While defensive ends such as John Simon and William Gholston are well-known in the college football world, defensive tackles like Johnathan Hankins and Kawann Short are on the verge of becoming national stars. The talent at that spot might surprise some people this season. 
However, even more so, the tight end is on the rise. Due in part to the inexperience at WR, it's widely assumed that the TE will be featured more heavily than in years past. The B1G doesn't return much in the way of production at the position, and still, six tight ends in the conference made the Mackey Award preseason watch list.
BEST POSITION: Running back
Big Ten:
Most of the B1G's top ten rushers from a year ago are back, led by Wisconsin's Montee Ball. The senior accounted for a record-tying 39 touchdowns last season, including 33 on the ground. A Hesiman finalist in 2011, Ball is now considered one of the frontrunners for the trophy. His backup, the quicker James White, is no slouch, either. He complemented Ball's 1,923 rushing yards with 713 of his own and together, they make up perhaps the best duo in the country3.
Along with Ball, Nebraska's Rex Burkhead was a first team All-Big Ten selection. Other backs averaged more yards per carry than Burkhead (4.8 ypc), but he totaled 1,357 yards, which is second to only Ball among returning RBs. His reliability is such that twice last season he carried the ball more than 30 times in a game: 35 against Michigan State and 38 against Iowa. The Cornhuskers won both contests.
With 1,241 yards, Silas Redd wasn't too far behind Burkhead. Although he hit paydirt just seven times last season, he also played in Penn State's "offense", so that was probably five better than anyone else on the team. Le'Veon Bell for Michigan State scored 13 touchdowns, despite sharing duties with Edwin Baker. Bell fell 52 yards short of the thousand-yard threshold, but with Baker now gone, he should reach that number this season.
Michigan's Fitzgerald Toussaint, on the other hand, did run for over 1,000 yards. His ypc average of 5.6 was one of the highest in the conference, and given that Denard Robinson's strength will always lie in his legs rather than his jump balls, they form a dangerous backfield.
Purdue has two proven backs in Ralph Bolden and Akeem Shavers, but the caveat for the Boilermakers is if they can stay healthy. After an ACL injury shortened his season, Northwestern's Mike Trumpy should regain his starting spot.
Speaking of getting hurt, Iowa has a couple of incoming freshmen who have yet to be struck by the Angry Iowa Running Back Hating God, though I maybe just jinxed them.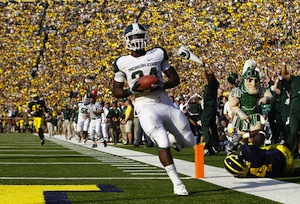 Indiana found a capable RB in JUCO transfer Stephen Houston (802 yards, 5.3 ypc, 8 TDs), and Minnesota also went the JUCO route with James Gillum, who they hope can contribute immediately. Both Donovonn Young and Josh Ferguson (limited because of injury) saw the field as Illini freshman, and that could pay dividends going forward. 
Ohio State:
Even though Ohio State's rushing unit is not in the Big Ten's top tier, the Buckeyes have a solid ground attack. What's missing is a Beanie Wells-type who can take over a game at any point. In fact, the team's leading rusher in '11 was QB Braxton Miller.
However, each back has his own special skills. Jordan Hall possesses the kind of versatility that Urban Meyer likes to utilize and once he recovers from his foot surgery, Hall should get the chance to demonstrate his elusiveness as a runner, receiver, and kick returner. Carlos Hyde is a bruiser who had his moments last season, including two 100-yard games. He also averaged 5.3 ypc, yet he didn't consistently get carries in an admittedly terrible offense.
This could be a make-or-break year for Rod Smith, who will try to justify the Eddie George comparisons. Highly-touted freshmen Bri'onte Dunn and Warren Ball will be looking to earn playing time and live up to their hype.
There's also senior fullback Zach Boren, who is expected to handle the ball more than he has in all his other seasons combined. Granted, it won't take much to accomplish that, but honestly, he's really good.  
BREAKOUT POSITION: TIGHT END
Big Ten:
Jacob Pedersen (Wisconsin) and Jake Stoneburner (OSU, duh) are basically the only two returning TEs who found the end zone much in 2011. That's supposed to change this season, and with the amount of tight end potential in the league, it's easy to understand why, especially with all the question marks at wide receiver. 
Similar to Wisconsin, Iowa has a proven track record of throwing to the TE. With veteran passer James Vandenberg at the helm, C.J. Fiedorowicz, who came on strong towards the end of last season, is a steady target for his QB. 
Nebraska seniors Ben Cotton and Kyler Reed are an experienced duo and although only the latter was named to the Mackey watch list, their '11 stat sheets were barely distinguishable from one another. Their numbers should improve this season, as should Indiana's Ted Bolser, whose six career TD receptions leads his team, I'm assuming.  
Michigan State's Dion Sims quite possibly epitomizes the 2012 version of a Big Ten tight end. He's a promising talent whose performance on the field merely hints at what he can achieve. As a back-up a year ago, he hauled in three TDs, but this season in the starting role, he should emerge as more legitimate threat.
Like Urban Meyer, Penn State coach Bill O'Brien knows what to do with a TE, so Garry Gilliam might be able to shine after various ailments have forced him to miss almost two seasons. That is, if a competent QB ever suits up for the Nittany Lions.
Ohio State:
Stoneburner's seven touchdown catches last season was second only to Pedersen's eight among B1G tight ends. He also led the Buckeyes in that category, even though he recorded just 14 receptions total. Urine trouble aside, Stoney remains #1 on the depth chart and is the prototypical TE for Meyer's offense. He's big, fast, and has good enough hands to have played WR in high school.
If, for some reason, Stoneburner goes on a outdoors peeing binge and fails to be reinstated, both Jeff Heuerman and Nick Vannett have the ability step up. They're green but athletic and can block and receive. 
WORST POSITION: WIDE RECEIVER
Big Ten:
Every receiver who was named to the 2011 All-Big Ten first and second teams has moved on. It's the rawest position in the conference, but it isn't without quality players. Wisconsin's Jared Abbrederis nearly amassed 1,000 receiving yards last season, and despite a large drop off between his sophomore and junior years, Michigan's Roy Roundtree is capable of similar numbers. He posted 935 yards in 2010, almost identical to the 933 by Abbrederis the following season.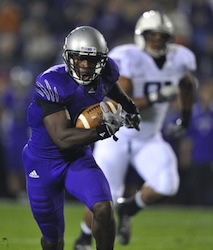 The B1G's top receiving tag team is Iowa's Keenan Davis and Kevonte Martin-Manley, who will benefit from the Hawkeyes' emphasis on the passing game.
Speedy sophomore Kenny Bell of Nebraska, Antavian Edison of Purdue, and Kofi Hughes of Indiana led their respective squads in receptions and yards, though the options after them are mostly unproven. 
Thanks to the recent departure of Devon Smith, Justin Brown might be the only WR with a pulse for Penn State. He should probably learn to throw the ball to himself, too.
Transfers that are expected to make an impact include Michigan State's DeAnthony Arnett and Northwestern's Kyle Prater, if the NCAA finally grants him a waiver to play this season. In that case, Prater would join veteran Demetrius Fields and sophomore Christian Jones on a Wildcat unit that could be flying under the radar.
Ohio State:
For all of Urban's frustrations with the receiving corps, we know they'll be improved from last season4. Devin Smith and Philly Brown tied Stoneburner with the most receptions (14) and with another year to work on their Badger-slaying chemistry, Braxton Miller and Smith should continue on their way to becoming a formidable pair.
If he can stay healthy, Brown could make a big leap as a receiver and more importantly in his coach's eyes, as a playmaker. Freshman Michael Thomas was the star of the spring game, and if he can translate that performance to the regular season, then there will be one less problem keeping Urban up at night.
With a young group like this, it wouldn't come as a complete shock if other WRs developed into major contributors. There's no shortage of candidates, from Evan Spencer to Chris Fields to Verlon Reed to Tyrone Williams.
But whether anyone does, only time will tell. 
1 After next week, a total of 15 awards will have put out their watch lists. 
2 As a whole, the Big Ten isn't at SEC level with their DLs, but the gap seems to be narrowing. 
3 White actually ran for more yards than Ball during the 2010 season.
4 How could they not?