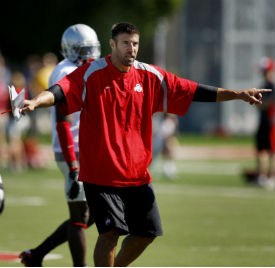 Do the names Derrick Harvey, Ray McDonald, Steven Harris, Jarvis Moss, and Joe Cohen mean anything to you?
If they don't they certainly should, as those five players made up the Florida Gators' defensive line unit that can be considered primarily responsible for the 41-14 thrashing they gave the Buckeyes in the 2007 national championship game.
While we won't rehash what happened that January night in Glendale, we will focus on the fact that while Urban Meyer loves having his toys to run the spread offense, he knows games are won and lost in the trenches.
Both of his national title teams during his tenure in Gainesville were filled with star power at the skill positions, but it was ultimately the play of both the offensive, and most importantly, the defensive line that made his program so dominant in the country's best conference.
Meyer wasted no time in making it clear that the defensive line would be a priority for him as head coach of the Buckeyes. Upon getting the job and hitting the recruiting trail, he was able to retain DE Adolphus Washington, add DE Noah Spence, and flip DE Se'Von Pittman and Tommy Schutt over to OSU from Michigan State and Penn State respectively. The result was the best defensive line class in the nation to go along with an already strong unit anchored by John Simon and Jonathan Hankins.
Urban could have sat back and been happy with his 2012 class, focusing on other positions in 2013, but he didn't stop. He has already lured in some of the top defensive linemen in the nation to join the current class at hand, and might even add a couple more before Signing Day in February rolls along.
Today we'll take a look at who's currently in, who's out, and who's left along the defensive line for the recruiting class of 2013.
Who's In?
As alluded to earlier, Meyer continued his relentless effort of defensive line recruiting from 2012 right into 2013 and his efforts have paid off mightily in the form of Joey Bosa, Tracy Sprinkle, Billy Price, and Michael Hill.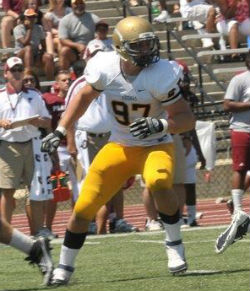 Bosa was the biggest get for the Buckeyes as not only is he ranked as a five star prospect by multiple media outlets, but when it's all said an done he may be among the top 5 or 10 players in the entire country.
The 6-5/260 Bosa has had an impressive career thus far at Fort Lauderdale (FL) St. Thomas Aquinas, where he recorded 50 tackles (16 for loss), 8 sacks, a pass break up, and a fumble recovery during his junior season. He has a tremendous motor to go along with great athleticism for his size, and even more impressive strength that will help him excel at the next level.
Bosa's father played for the Miami Dolphins in the NFL and his uncle is former Buckeye Eric Kumerow, so football runs in his blood. The Buckeyes are getting a mentally and physically talented player that can play any position along the defensive line when he gets to Columbus, and are lucky to have locked him up so early in the process.
Sprinkle was slightly less well known as compared to Bosa, but it took little time for Buckeye fans to get to know what he was about. Characterized as "the ultimate team player who always wanted to be a Buckeye", Sprinkle's recruitment with Ohio State accelerated very quickly, ultimately leading to his verbal pledge back in April.
The 6-4/250 Sprinkle is thought to be a "diamond in the rough" find for Mike Vrabel and Urban Meyer despite notching 80 tackles and 8 sacks for Elyria last season. When the Buckeyes turned on the interest burners, he was just starting to make waves on the recruiting trail and some of the top programs in the Midwest were beginning to extend scholarships. The home state school came-a-calling and that ended things with all other programs and Sprinkle was a Buckeye all the well.
Right now it is undetermined where Sprinkle will end up along the defensive line, although he does bring versatility to play both end and tackle. That should come in handy as Meyer has traditionally liked to rotate his players along the line, meaning Sprinkle will have a chance to excel at various positions in various situations during his time in Columbus.
Price too was a player who always wanted to be a Buckeye and took the plunge first out of the unit, committing back in February. The 6-4/300 Austintown Fitch product excels on both sides of the ball for his high school, but has been told he will start his OSU career on defensive with a possible switch to the offensive line not out of the question down the road.
I like Price on either side of the ball, as you know no matter where he plays you are getting a hard nosed, high energy football player who loves the game. He is cut from the same cloth as John Simon when it comes to motor and work ethic and if he continues to improve his game over the next year, Buckeye fans will be very pleased with the results he yields.
Finally, Hill is the latest to join the recruiting class, but certainly not least. The mammoth 6-2/315 defensive tackle from Pendleton High School has been a Buckeye fan for most of his life, but finally made the call to play for Ohio State during the last week of June.
Hill enjoyed an outstanding junior season that saw him rack up 79 tackles (27 for loss) with 8 sacks, 4 pass break ups, and 4 forced fumbles, and the best part is that his head coach thinks his ceiling is far from being reached.
When Urban Meyer heard Hill committed he said, "hot dog, I got an SEC lineman in the Big Ten". Buckeye fans are hoping Hill can bring the type of production that Meyer's lines had during his time in the nation's elite conference.
Who's Out?
While the Bucks have landed four outstanding players, they have certainly missed on a number of prospects as well.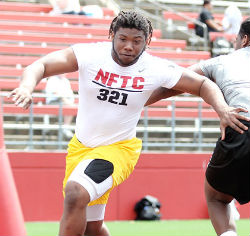 Defensive linemen with (thought to be) committable offers that went elsewhere include Greg Webb (Penn State), Henry Poggi (Michigan), Kenny Bigelow (USC), Jonathan Allen (Alabama), Frank Herron (LSU), and Elijah Daniel (Clemson)
Players that were being recruited, but are either known to or thought to hold non-committable offers include Garrett Sickels (Penn State), Darius Latham (Wisconsin), and Maurice Hurst Jr. (Michigan), who reportedly tried to commit to the staff during his spring game visit but was told to hold off to see where the dominoes fell, which obviously didn't end up going in his favor. 
It's hard to sit here and talk about disappointment of missed players when you have four very good recruits at a position, but if there were one or two prospects you'd want most from this list they would probably be Bigelow, Allen, or Poggi. Those three are outstanding, national level recruits that Ohio State would have taken in a second if they wanted to come aboard and will greatly help the Trojans, Crimson Tide, and Wolverines in the coming years.
Who's Left?
With the four players in and a number of talented stars out, there isn't much left on the board when it comes to who's left. With likely one spot at most still open for an elite player in the unit, the final candidates are Donovan Munger, Jordan Sherit, and Jason Hatcher.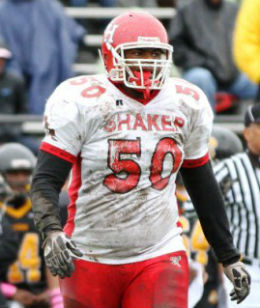 Munger, a 6-4/285 defensive tackle, currently holds over 25 offers, but word is the Bucks are the favorite if there is room and that a silent verbal may have even been given at one point.
Right now things are in wait and see mode when it comes to the Shaker Heights star, but more should unfold with his situation in the next month or so. The good thing about Munger is that, like Price, he is a star on both sides of the ball, and there may be a place for him at guard if he ends up committing to his childhood favorite in Ohio State.
Sherit, from Hillsborough High School in Tampa, Florida, is an impressive athlete at weak side defensive end. At 6-4/240, many think he could easily play outside linebacker at the next level, but he has success with his hand down, recording 110 tackles and 14 sacks during his junior season.
Right now Sherit is said to be favoring Florida, Miami, and Stanford, but he grew up knowing very well what Urban Meyer can do as a head coach and if a visit to Ohio State occurs this summer or some time during the season, keep your eye on this situation.
Finally, Hatcher showed the country just how athletic he is at The Opening, making the final round of 10 in the SPARQ training competition. At 6-3/240, the Louisville (KY) Trinity stand out has said he would like to play outside linebacker in a 3-4 type system at the next level and has named a top list of schools including USC, Florida, Louisville, and Tennessee.
That list at one point included the Buckeyes, but it appears the offer to Hatcher was one of the uncommittable variety and as of now he is a back-up plan if other players go elsewhere or if room somehow opens up further.