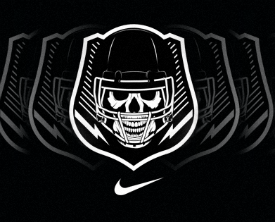 Briefly touched upon in last week's Recruiting Mailbag as well as in Jason's Skull Session and Miles' Blog Post, Nike's The Opening took place this past weekend at the brand's headquarters in Beaverton, Oregon.
The event, also sponsored and covered by ESPN, started on Thursday with check-in and concluded on Sunday evening with the 7-on-7 championship game. In between events consisted of combine skill challenges, instruction from former and current NFL players, 1-on-1 drills, 7-on-7 pool play, and more.
In just it's second year The Opening has become the most highly covered single recruiting event in the country, and may just provide the best comparative look within the recruiting classes year to year, as it brings together a collection of the best talent in America that only the Rivals 100 and year end all-star games can even rival throughout the recruiting cycle.
The Buckeyes were fortunate enough to have six current verbal commits invited to the event, as well as many other prospects still remaining on the staff's big board. Today we take a look at how the future Bucks performed in Beaverton, what some of the buzz may be coming out of the weekend, who took home the 7-on-7 crown, and bring you some highlights from throughout the event. Join us after the jump to read about the biggest recruiting event of the year to date, The Opening.
Future Buckeyes Show Out
As mentioned above, six future Buckeyes got the call to head to Oregon and participate in the weekend's events. Those lucky rising seniors were RB Ezekiel Elliott, TE Marcus Baugh, ATH Jalin Marshall, DB Eli Woodard, DB Cam Burrows, and DB Jayme Thompson.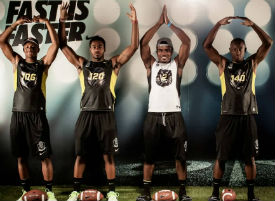 Elliott came to Oregon with a bit of a chip on his shoulder. Throughout the recruiting period 'Zeke' has been underrated and under ranked by many of the recruiting services due in part to an injury during his sophomore year, as well as lack of exposure from not attending camps.
Now that he is fully healthy, he is showing everyone why Urban Meyer jumped at the chance to land him. He ran a 4.42 40-yard dash time and was raved about all weekend for his ability to make big plays. He showed explosion and great agility in the open field and the biggest thing might be that he showed great hands as a receiver coming out of the backfield. While he will certainly carry the rock a good amount, expect Elliott to be used in the slot as well during his time in Columbus, making the most out of his ability to catch the ball. 
At 6-4/230 Marcus Baugh is big enough to handle his duties on the line of scrimmage as a tight end, but leaves room to make some plays as a receiver as well. Baugh proved why he is regarded as one of the nation's top at his position, scoring a number of touchdowns during 7-on-7 play, as well as continually showing the ability to get open against linebacker and defensive backs. In all of the interviews over the weekend he expressed he is 100% committed to Ohio State despite never visiting the school and said he was extremely excited to get to Columbus for a trip in August.
Jalin Marshall came into The Opening as one of the most anticipated athletes in attendance. Playing quarterback for Middletown High School it was known Marshall was an electrifying game-changer, but he is facing an inevitable move to wide receiver at the next level and that is where he has been working out at various camps this spring. Jalin has performed extremely well at receiver thus far, but hit a little bump in the road this past weekend.
After running an under whelming 4.66 40-yard dash time (Marshall was part of a pool that was asked to re-run due to clock malfunctioning but chose not to), he was drafted on to the Vapor Carbon 7-on-7 team with QB Brice Ramsey. Ramsey did not have the best showing this weekend and timing between him and Marshall was off throughout the event. Because of this Marshall never really got the opportunity to be in a position to make big plays, leaving his weekend performance rather quiet.
Eli Woodard continues to inch closer to five star status at every camp he goes to. Woodard didn't test great either, running a 4.63 40-yard dash, but performed very well in tournament play. He continued to show great mechanics at the cornerback position, while using his length and range to lock down opposing receivers. Woodard left no questions about his ability to be a difference maker at corner in the college game and continues to be one of country's best even when stacked against other top competition.
Burrows had an excellent weekend that resulted in him being named to the All-Tournament Team at the end of pool play. As a member of Alpha Speed with Baugh, Burrows played both corner back and safety throughout the weekend and passed all tests with flying colors. The great news coming out of Oregon was that onlookers felt that Burrows may be better suited for safety when he gets to college, but if he stays at corner back he has a bright future as well. Either way it looks like the Buckeyes are getting an outstanding player.
Finally, Jayme Thompson also entered the event with a bit of a chip on his shoulder. After starting off his recruitment with low rankings due to an injury influenced 4.7 40-yard dash time, Thompson has slowly crept up to four star status and is silencing all of his doubters. He did so again this weekend, running a 4.54 forty and 4.23 shuttle while also excelling in one on one drills and playing well for the Land Sharks.
It's safe to say the Buckeyes at The Opening represented their future schools well both on the field and off, where they certainly did some work on the recruiting trail for Urban Meyer and the staff.
Around The Rumor Mill
There was plenty of buzz this weekend when it came to recruiting at The Opening and the Buckeyes were right in the center of it for many prospects.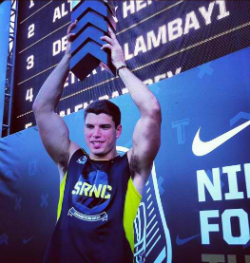 The biggest story of the weekend comes from Plano (TX) Prestonwood Christian Academy LB Mike Mitchell. The 6-4/215 four star prospect came to Oregon under the radar, but left with everyone knowing who he was after a record-setting performance in the SPARQ competition.
Mitchell posted an all-time high score of 154.47 in a nationally televised broadcast of the event's final 10 players competing for the championship. En route to the crown, Mike posted an eye-opening 4.39 40-yard dash, 4.00 shuttle, 40.6" vertical leap, and 47.0" powerball toss. Those numbers are good enough to be considered at the top of the NFL Combine, let a lone a high school summer camp.
Other than his big time results, the important thing to note when it comes to Mitchell is that he announced a top three of Ohio State, Florida State, and Texas A&M. The good news for Buckeye fans is that Mitchell admitted he is heavily leaning towards Ohio State and that things may be all wrapped up for him to end up in Columbus after he takes an unofficial visit in the next two weeks.
Sources tell Eleven Warriors that Mitchell's father spoke to Urban Meyer this past weekend to discuss Mike's interest and arrange a visit. It appears to be a matter of when and not if for Mitchell to end up as a Buckeye, with an announcement expect at the Gridiron Kings event in Florida during the last weekend of July. 
The bonus of picking up Mitchell is that there is a good chance his younger brother may join him at whatever school he chooses. Mickey Mitchell is a top basketball player in the class of 2015 that Thad Matta is heavily recruiting and if Mike does indeed go through with committing to OSU, the Bucks are in the driver's seat for the 6-7/210 small forward. To leave your jaw on the floor, check out Mickey's game here and here. 
In addition to Mitchell, there was buzz amongst the current OSU commits that a wide receiver is picking up heavy interest in becoming a Buckeye. While no name was divulged it seems the only two candidates are Ra'Shaad Samples and Levonte Whitfield. 
Samples committed to Oklahoma State over the weekend, but word from Scout.com's Greg Powers says to watch for a visit to Columbus. Powers seems to think the Buckeyes have a real shot if they can get Samples on campus, as he is fond of Urban Meyer and Tom Herman and really hit it off with the Ohio State commits that were at The Opening.
Whitfield, nicknamed Kermit, is a name we brought to you a few weeks back and the Florida speedster is just starting to pick up steam on the recruiting trail. After running a 4.37 at The Opening, the former Miami (FL) commit named a top six of the Bucks, West Virginia, Miami, Florida State, Clemson, and Florida in no particular order. He attended Ohio State's senior camp during the last weekend in June and the visit reportedly went very well.
Things are still early with Whitfield, but multiple prospects have been told by the staff to recruit him hard, so it appears the heat is being put on one of the nation's fastest prospects by OSU. There is probably still some time to go with this one, but it is definitely one to watch.
Outside of Whitfield and Samples, the final piece of big info came out of the nation's top overall player in the class of 2014, Da'Shawn Hand. Hand is trying to keep the lid closed on his recruitment so that he can "be a kid and enjoy his junior year", but the media has been able to get a few tidbits out of him, including some good news for Buckeye fans.
Known for some time now Hand confirmed over the weekend that he will visit Columbus for Friday Night Lights, which will be his first trip to Ohio State. He followed that up by saying he also plans to get back to the capital city to check out the Buckeyes when they take on Michigan in The Game in late November.
There is still a long way to go in Hand's recruitment as a decision isn't expected until his senior year, but getting him on campus twice in five months is only a good thing. While he won't officially narrow down his list, it is rumored that the 6-5/245 defensive lineman currently favors the Bucks, Alabama, Clemson, and Virginia Tech so the staff needs to do everything they can during his two upcoming visits to remain at the top of that list.
The Winners: Super Bad
As mentioned above, the prospects at The Opening were drafted on to five teams for 7-on-7 tournament play during the weekend, but only one team could take home the champion's crown.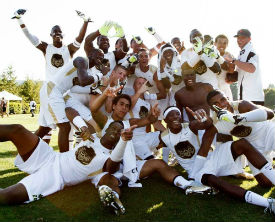 That team was Super Bad, who defeated the Field Generals by a score of 14-6 in the championship game that aired on ESPNU on Sunday evening.
Team Super Bad featured OSU commit RB Ezekiel Elliott, as well as Buckeye target RB Derrick Green. The two were roommates during the event and hit it off, with Elliott doing his part in recruiting what could be his future backfield mate in Columbus.
Other members of the winning team included QB Cooper Bateman (Alabama), WR Ryan Switzer (UNC), WR Jacorey Warrick (Texas), WR Torii Hunter Jr (Undecided, MVP), WR Jake Oliver (Texas), WR James Onwualu (Notre Dame), TE Arshad Jackson (Auburn), LB Matthew Thomas (Undecided), LB Johnny Ragin (Undecided), LB Kevin Palma (Undecided), CB Kendall Fuller (Undecided), CB Shaq Wiggins (UGA), CB LJ Moore (Undecided), CB Tre Bell (Florida), S Keanu Neal (Florida), and S Hatari Byrd (Undecided). The team was coached by Hardy Nickerson and Browning Nagle.
The Field Generals, lead by coaches Dan Hawkins and Ray Buchanan, also featured a number of stars, but came up just short of the title. Notables on the runner-up were Buckeye commit Eli Woodard, LB Mike Mitchell, new Notre Dame commit Alex Anzalone, Michigan commit Jourdan Lewis, and former Buckeye target Josh McNeil.
The event was a great success and not only matched up some of the country's best players, but also provided great entertainment to fans watching on TV and tremendous fun to all participants involved. Congrats to Super Bad for winning this awesome trophy as the champions.
Highlights
Additional videos: Alpha Speed vs Land Sharks | Alpha Speed vs Field Generals | Land Sharks vs Alpha Talon | Secondary Breakdown | Skill Players Breakdown | WRs vs DBs