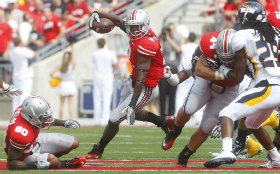 Out of all of the running backs in Ohio State's stable, Rod Smith certainly has the most intrigue.
Carlos Hyde is undoubtedly the beneficiary of Jordan Hall's unfortunate injury, immediatetly assuming the starting spot and getting an audition to be Meyer's rare feature back.
Rod Smith's position, on the other hand, is far more volatile. While it looks like he'll just step up one slot on the depth chart, it may not be that straightforward. 
Rod is sandwiched inbetween Hyde and Dunn on the depth chart and it's unclear exactly what his place is. While Hyde (6'0" 235) fits the mold as the big (Scout had him as the #1 fullback recruit) back, Dunn (6'1" 215) brings a powerback, between-the-tackles running style, and incoming freshman Warren Ball (6'2" 205) has better elusiveness and balance than either, Smith's role isn't as clear. 
Smith unfortunately breaks our string of 4-letter last-named running backs (seriously - Hall, Hyde, Dunn, Ball?) and has over an inch on any of the other backs.
Out of high school, scouts had him pegged as a 4*, sixth-ranked back in the country. They praised his vision, speed, and frame while also noting that he needed to gain lower-body strength in order to turn in to a true power back. 
At a long and lean 6'3" and 230, and with a fluid but upright running style, Rivals even noted that 
He should remind most Big Ten fans of a young Eddie George, and hopefully have a similar impact.
Rod is now a redshirt sophomore and has yet to live up to that comparison. 
It's fairly easily to divide Hyde and Dunn on the power back side, and Hall and Ball on the shiftier-back side, where do we put Rod? Our initial thought, especially with comparisons to Eddie, is that he has the best of both worlds, plus an extra inch or two. Fluid and athletic, with good cuts and vision to complement his frame, there was talk during bowl practice that Smith was in fact the bast back on the roster. 
Most people explain his lack of playing time by his fumbling early in the year. To some, this even furthers the comparisons with Eddie. 
What's clear now is that this fall is a critical juncture for Rod, and I see one of four scenarios realistically happening:
1. Shares time as 2nd string with dunn, ball
This is probably the most common prediction for Rod's next year: do well enough to keep a hold on the second string initially, then become 2A to Dunn's 2B.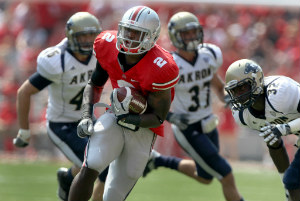 In this scenario there's a couple of possibilities. Either 1. Hyde has established himself as the feature back so the other backs on the roster get the scraps, or 2. There's a true tailback by committee approach, where the depth chart is fairly meaningless because every back gets some carries throughout the game. Time is divided and no one dominates individually. This is all the more likely once (if) Hall comes back from injury. 
2. transfers
If Rod finds himself either: 1. Demoted to third string on the depth chart in fall camp or 2. Splitting carries with Dunn as 2B for the majority of the regular season, then I think he will be inclined to transfer. It's clear that Rod has the physical talents to be a dominating running back at the college level - whether he is forced to transfer is largely dependent on if he can "put it all together" and find a unique role for himself in this offense. 
3. gets a new position 
If Rod quickly falls behind the other backs on the roster and transfer rumors run rampant, I wouldn't be surprised if Meyer attempts to flip him once and for all to a new position. Rod is long, lean, and fast and honestly would make a heck of player at multiple positions. Based on his brother Jaylon's ability at linebacker (not to mention his brief time there last year), a permanent move back there wouldn't necessarily shock me. 
4. established 2nd string, challenging hyde for first
One thing we've kind of missed, so far, is that Rod is a surprisingly adept receiver out of the backfield.
Take a look at this film: 
A couple of things are readily apparent to me. First, he hits the hole hard, then explodes to the outside quickly. He has no problem fluidly running through defenders initially, then cutting to the outside. This is complimented by his decent ability to run sweeps and outside runs. Second, half of the highlight video is him running untouched in open field and no one within ten yards.
Third, and most importantly, Rod is adept at catching screen passes, lining up as a wildcat quarterback, and blocking. I'm not willing to say that Rod is an ideal pivot player or that he'll be in the slot this season, but he does have soft hands and is fluid at catching passes out of the backfield. This is crucial for his success this next season: if Rod can find a way to differentiate himself from Hyde and Dunn specifically, it's possible that he can claim second string (or more) based on these talents alone. 
By differentiate, I do not mean that he must force himself to be a player he's not simply to adapt in to what many wrongly think Meyer's offense is (i.e. 5'7" speedbacks), but that he must prove he brings something to the table that the other backs don't. While that might be based on his receiving ability, it might instead just be that he combines the best qualities of the big backs and the speed backs - it's up to him to carve out his place. 
This is not to take away from his running ability, which is clearly elite as well. Instead, he might be prized for his versatility in addition to his rushing.