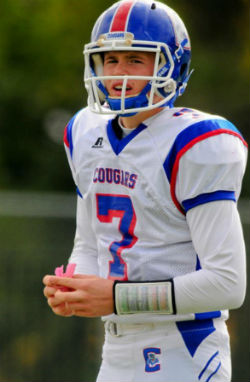 The Ohio State class of 2013 is up to 12 verbal commitments and still has about 8 spots remaining, but the coaching staff already has its sights set on the recruiting class of 2014.
Many talented underclassmen were on campus this past weekend, trying to prove their worth and value to Urban Meyer and company at the Buckeyes' second senior football camp of the summer.  As more campers come through Columbus, the coaches are getting a better overall look at who their top targets may be, with quarterback being a position of great focus for next year.  
Some of the players being taken into consideration include a few in-state guys like Toledo native DeShone Kizer and Louisville (OH) gunslinger Joey Duckworth, as well as out of state quarterbacks such as William Crest of Maryland, Caleb Henderson of Virginia, and Kyle Allen of Arizona.
Another one of the top signal callers that has emerged among the group is Hebron, Kentucky native Drew Barker.  Although the Bucks have not tapped into Kentucky too often to snag recruits, Barker has already been to Columbus twice this spring, meaning the camp visit was his third to Ohio State in just a few months. 
Barker's third visit did nothing to hurt Ohio State's chances and he began to build even a stronger relationship with the coaching staff, in addition to getting more familiar with what the program has to offer.  
We caught up with Drew to hear the latest on his camp experience, whether he thinks he'll get an offer, when a decision may come, and more. Keep reading to hear more about one of the most sought after quarterbacks in the class of 2014, Drew Barker.
What was your assessment of how you did in front of the Ohio State coaching staff at camp this weekend?
I thought I performed well and was not disappointed in my play at all.  DeShone Kizer and I were really letting it fly inside, going back and forth with one another.  I like being at camps because we really bring out the best in one another. 
What did you think of your third visit to Columbus?
I really had a good time and it was really just an extension of what I already enjoy about Ohio State.  I am continuing to become more comfortable with the staff and the campus itself.
What has your contact been like with the Ohio State staff?
I call Coach Coombs once a week to remain in touch with them.  We got to talk some at Ohio State and he had me speak with Coach Herman on this visit quite a bit.  He wants me to call him once a week as well so I'm going to go ahead and do that.  He said he would be sure to also have Coach Meyer on the line when he can.  Coach Meyer talked to me when I was there and says I have a lot of potential and he will be sure to keep an eye on me.  
What has the coaching staff told you about getting an offer?
They said I definitely was in the discussion for an offer and they will continue to evaluate me and other quarterbacks. They said a decision on an offer could come towards the end of the summer or beginning of the fall.  
Do you have any plans this summer to go and visit anywhere else?
I'll be going to camp at South Carolina next [Barker earned an offer this weekend at the camp in South Carolina]. I also plan on attending camps at Tennessee, Alabama, Cincinnati, and possibly Florida.  There is a Rivals Underclassmen camp in Dallas and I'll be there as well.
Have you put any thought on when you might make a college choice?
I know that the quarterback is the leader of the team and usually a focal point of the class.  If you look at what Shane Morris has done at Michigan by committing early and rallying a great group of recruits to build a very strong class, it is definitely an advantage in following that standard.  I'd like to be that guy and to recruit a strong core of players around me as well.  I want to decide on a college during my junior season, and if not, at least soon after.  Obviously things happen in which you sometimes have to change your plans or outlook, so we will see how things develop. 
HIGHLIGHTS: