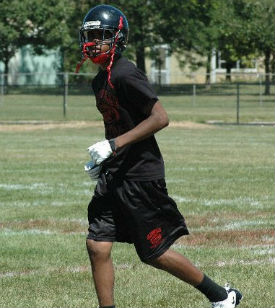 Most Buckeye fans know Cleveland Glenville as the main in-state pipeline for Ohio State during the Jim Tressel era.
The Tarblooders' program has sent some big time players to Ohio State, including Heisman Trophy winner Troy Smith, all-world play maker Ted Ginn Jr., NFL first round draft pick Donte Whitner, former starting safety Jermale Hines, former starting lineman Bryant Browning, the always famous Ray Small, current Buckeye starter Christian Bryant, and most recently, backup quarterback Cardale Jones and fellow recruit Devan Bogard. In fact, the Buckeyes have had one Tarblooder in every recruiting class since 2002 (Jones originally signed in the class of 2011).
The most recent Tarblooder to emerge on the recruiting scene is defensive athlete prospect Christopher Worley. Standing at 6'2" and roughly 200 pounds, Worley can play multiple positions including linebacker, safety, and Star, which is a combination of the previously mentioned positions. The Buckeye staff took notice of Worley's talents and extended the Glenville standout an offer back in April.
Worley has made it to Columbus a couple of times already, most recently for the spring game, and greatly enjoyed his time on campus. While he does not have any other set visits, the rising senior would like to make it back to Columbus in the near future to further explore what the football program and university have to offer.
We caught up with Worley to find out how his visit to Ohio State for the spring game went, when he may make his college decision, which former Glenville star is recruiting him to Ohio State, and more. Keep reading to find out more on the prospect who may keep the Glenville pipeline flowing, Christopher Worley.
How did your junior season go?
It went relatively well, but we didn't do as well as we wanted. It changed week after week, there's definitely a lot of room for improvement next year.
How's recruiting going?
It's going good. Right now I have offers from Ohio State, Pittsburgh, Arkansas, Illinois, Michigan State, West Virginia, Cincinnati, and a lot of MAC schools.
Do any of those schools stand out?
No schools are really standing our right now. I've had a lot of 7-on-7 things on the weekends, so I haven't had the chance to check out all of the schools I would like to see before I narrow my list.
Do you have any upcoming visits planned?
Yeah, I will visit Ohio State again soon. I've already seen most of the school, but I would still like to see a few more things, like the dorms.
You visited Ohio State for the spring game. How did that go?
I got to see the weight room when people were actually working out which was really cool. I also got to meet with like every coach. The game was crazy. It's amazing there were like 100,000 people in the stadium for a spring game in bad weather. During the game I met a lot of the 2012 commits who had already enrolled in school.
What have the Buckeye coaches been telling you?
I get a whole lot of mail from Ohio State, like pictures of a Buckeye uniform with my number and a caption of "Stay Home". I also talk with my recruiter, Coach Drayton often. He's a real good guy.
What position do the coaches envision you playing?
Just about everywhere. Linebacker, safety, and star. Star is probably the main position Ohio State sees me playing.
Do you have a timetable for your decision?
I don't really have a set timetable right now. I'll probably take all of my officials following football season and make a decision after that.
What important factors will go into your decision?
The school environment, and the coaching staff will be really important. I don't want to go to a school where I'm not close to the coaches.
Are any Glenville alums recruiting you to Ohio State?
I've recently talked to Cardale Jones a couple of times over his break. He tells me how cool Ohio State is and that I should go there.
What goals do you have for your senior season?
Personally, I want to put my team in the best position to win. I want to leave the school better than I found it. I would also like to be a leader and help the younger players get better.
HIGHLIGHTS: