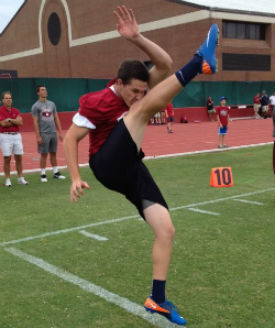 It had been about two months since Ohio State's last verbal commitment for the class of 2013 and Buckeye fans were growing restless. 
After seeing both Alex Anzalone and Lewis Neal decommit from the school in the same week, Ohio State fans were impatiently waiting the next pin to drop in Urban Meyer's first full recruiting haul.
The wait was long until Tuesday afternoon when, in somewhat of a surprise move, Johnny Townsend of Boone High School in Orlando, Florida became the twelfth member of the Buckeyes' recruiting class. 
While giving scholarships to specialists is not a new practice, many were not anticipating it would be part of Meyer's plan in year one. Although it made sense to add a punter with Ben Buchanan being in his last season, the speculation was that Drew Basil, Frank Epitropoulos, or a walk-on would take over the punting duties in 2013.
Buckeye fans should have known better as Meyer coaches the special units himself and considers the group the most important on his team. The first hint that a punter would be added to the group came from offensive line prospect Matt Miller who told Eleven Warriors last week that the staff would not be offering a guard until there was a punter committed.
This puzzled fans at the time, with many thinking it was a stall tactic by the coaches,  but was cleared up pretty quickly when news broke on Tuesday of Townsend's verbal pledge.
Townsend had Ohio State on his mind for a while. When he first sat down to plan his summer visit schedule the Buckeyes were one of the programs he wanted to check out, not only because of their prestige, but also because of their new head coach.
The Townsends are located in the heart of Gator country and Johnny admits that he was raised as a Florida fan. While that may leave a bad taste in the mouth of Buckeye fans, they should be glad he followed UF so closely.
Johnny's respect and fondness of Meyer certainly helped laid the ground in Ohio State's recruiting, with Townsend saying, "My family are all Gator fans so we followed Urban Meyer closely when he was at Florida and then we followed him when he made the move to Ohio State in the fall".
After initially getting in touch with the Buckeye staff, Townsend learned that they would be offering one punter a scholarship offer to join their 2013 class. He immediately set his eyes on earning that spot and flew to Columbus last week for Ohio State's kicking camp on June 14, already holding a full ride from Cincinnati and having preferred walk-on offers from Florida and Alabama.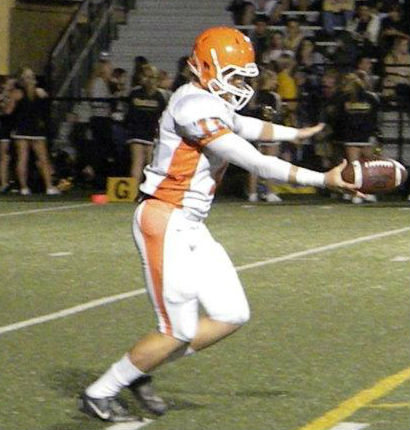 Townsend had a great time at the Buckeyes' camp and competed with some of the top specialists from around the nation. Coming out of his trip to Columbus the coaches told him to keep in touch and he certainly did.
Following camp, Johnny had a few conversations with the OSU staff over the phone before finally getting the news he was waiting for.
"I called again this week and was told Coach Meyer wanted to speak to me. He got on the phone and offered me a full scholarship", Johnny said. Of course, it didn't take the star punter long to accept. "I committed on the spot", said Townsend. "Coach Meyer chuckled when I told him, but he said that he was really excited that I was that interested in the program and that they couldn't wait to get me up there".
While Townsend did not get to see everything he wanted to while in Columbus due to flight scheduling, he was impressed with a few things about the Buckeyes. When asked what stands out the most to him about Ohio State, he said, "No individual thing really stands out over the others. I love the atmosphere, the tradition, the tremendous coaching staff they have, the facilities, and the fact that they are one of the top programs in the nation. With Coach Meyer there now he is going to do great things".
Of course, Urban Meyer personally coaches the special units, and that doesn't hurt either. Townsend is very excited to be able to work so closely with his head coach, saying "It is a tremendous opportunity that I have with Coach Meyer working with the special teams. He is going to coach me one-on-one which will be great. I know there will be high expectations for me and the program, but I'm ready for the challenge and things have just worked out perfectly".
After averaging 42 net yards per punt as a junior, Townsend will continue to work on his game this off-season. Meyer gave him the names of some coaches that he trusts and that he feels will prepare him for his time in Columbus, and the Boone star plans to connect with those coaches in the near future.
In addition to training on his own, the newest Buckeye commit plans to make a return trip to Columbus on July 27 for the Friday Night Lights camp, where he will compete with some of the best players in the country, while also getting a closer look at the campus and academic side of the university.
With the punter position wide open next season Townsend knows there is a situation to take advantage of, with the opportunity to start as a true freshman is right there in front for him to grab. The rising senior said, "I know nothing will be handed to me, but the coaches said to come in and be ready to compete, so that's what I'm going to do. The college game is very different in that there are more fans in the stadium, there is more pressure on you with every kick, and the game is quicker than in high school. I will have to adapt to that and keep working hard with the people Coach Meyer wants me to work with, but I feel I can do that and will be ready to make an impact when I step on campus."
While special teams were an after thought last week, this week they are in the forefront of Buckeye Nation's mind. It may not have been the commitment everyone was waiting for, but in Townsend the Ohio State program gets a high class individual with some special talents at a position considered to be one of the most valuable on the field to Urban Meyer.