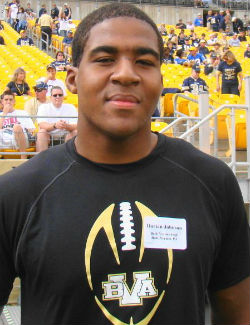 It is no secret that Ohio State has struggled to load up on recruits on the offensive line in their class of 2013.
Evan Lisle came on board back in late February, becoming the first at the position to pledge to Ohio State, but nothing has changed in the last four months or so and some big time prospects have come off the recruiting board since.
Ethan Pocic (LSU), Hunter Bivin (Notre Dame), Colin McGovern (Notre Dame), John Montelus (Notre Dame), Jake Raulerson (Texas), Chris Fox (Michigan), and many others decided to take their talents elsewhere, leaving Urban Meyer and Ed Warinner with a smaller talent pool to go after and making the top prospects remaining an even higher priority.
One player who was always one of the top targets, but has become more of a priority due to circumstances is Dorian Johnson of Belle Vernon (PA) Area High School.
The 6-6/270 Johnson is a five star prospect and the number 12 overall recruit according to 247 Sports, while also earning four star honors from all of Rivals, ESPN/Scout's Inc., and Scout. He is regarded as one of the top offensive linemen in the class across the board and, with his hometown being just three hours from Columbus, it was only natural for the Bucks to jump into the mix for his services.
It appeared for a while that Ohio State wasn't really in the Johnson race, despite continuing to be mentioned in his top four along with Pitt, Penn State, and West Virginia. The Buckeyes turned up the heat once Pocic committed to LSU though, and were fortunate enough to get a visit on the calendar before Johnson made his decision in early July. That visit happened this weekend.
Coming into Saturday's trip, Johnson had said that the Panthers and Nittany Lions were on top of his list, with many believing the home town school, Pitt, had the lead. Johnson likes the idea of playing for his local team and the fact that Paul Chryst's staff pumped out NFL offensive linemen at Wisconsin on a regular basis doesn't hurt either. 
Of course, it took just one trip to Columbus before Johnson's view of things changed a bit. The star prospect could not have had a better visit and said that "everything was great on my visit. The trip really changed my outlook on everything. Pitt is still on top for now, but Ohio State gave me a lot to think about. They're definitely in the running now that I've gotten the chance to see everything there."
Getting solid position in the race is really all Ohio State could ask for at this point and that is what they accomplished today, with Urban Meyer naturally being a large part in the reason why OSU now has a legitimate shot to land the super lineman.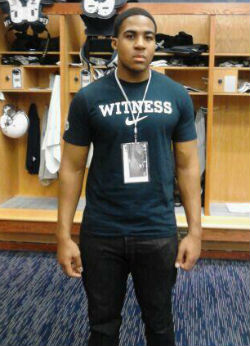 Johnson, who made the visit with his mother, aunt, and cousins, was impressed with the Buckeyes' head coach, saying "meeting Coach Meyer in person was a great experience. He talked to my family and I on a personal level and told us about his ultimate goal for the program. That goal is to win the national championship and he said he felt I was a perfect fit for his style of offense to help them accomplish that goal."
Johnson is set to visit Penn State next weekend and will try to get to West Virginia the last week in June, with a goal of making a decision"some time in the first two weeks of July". While that goal is still in tact, his time with the Ohio State staff may have pushed things back a bit.
Because his OSU visit went much better than expected, Johnson is now contemplating making another visit to Columbus before deciding, and not just on any ordinary weekend.
"If I don't make my decision in early July, I will most likely go back to Ohio State for Friday Night Lights [July 27]. That would be my last visit and then I would make a final decision", said Dorian.
Right now it appears Pitt is in the driver's seat for Johnson. If he makes his decision in early July, I expect this to go to the Panthers. If things get pushed back and another trip to Ohio State is made, I feel good about the Buckeyes' chances of landing what would possibly be the biggest verbal pledge in this class, considering the caliber of player and position of need.
HIGHLIGHTS: