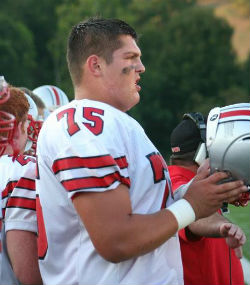 Eleven Warriors first had the word a couple of weeks ago that Jared McCray was on campus for an unofficial visit, as well as that the Minford product would be back to Columbus again for OSU's football camp on June 10. 
McCray followed through with those plans and was one of the more impressive players in the offensive line group for the day, despite the fact that he is just a 2014 prospect.
At 6-4/303, McCray has the size and footwork to play tackle in Ed Warinner's system, but also could fit in on the inside at center or guard as well. Many onlookers, as well as the coaching staff were very impressed by his performance and buzz is starting to pick up regarding his recruitment.
We caught up with Jared to hear the latest on his recruitment, how he felt he did at Ohio State's camp, what other visits he may have planned this summer, and more. Join us after the jump to hear about one of the top 2014 offensive line prospects in Ohio, Jared McCray.
You were at OSU's camp last Sunday. How did it go?
The camp went great. It was a great day to learn from some very experienced coaches from various colleges. It was also a good chance to see some of the top recruits for Ohio State.
How do you feel your performed both to your ability and in comparison with the other linemen there?
I felt that I tried the best I could in all of the drills. I ran my fastest forty yard dash time at the camp, so that was great. In the offensive line group there were many talented players and competitive linemen, and I feel I did well.
Did you get to talk to any of the coaches while you were at camp? What did they say?
Yes, I got to speak to both Coach Gillum and Coach Warinner briefly before camp started.
What did the coaches say regarding a scholarship offer?
They didn't discuss a scholarship offer with me on Sunday, but I know I am on their radar for 2014.
What was your favorite part about the camp?
My favorite part about camp was all of the great competition. Some of the top recruits on Ohio State's board were at the camp competing in the drills.
Who was the most impressive player you saw during camp?
Kyle Meadows from Lakota West High School was the most impressive player there in my opinion.
Do you plan to go to any other camps or on any other visits this summer?
I am going to Penn State this weekend and West Virginia in July. I have already gone to a camp at Ohio University and I am trying to make it to Cincinnati as well.
If Ohio State offers you where would they sit on your list?
An Ohio State offer would be great. They would definitely be high up on my list.
HIGHLIGHTS: