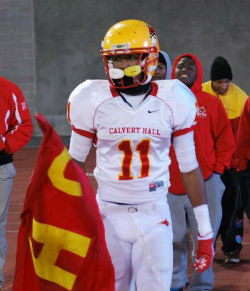 There were a few "unknown" players who put on good performances in front of Ohio State's coaches at Sunday's camp, but one that may have stuck out just a little bit more than the rest is Delando Johnson.
The 6-2/190 Towson (MD) Calvert Hall prospect shines on both offense and defense at the prep level and did the same at OSU's camp this past weekend, working out at wide receiver and safety. Johnson likes both of those positions, but many also think it is possible he can put on some weight and move down to outside linebacker at the college level.
Sort of a late bloomer to the recruiting circuit, Johnson doesn't have too many offers to his name just yet, but is making the rounds at various camps and his stock is rising as he generates more buzz after each solid performance he locks down.
We caught up with Johnson to hear about his performance at camp, what the OSU coaches told him, how his recruiting is going in general, and more. Join us after the jump to hear more about a new name on the recruiting board, Delando Johnson.
How did your junior season go?
It went well. My team made it to the championship, but lost in triple overtime. Individually I had a good year. On defense I had 70 tackles, 10 sacks, 4 forced fumbles, and 3 fumble recoveries. On offense I had 22 catches and 3 touchdowns.
What offers do you currently hold? What schools are showing you interest?
I currently have offers from Illinois, Boston College, Wake Forest, East Carolina, Toledo, Ohio, Buffalo, Youngstown State, and Old Dominion. I am seeing interest from Arizona, Arizona State, Maryland, West Virginia, Penn State, Ohio State, and others.
You just went to Ohio State's camp. How did that go?
It went great. I did really well. I went there to work out in front of Urban Meyer specifically and I feel through ball drills, foot drills, 1-on-1s and everything else that I performed really well. I worked  out at both safety and wide receiver and did well on both sides of the ball. 
What did the coaches say to you about your camp performance?
Coach Coombs said I was a warrior and a beast during the defensive back drills. Coach Meyer gave me a lot of compliments and told me I was a great player.
What are your feelings on if you will get an Ohio State offer?
I am just going to let things play out, but we started to build a strong relationship. I think an offer from the Buckeyes could be coming soon.
What position is Ohio State recruiting you as?
They liked me on both sides of the ball, but they are looking at me most likely as a defensive back.
Where would OSU sit on your list if they offered?
They would definitely be at the top. When I was there I felt like home. If they offered, it might be the end of my recruitment.
When would you like to make a college decision?
Initially I was thinking National Signing Day, but as I said if Ohio State offers I just might take it on the spot.
Who was the best player you saw while at camp?
I'd have to say the best guy by far at camp was someone I went against frequently in Vonn Bell. He's really good.
What other camps or visits do you have planned?
I am visiting Bowling Green, Cincinnati, West Virginia, Notre Dame, and Maryland for camps as of right now.
HIGHLIGHTS: