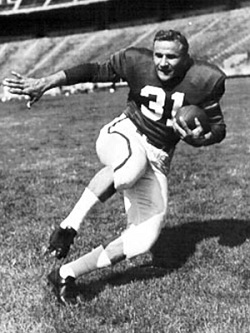 When Woody Hayes took over as head football coach at Ohio State in 1951, not every player was excited about it. Many of them resented Hayes' demanding style and his aggressive mannerisms. Others felt loyalty to the previous coach, Wes Fesler, feeling that he had been driven to leave by the pressure to win. But there was one player who had a better reason to be unhappy than anyone else, because the new coach brought in a different offense, one that would lead to a reduced role for him.
In this day and age, a player in such a circumstance might grouse a bit or openly complain. He might even consider a transfer. But in the 1950's, such things were unheard of. In those days, the players either played the game or they didn't, and when a new boss came in you did what he said. This was true even if you were the reigning Heisman Trophy winner from the previous season.
The change from Fesler's single wing attack to Hayes' new T-Formation offense would mean less carries and few passes for senior Vic Janowicz, the "triple threat" star of the 1950 season who had claimed college football's most coveted award. In Hayes' offense, the halfbacks ran the ball and if there was any passing to be done (and there was not much of that), it would be the quarterback pulling the trigger.
None of this is unusual or strange today, but back in 1950 the single wing offense, while already in decline, was still practiced by many college teams. It was developed in the early 1900's by Pop Warner in order to take advantage of a single player who had more ability than most, someone like Jim Thorpe. A coach who had one great player and very little else on offense would often install that player as the focal point of the single wing and find success.
Ohio State had used this formula in 1944 when World War II decimated the roster and left coach Carroll Widdoes with one great player and a lot of freshmen. The player in that case was Les Horvath, and he took advantage of that situation to have a great season and win OSU's first Heisman Trophy award. In 1950, Fesler faced a similar situation, and his one great player would perform a similar feat and bring home a second Heisman for the school.
Janowicz had been a superb prospect coming out of high school in Elyria OH, and Ohio State fought off many other schools to convince him to come to Columbus. In those days, a group of local businessmen and former players called "The Frontliners" organized for the purpose of recruiting star players to come to Ohio State, and one of the most prominent of those, local construction magnate John Galbreath, personally guaranteed Janowicz a job with his company if things did not work out on the football field. Such tampering with an athlete's recruitment would be considered a violation today, but in the late 1940's it was still acceptable.
As a sophomore, Janowicz mostly played defense as Ohio State rolled to a 7-1-2 season, complete with a Big Ten championship and a Rose Bowl victory over Cal. In the bowl game, OSU trailed 7-0 and the Golden Bears were driving for another score when Janowicz intercepted a pass from Cal QB Bob Celeri at the Buckeye 25 and took it back all the way to the Cal 31. From there, OSU QB Pandel Savic led the team to a tying TD, and Ohio State never trailed again. The 17-14 win was OSU's first-ever bowl victory in their 2nd attempt (the 1921 team had lost to Cal 21-0 in the Rose), and they would not lose in a bowl again until 1971.
In 1950, Savic and most of the offense had departed and Janowicz was one of the few players with any star power. Fesler initially moved him to quarterback so that he could handle the ball on every play, and in the single wing offense that meant he was a ball carrier almost as much as the other backs were. In many ways, the single wing was similar to the kind of "running spread" offenses that are practiced by teams like Oregon today, with the main difference being that there was no "zone read" of the DE or "mesh point". It involved a direct snap to the QB, who would then spin around and either hand to another back or fake it and carry the ball in the opposite direction. 
What the single wing could do for a player as talented as Janowicz was best illustrated in the 2nd game of the 1950 season. After losing a 24-7 lead in week one and ultimately losing to SMU, the Buckeyes rallied to beat Pittsburgh in Ohio Stadium 41-7. Fesler moved Janowicz to halfback and installed Tony Curcillo at QB, and the results were immediate. Fesler had Janowicz throw 6 times from his halfback position, and he completed all of them, with 4 of them going for touchdowns. Janowicz also handled all of the punting and placekicking duties.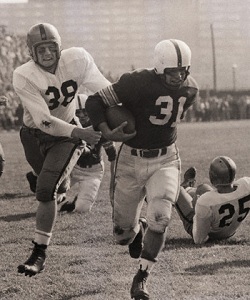 This versatility would be on display throughout the season, but it was best illustrated in a home victory over Iowa. Janowicz sent the opening kickoff out of the end zone. Starting on their 20, Iowa fumbled on first down, and Janowicz recovered it on the 23. He then scored OSU's first TD on an 11-yard run, and added the extra point. He again sent the kickoff through the end zone, forcing Iowa to start at their 20. Three plays later, the Hawkeyes punt the ball away. Janowicz received the punt at the OSU 39 and took it all the way to the end zone for his 2nd TD, and of course he added the extra point afterwards.
Next, Janowicz again kicked it out of the end zone, and Iowa starts at their 20. On 2nd down, Iowa fumbles again and Janowicz recovers again, this time at the 26. A few plays later, Janowicz hit Curcillo with a 12-yard TD pass and then kicked the extra point. With barely more than 5 minutes gone from the game, Ohio State is up 21-0 and Janowicz has already racked up enough highlights to fill his future grandchildren with awe.
On the day, Janowicz ran for 2 TD's, completed 5 of 6 passes for 4 more TD's, kicked 10 extra points, punted twice, and kicked off 11 times. And in addition to that, he played outstanding defense and recovered two fumbles. OSU ended up winning the game 83-21 and Janowicz might have won his Heisman Trophy with that single dominating performance.
The 1950 season would end on a sour note for Ohio State, as they lost to Michigan in the infamous "Snow Bowl" game. Fesler later resigned and Hayes was hired to replace him. The T-Formation spelled the end of Janowicz's dominance from the halfback position, but he played it out anyway. After his career ended, Janowicz tried his hand at professional baseball, but it didn't work out and he eventually went back to football. He played two seasons with the Washington Redskins, but a brain injury left him partially paralyzed and ended his career in 1956. He eventually regained most of his strength and lived a relatively normal life until his death in 1996.
This fall, Ohio State will line up an a variation of the run-first spread offense, and so it seems that everything comes back around eventually. It is doubtful that a Buckeye will be holding the Heisman Trophy at the end of the season, but in that kind of offense anything can happen and so it will be exciting to see how it plays out. As you watch the multiple fakes and players carrying the ball from all angles, maybe you can imagine old #31 running out there with the boys in Scarlet and Gray. I think he would appreciate that.