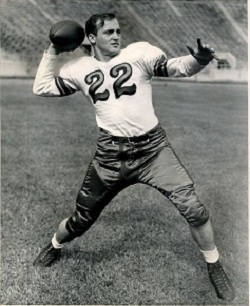 It's rather unusual in this day and age to see a star player of any magnitude finish out his eligibility in college football. Most are under pressure to go for the big contract with an NFL team at the earliest possible opportunity. Even more unusual is the player who stays beyond his graduation. In the early 40's, a confluence of events in various places around the world led to this unusual situation coming to pass at Ohio State in the person of Les Horvath.
Horvath was born in South Bend IN, but moved to Parma OH as a child and eventually to Cleveland where he became a star in football and basketball at Rhodes High School. He went to Ohio State on a work scholarship but made the football team and managed to get on the field for a few plays as a sophomore in 1940. One memorable play was tackling Michigan legend (and eventual Heisman Trophy winner) Tom Harmon in the final game of the season, a 40-0 loss to the Wolverines.
OSU head coach Francis Schmidt had brought a wide-open offense with him when he took the job, but in 1940 the rest of the league was catching on to all of his tricks. That Buckeye team went 4-4, their worst record since 1927, and Schmidt eventually resigned. Massillon High School head coach Paul Brown was eventually named to replace Schmidt.
Paul Brown was a man of organization. Getting his players in good condition, teaching them the plays using a notebook, and drilling them on the same plays over and over was his method of winning games. OSU moved from the wide-open "southwestern" offense of Schmidt to a single-wing attack under Brown, utilizing fewer plays but running them with precision. As I have recounted elsewhere, Brown had success in his first season, going 6-1-1 and tying Michigan for 2nd place in the Big Ten.
Horvath played a lot in 1941, but at reserve halfback in a single-wing offense he did not get a lot of carries. Fullback Jack Graf carried the load for the Buckeyes while fellow seniors Tom Kinkade and Dick Fisher were the starting halfbacks. But Brown could see the potential of the junior Horvath, and he had big plans for him in the next season, a season that would become one of the most memorable in OSU history.
Outside of football, the U.S. was drawn into World War II late in 1941, but the war seemed very far away for OSU fans as they anticipated the 1942 season. The senior-laden backfield from the previous year had departed but Horvath and junior Paul Sarringhaus returned at halfback with sophomore Gene Fekete manning the fullback slot. Since Brown's system was all about discipline and execution, no one doubted that the promising youngsters would pick up where the departed stars had left off.
As a starter, Horvath expected to see his share of the action on offense, but in fact most of the carries went to Sarringhaus and Fekete, and Horvath was even occasionally upstaged by reserve halfback Tommy James (no Shondells). He did manage to break through for 68 yards on 12 carries in the 8th game of the season against Illinois (a "road game" played in Cleveland due to lack of attendance in Champaign-Urbana), and he also completed 4 passes for 109 yards. He would figure even bigger in Brown's plans the next week against Michigan, because the young coach was planning to pass a lot.
Single-wing offenses rely very heavily on the run, and in the 1940's passing was unusual in any offense, but the 5th ranked Buckeyes wanted to surprise the 4th ranked Wolverines and using the forward pass from the single-wing was an effective change of pace. Horvath passed 10 yards to Sarringhaus for a TD in the 2nd quarter, and then caught a 32-yard TD pass from Sarringhaus in the 4th to secure a 21-7 victory. In those days, it was common for the best players to play both offense and defense. Horvath and Sarringhause excelled at both, leading the Buckeyes to victory. They would later defeat an all-star navel cadet team of former college players (Iowa Pre-Flight) to go to 9-1 on the season and secure the school's first-ever National Championship.
Horvath had finished the season with a flourish, but it was Sarringhaus that was named to the All-American team, and Fekete who finished 8th in the Heisman Trophy voting. As for Horvath, he was a senior and was due to graduate that spring. He had plans to go to dental school and possibly to the NFL, but playing again in college was the last thing on his mind. Still, when the "call of duty" for Ohio State football came almost two years later, Horvath would answer.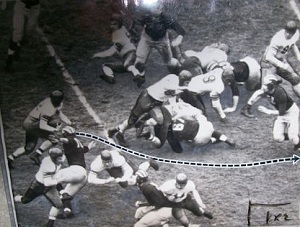 The 1943 season was a difficult one for OSU, and for most college teams. Many players and potential players had joined the various military services in order to help the war cause. After a lackluster 3-6 season, even coach Paul Brown heard the call to service and volunteered. His assistant Carroll Widdoes was named as "acting coach" until Brown returned, and a special rule was implemented by the NCAA that allowed graduate students to come back and play if they had not exhausted 4 years of eligibility.
Widdoes asked Horvath, who was still in dental school at OSU in the fall of 1944, to return and play halfback for the team. There were 31 freshmen among his 44 players, and he would need Horvath's leadership if he was going to mold them into winners. In return, Widdoes promised Horvath that he could play the left halfback spot (he played on the right under Brown) and he would have a lot of say in the direction of the offense. Horvath agreed, and OSU would be much better for it.
The graduate student had one of those seasons that most guys can only dream about. Horvath gained 905 yards rushing and 345 passing as he led OSU to a 9-0 season and a Big Ten Championship. The Buckeyes were invited to play in the Rose Bowl, but the Big Ten had a rule against post-season play and they decided not to make an exception for Ohio State. Still, the team finished ranked #2 behind only Army, and thus they were hailed as the country's "National Civilian Champions".
Horvath was named MVP of the Big Ten, 1st Team All-American, and won Ohio State's first Heisman Trophy award, beating out Army's legendary "Four Horsemen" members "Mr. Inside" and "Mr. Outside" Doc Blanchard and Glenn Davis (who would go on to win the award the next two years). Acting head coach Carroll Widdoes was named "Coach of the Year" in college football, and OSU had three other players chosen as All-Americans. It was one of the greatest years for Ohio State football up to that point, especially considering how many setbacks they had overcome.
Horvath went on to serve in the Navy after graduating from dental school (his service coincided with that of future OSU head coach Woody Hayes), and after the war he played professionally for the Los Angeles Rams (recently moved from Cleveland) and the Cleveland Browns. Injuries forced him to give up football, and so he ultimately settled into dental practice, opening his office in Glendale CA and working there until he retired. He died on November 14th, 1995, at his home in Glendale. Later that year, senior running back Eddie George (who had spent 5 years in high school) would win the Heisman Trophy for his exploits carrying the ball for Ohio State. Somewhere, I think Les Horvath must have been smiling.