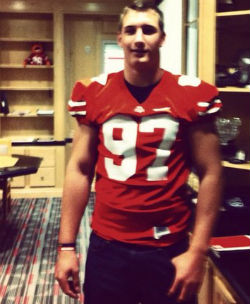 As early as three weeks ago it was thought to be a "long shot" amongst OSU insiders for Joey Bosa to be a Buckeye by National Signing Day in February 2013, let alone give a commitment to Urban Meyer in April.
When we interviewed Bosa in March, the Fort Lauderdale (FL) St. Thomas Aquinas star mentioned he had plans to visit Columbus for the Spring Game and was excited to see what the Bucks had to offer, but word out of the Sunshine State was that Bosa was likely to stay in the south and it would be tough to beat his supposed leader in Alabama. 
Things didn't go exactly according to plan and Bosa moved his visit up a week when he took a trip to the Midwest during his Spring Break. On the trip he got back to Madison to check out Wisconsin, drove down to Columbus to see the Buckeyes, and went up to Ann Arbor to see the Michigan Spring Game before heading back home to Florida.
Despite enjoying all three schools on his mini vacation, Bosa came back home feeling very strongly about one school in particular. After multiple tweets raving about OSU, including saying he was "in love", it became pretty clear that the Buckeyes not only had a real chance to land one of the top players in the nation, but they very well could be the leader for his services.
Usually when a recruit takes a visit and talks highly about it the way Bosa did with his Columbus trip, that player comes off the high and things settle down a bit. That was not the case for Joey as shortly after he returned home from the Midwest, he decided he needed to get back to Columbus to see the Buckeyes' Spring Game and make sure Ohio State was definitely the place for him to spend the next four to five years.
When he arrived back to campus the feelings he was having certainly did not go away. He arrived in Columbus late on Friday night, but was extremely excited knowing he'd get to see the electrifying atmosphere of the Horseshoe the next day and had a pretty good idea how things were going to end on his trip.
As you already know, the Spring Game could not have been a better experience for Bosa. Of the actual game experience inside Ohio Stadium, he said "it was awesome and the turnout by the Ohio State fans was great".
While in the Shoe that day, he also got to spend some time with other recruits, which helped him feel even more comfortable with the Bucks. Two of the prospects he spent most of his time with were Wymossing (PA) LB Alex Anzalone and Naples (FL) Barron Collier TE Mike Heuerman. Of course Anzalone committed to Ohio State on Saturday, while Heuerman is currently finalizing his decision amongst OSU, LSU, Miami (FL), and Notre Dame.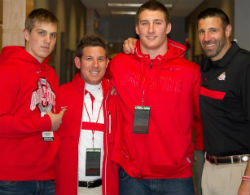 The three were practically inseparable during the weekend and were even tagged with the nickname "The Bash Brothers". Bosa said both Anzalone and Heuerman "were really cool kids and I know we will all be good friends for a long time". In regards to the nickname (that's sure to stick), he "loved it, but still isn't even sure who came up with it".
After the game, Joey knew Ohio State was 100% sure that Ohio State was the right place for him and he decided to commit to the coaching staff that day. In terms of making the call when he did, Bosa said "Everything about Ohio State was just awesome. The people, the coaching staff, the campus, the city, they all just came together perfectly and I knew this was the place I had to go."
As you could imagine the news of getting one of the best players in America excited Urban Meyer just a little bit. Bosa said when the OSU head man got the news that "he went crazy and ran out of the room to grab all of the other coaches to celebrate and congratulate me".
Bosa spent the night in Columbus on Saturday before returning Sunday evening (after conquering a Thurmanator). Rumors swirled all day that he was "silently committed" to the Buckeyes, and while those rumors were true in the end, Joey would not confirm anything publicly until he spoke to his father (only mom came with him to Columbus) about his decision.
Once he did that he wasted no time in letting the public know that he was a Buckeye, skipping today's standard hat ceremony and press conference for a simple Twitter announcement. His commitment gave the Buckeyes a huge pick up in their recruiting class of 2013, as Bosa is one of the best players in the country and adds to an already stacked defensive line unit made up by players in the classes of 2012 and 2013.
While he is certainly excited about getting up to Columbus and beginning his career with the Buckeyes, Bosa's focus is on his senior season with the St. Thomas Aquinas Raiders. His goal for this year is simple: "win a state title".
Hopefully once he does that, he can come up to Ohio State and help the Buckeyes bring home a a few titles of their own in the coming years.
HIGHLIGHTS: