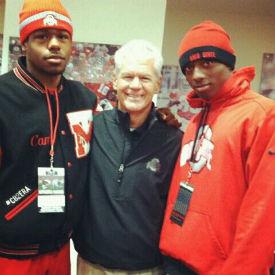 Even if you don't follow recruiting, you should be familiar with the name of Buckeye commit Eli Woodard by now, just by visiting this site in the last year.
The 6-1/185 cornerback from Eastern High School in Voorhees, New Jersey was a long time lean to OSU before finally pulling the trigger on a verbal commitment back in February.
Since then Woodard has been working hard back home in New Jersey to help his team win a state title in the fall, as well as better prepare for his career in Columbus. Of course, he has also set aside some time to come back to his future home, and recently attended the Spring Game.
While Woodard was familiar with all the hoopla that goes into making a visit to Ohio State, this was his first time back to campus since giving his pledge in the winter. In addition to enjoying himself amongst the other fellow commits at the game, Eli also took the opportunity while in Columbus to build some relationships with some of the uncommitted prospects in attendance and plans to keep in touch with some of those players to help the coaches reel in the remainder of the class of 2013.
We got the chance to talk to Eli to hear what he's been up to since committing, find out how his Spring Game visit went, see what recruits he has been talking to, and more. Join us after the jump to hear more from one of the leaders in the recruiting class of 2013, Eli Woodard.
How have things been going for you since your commitment to OSU? 
Everything has been really good. It's a great feeling getting the recruiting process over with and being able to just focus on becoming the best Buckeye I can be. I have a responsibility to respect everything about this opportunity and am continuing to work really hard because committing is just the first step in the process.
What have you been up to in regards to preparing for Ohio State and also in getting ready for your senior season?
I am currently working out with my team at school either four or five days per week doing my defensive back, quarterback, and wide receiver training. At nights I am lifting and doing more conditioning four days a week in an NFL style program at the Power Train facility here in Jersey. In addition, I am doing some individual defensive back training once or twice per week and am hitting the Baltimore/Washington DC area a couple time a month to train with a group of Division I prospects down there. My weeks have been pretty full, but it's as close to being like what my schedule is going to be like once I arrive on campus, so it's good preparation. I'm also doing two to three hours worth of homework per night in addition to all of this and I'm making sure I'm on top of my school work more than anything else.
You were just in Columbus for the Spring Game. Tell us about your experience there and what you did while at Ohio State.
The Spring Game was great and so was my entire time in Columbus. I got to spend some quality time around the coaches, players, commits, and recruits. This was my first time back since committing and I was really able to enjoy the fact that this was going to be my home for the next few years and the people around me are going to be my extended family for life. The Ohio State football program is the most exciting program in the country right now and things are only getting started.
There were obviously a lot of fellow commits and recruits there. Who did you hang out with while in Columbus and get to know better?
Alex Anzalone, Jayme Thompson, Cam Burrows, and myself really had a great chance to hang out and enjoy the trip together. They are a great group of guys and I am proud to be a part of it all. I really look forward to playing with everyone at Ohio State, but especially my fellow classmates. Every one of us is working really hard as we all want to earn our way and make history in Columbus. I can't wait to get to know Billy Price, Ezekiel Elliott, Jalin Marshall, JT Barrett, Marcus Baugh, Evan Lisle, Lewis Neal, Tracy Sprinkle, and Joey Bosa better in the near future.
Have you been helping recruit other players to finish this class off? What recruits have you been speaking to?
I have been keeping in touch with a group of guys on my own because I want to play with the best players possible and end up with the number one class in the country to go along with what will be the number one secondary in the country.
When's your next planned trip to Ohio State?
Nothing is set in stone yet, but I may be back in June for a few days at one of the camps. I want to be able to work with the coaching staff then and want to come back in August to see a few days of training camp. I will also be coming in for a few games once the season starts.
Any plans to enroll early next year?
I am currently working with my high school to be able to graduate in December. There are a few things that have to happen involving the state in order for it to be possible, but I'm doing my best to make sure everything is in place so that I am allowed to enroll early.
Do you know what you want to major in?
When I get on campus I want to major in communications, as my family is involved in film and television broadcast.
I know it's early, but have an idea of who you may want to room with?
I haven't had any talks about roommates yet, but I would be happy sharing space with everyone I have met so far.
What should OSU fans expect from the future cornerback tandem of Cam Burrows and Eli Woodard?
A whole lot of excitement and a group of guys that are going to work day in and day out to be the best. That goes way beyond Cam and I, but also includes everyone on both sides of the ball. I look at the defensive line and am excited I get to play with players of that caliber. I know they are going to get the job done up front so that the defensive backs will have plenty of opportunities to make plays in the secondary. I hope to do the same for them, as we want to hold our coverage long enough so they can all have time to get to the quarterback. If anyone tries to test the flats or come down the middle, the linebackers will be ready to set the tone as well. We all want to be "play makers" and make big plays when they come our way.
HIGHLIGHTS: