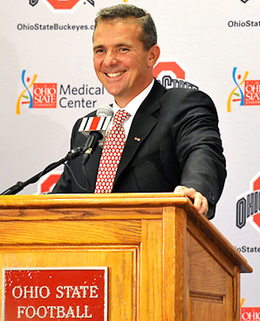 SCARLET

April 21, 2012

1:30 PM ET - BTN

—— Ohio Stadium

Columbus, OH

GRAY
What a difference a year makes.
Last April, Ohio State as a football program was limping into it's annual spring game with a coach fighting for his job, a star quarterback injured and taking in the spring game as a spectator and a fanbase feeling as if all of the greatness of the previous decade was slipping away.
It would only get worse. Jim Tressel was forced out for lying to the NCAA, the 2011 spring game would be the last time Terrelle Pryor would suit up in a Buckeye uniform and the team would turn to Luke Fickell as an interim coach on the way to stumbling to a 6-7 record, the program's first losing record since Ronald Reagan was in office.
In late November, a white knight rode in and in one introductory press conference, helped erase 12 months of stink. Today marks the first time Urban Meyer will take the field at Ohio Stadium, in front of fans, to lead his team.
Assuming the weather cooperates -- and it looks like it might -- today's spring game may play out perfectly as the opening of a new era at Ohio State. One filled with the confidence and excellence we're all so used to.
While the 2011 spring game used an offense vs. defense structure, this year's event will resemble more of a traditional game, with both squads fielding offensive and defensive units.
Offensive coordinator Tom Herman will lead the Scarlet squad, while his defensive counterpart, Luke Fickell, takes charge of the Gray team.
Herman's side will feature Braxton Miller, and he alone may be good enough to provide the edge in this matchup, but Miller won't have the full compliment of his playmakers as most of them will suit up for Gray.  Running back Jordan Hall, tight end Jake Stoneburner and wide receivers Corey Brown and Devin Smith will catch passes from Kenny Guiton (the star of last year's spring game) and newcomer Cardale Jones.
We're to expect a lot of passing today, so Miller will try to connect with wide receivers Chris Fields, Michael Thomas and Tyrone Williams as well as tight ends Jeff Heuerman and Nick Vannett. Should Scarlet choose to run the ball, Miller will hand off to Carlos Hyde and Rod Smith, two guys that have quickly become veterans on this team.
What Miller and Team Scarlet lacks in playmakers on the edge, they make up for on the offensive line. With Reid Fragel, Marcus Hall, Corey Linsley and Jack Mewhort, Tom Herman's squad will trot out four starters to help protect against a Gray defensive line that features Adam Bellamy, Garrett Goebel, Steve Miller and the destroyer of worlds, John Simon. It's worth pointing out that Miller will also have Zach Boren on his squad, so opportunities to get the running game going will be there.
The Scarlet defensive front will feature Michael Bennett, Chase Farris, Joel Hale, Johnathan Hankins, J.T. Moore and Se'Von Pittman, which is essentially a group that could start at half of the schools in the Big Ten, so don't sleep on this group (although Pittman has been injured and is not expected to play today).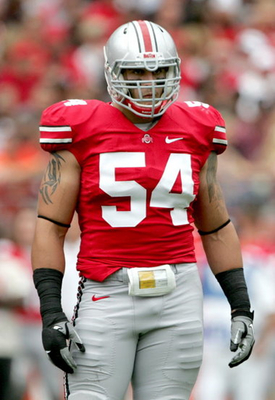 At linebacker, Herman's Scarlet team will feature Connor Crowell, Storm Klein, RYAN DEAN SHAZIER and Stewart Smith. Klein is out with an injury, so Smith will see plenty of action, but how effective can he really be when Shazier is stopping everything on the field (including the wave-particle duality of light)?
The Gray team linebackers, Curtis Grant, Ross Oltorik, Joshua Perry, Andy Reed, Luke Roberts and Etienne Sabino are young, but talented. True, Sabino is a vet and has been proving his leadership on and off the field all spring, but this will be the first chance for fans to get a good look at Grant, Roberts and Perry (although Perry is dinged up and his status is questionable).
Defending Miller in the Gray secondary are Corey Brown, Adam Griffin, Orhian Johnson, Tyvis Powell and Bradley Roby. Roby has earned praise from the staff all spring and is poised for a monster campaign, while Johnson is looking to reassert himself as a contributor on defense.
Scarlet's secondary will feature C.J. Barnett, Christian Bryant, Doran Grant, Zach Domicone, Travis Howard, Ron Tanner and Jamie Wood. Barnett and Bryant are both dinged up, as are Wood and Domicone, who is out for the rest of spring ball.
Today's scrimmage is a cause for excitement and I'm hoping fans show up in force to take things in, but ultimately, it's a spring game, which means we'll learn a little -- mostly about how Meyer and Herman's scheme will look -- but nothing too substantial. The ghost of spring playmakers past -- from Bam Childress to Joe Bauserbombs -- encourages you to not get too excited about what you'll see, but as long as we come out of today without any major injuries, we'll all be winners.