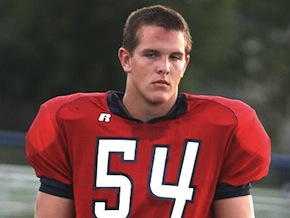 Last Monday, Austintown-Fitch defensive tackle Billy Price became Ohio State's fourth member of the 2013 Buckeye recruiting class. Price made his decision after a weekend visit to Columbus where he was able to see the campus again, but more importantly after getting an opportunity to sit down with Urban Meyer and the coaching staff to see where he fits into the Buckeyes' plans. 
The commitment was not altogether surprising, as many suspected that Price would ultimately end up a Buckeye, but the timing of it did catch some off-guard since he told me only two weeks earlier that he would like to wait through his senior season. 
He had also told me that he already knew where he was going, but that he wanted to take his time before making it public. I got a chance to talk to Billy last week after his announcement became official and was able to get some understanding of what changed.
The 6'4, 305 pound Price is a big-time prospect on either side of the line of scrimmage, but he will definitely get his first looks as a defensive lineman. How does he feel about that? We'll tackle that question and a few others after the jump.
Join us, won't you?
I am sure it feels great to get this out of the way and that you can focus solely on your upcoming senior season at A-F. When Ohio State offered you two years ago, you knew then you'd be a Buckeye, right? Why wait until now, and what's changed for you since we talked two weeks ago and you said you were going to be waiting for a while to make your decision?
When I was offered as a sophomore and was in that environment I knew i wanted to be in this special place.  What changed was when I was down getting the campus tour by the coaches and saw all the academic facilities and all the other facilities. That was really when I knew that this was a place I wanted to go to college.
You went to OSU this past weekend; can you tell the readers a bit about that experience from the time you got there? How do things "go"? Besides football, what did he and you, or your family, talk the most about? 
While I was down at OSU this weekend it was amazing. I toured all the academic facilities, all the sports facilities that I would be using in my time at OSU.  Coach Meyer sat me and my family down in his office for about 20 minutes and we just talked family. That really stuck out to me and my family because I'm so close with them. My family is essential to me, and being able to see them is too. The way Coach Meyer is going to run OSU is something I'm really excited for! 
I was with my grandfather, Stepdad and mother. We talked about his family, my family, and just old stories of funny things with his kids, my little brother, etc. Then we continued on about what exactly i want to do here at OSU.
Now that you're "official", what will you spend your time focusing on as a football player to make sure that you're ready to play as a freshman?
Now that I'm official I'm gonna focus on getting nasty! My first few steps of explosion have to be there and my hand fighting has to improve. I use my hands decently enough now, but not enough for the next level, that is definitely going to have to improve.
You mentioned before that the staff see's you as a three-technique DT, some evaluators see you on the offensive side of the line - which do you prefer to play and why?
I prefer to play defensive line because it's just a fun position. I love having the opportunity to go crush the ball carrier or the quarterback.
Will you be attending the spring game in April?
No, unfortunately I will not be attending the spring game due to my track schedule.
Senior year coming up: what makes your 2012 season at A-F a success?
My senior year at AF is going to be successful because the guys are putting in a ton of work now. Last year we didn't put that amount of effort into the season early. My guys are giving it their all on "mental toughness Tuesdays" and I can not wait to get back into it with them!
Do you plan on finishing out your senior year or will you look into early enrollment at OSU?
I will not be enrolling early because of track. I'm going to enjoy every single day of my senior year with my guys before the real work begins.
Who was the first person in your family that you talked to about this decision? What was there reaction? I know you're very close to your younger siblings, how did they respond to the news that "big brother" was going to be a Buckeye?
The first person in my family I talked to was my mother.  I told her I wanted to commit, and that this was where I wanted to be and belonged. Coach Meyer made my mother feel comfortable with me being there and that I was going to be taken care of while down at OSU. My siblings were super excited though.  My little brother loves OSU and my sister hasn't been yet, but once she goes she's gonna love it!
Will you still take any other visits, or is recruiting officially and completely over for Billy Price?
I probably won't take other visits. I'm happy with my decision! Go Bucks!
---
Buckeye fans should be happy with his decision, too. Price is a great young man who will represent Ohio State with class on the field and off, and while he may not get the headlines some of the other players in this class have gotten, or might get, his commitment is another huge win for Urban and his staff. Price, along with Cameron Burrows and Jalin Marshall are three of the state's top four players, and to have them all in the fold early allows the Buckeyes to focus on other areas of need. 
2013 will be a tremendous class, from start to finish for Ohio State, stay with us at ElevenWarriors.com as we do our best to keep you up-to-date.