Good morning Buckeye faithful and welcome to your Tuesday Skull Session.
I'm just a college student, so when it comes to understanding the complexities of job interviews out in the real world, I'm clearly no expert. However, if someone brings you in for a second job interview, that probably means they have a genuine interest in you.
As we've all heard, former Buckeye Head Coach Jim Tressel interviewed for a second time for the Indianapolis Colts' vacant head coaching position. In my opinion, this has disaster written all over it for both parties.
Tressel has never held any higher position in the NFL than as a game day consultant for the Colts last season. A game day consultant who was suspended for six games earlier this year.
His experience in the NFL, which is a totally different game than college football, is minimal. If the Colts honestly decide to go with Tressel, he's going to need to surround himself with a premier coaching staff to help him learn from his mistakes and learn the nuances of playing pro football.
The decision is yours, Jim Irsay; make the right one.
MEYER ON PATERNO. It never gets easier thinking about the fact the Joe Paterno is gone. Fired just 10 days after his record 409th win, arguably the greatest coach in college football history lived his final days in shame after being ousted amid the Penn State sex-abuse scandal.
But if you ask Urban Meyer what he'll remember about Paterno, he would tell you about the mentor, friend, and coach. In a Cleveland Plain Dealer article, Meyer called Paterno "one of his closest friends" and that the greatest lesson he ever learned from Paterno was to "always do right." Meyer even went on to call Paterno the greatest head coach of all time.
It's certainly disturbing that a man of Paterno's stature had his legacy ruined by such a terrible scandal. Much like Woody Hayes is remembered as a great football coach who did great things for his community, people also still remember how he punched a player. People will always remember all the good Paterno has done, but people will remember why he was ousted just as well.
"I was a coach that really admired him and followed him," Meyer said to the Plain Dealer Sunday. "Any chance I had to visit with him, I'd wear him out with questions. I was always trying to learn from him."
THE NORTH WILL RISE AGAIN. Ohio State's DeVier Posey, Dan Herron, Mike Brewster, and Mike Adams will all be teammates for one last game, as they play together on the North Squad in the Senior Bowl.
According to ESPN's Adam Rittenberg, scouts will mainly be paying attention to Posey and Adams from this foursome. Posey, Rittenberg writes, needs to address concerns scouts have with his route running after missing nearly an entire season due to suspensions. Rittenberg suggests that Posey can be a second day pick in the NFL Draft if he lives up to his potential.
Rittenberg also suggests that Adams must show "toughness" and better "overall strength" if he expects to be selected on day two of the draft. While Adams is already an imposing figure at 6'7, 323 pounds, he must prove he can match up with bigger, faster linemen in the NFL after playing on a pretty mediocre OSU offensive line last season.
Herron and Brewster shouldn't be off anyone's radars either, as both played terrific last season under trying circumstances.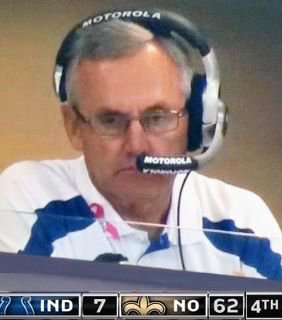 PSU LOSES JOE BUT GAINS THREE. Penn State has added three more verbal recruits to their recruiting class. One of them, Jonathan Warner, is the son of former Nittany Lion great, Curt Warner.
PSU's class hangs on pins and needles, as 16 of their recruits are verbal commitments. Only one, Jesse James, a tight end from South Allegheny, has enrolled at Penn State.
Ohio State recently picked up PSU recruit Carmen Williams and they are hoping to add his high school teammate and Nittany Lion verbal commitment, Armani Reeves. Reeves is looking at Michigan and OSU, but is scheduled to visit Penn State next weekend.
It's nice to see Penn State gain more recruits despite a scandal plagued offseason. While I do want to see Reeves in scarlet and grey next season, I do hope PSU is able to put together a decent class and restore their program in the coming years.
NAVY DOCKS IN THE BIG EAST. The Big East will announce today that Navy, a school that has played every year of its existence as an independent, will join the Big East for football, becoming the conference's 11th member.
While I'm still scratching my head as to why the Big East consists of schools like Boise State, Houston, and San Diego State, this move actually makes sense to me, at least geographically.
HOOPS THERE IT IS. Despite only playing one game last week against an overmatched Nebraska squad, Thad Matta's squad managed to sneak back into the top three in the coaches' poll.
The top five rounds out with #1 Kentucky, #2 Missouri, #4 Syracuse, and #5 Kansas.
The Buckeyes will face Penn State on Wednesday and will hopefully get a little bit of revenge against Michigan this Sunday.
LOS LINKS. Playoff talk? Yes, playoff talk... Joe Pa passing won't affect sex-abuse case... Honor guards for their former coach... Horford healthy for Purdue?... In honor of OSU playing Michigan this weekend.