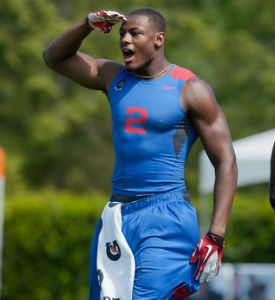 It's amazing how fortune can turn around for a program in just a matter of months. Before Urban Meyer came on board as head coach, the Buckeyes were lingering around the 25th rank in recruiting classes for the 2012 class. Just a month and a half later, they are approaching the number one spot.
The rankings shifted again today, thanks to the Buckeyes landing their 22nd commitment in the class of 2012, and 3rd commitment in three days, South Bend (IN) Washington LB David Perkins. Perkins is a 6-2/210 four-star athlete who was once committed to Notre Dame, but de-committed from the school in fall of 2011 due to Brian Kelly having issues with him making other visits. He made his decision public on Twitter early this morning, while also confirming his decision with a text message to 11W. He chose the Buckeyes over his other two finalists, Illinois and California.
The super prospect was on campus this past weekend for his official visit and told Eleven Warriors afterwards how much enjoyed the trip. While he didn't go as far as saying he committed on the spot, Perkins gave us no reason to think he would be choosing any school other than Ohio State if the choice became his with a committable offer, and he made the news official just moments ago when he let the cat out of the bag and announced he would be heading to Columbus to play his college football.
With Perkins in the fold, the Buckeyes will look to add three to six more players in this class, depending on room. With two weeks left until Signing Day, things could get very interesting as there are some very good players left on the board with so few spots remaining. Stay tuned to Eleven Warriors for the latest recruiting news, as things appear to be changing as every second goes by.