Now that the dust has settled a bit after Tuesday's annoucement, I write this for you, my Buckeye friends, hoping that you've all come to terms with the NCAA's decision and are prepared to move forward. Our year (wait, two year, no, three year) nightmare is over. We know what's happening, and what the future holds.
I realize that is not much consolation for those of you who feel the NCAA's hypocrisy is showing through their rulings against Ohio State and USC, while they seemed to "ignore" the Auburn case. Truth is, they had no evidence against Auburn despite all the smoke, and while they lacked evidence against USC as well, they clearly had enough to support their decision. I think that we should hold off on NCAA provoked angst until after the Oregon, North Carolina and Miami cases are finalized and we have seen what sanctions those schools receive. 
As a a Buckeye fan, I think it's a time to be grateful. Despite the surprising bowl ban for 2012, and despite the horrawful, misguided, mega-fail by Gene Smith (who bet his reputation on "precedent" to be followed by an arbitrary organization without any requirement to follow precedent), it could have been worse for Ohio State. 
Many of you are no doubt more frustrated with Gene Smith deciding not to forgo a bowl this year in an attempt to quell the NCAA's hunger for a post-season ban, and that's understandable. The players responsible for this mess will play in a bowl game this year, and got to play in one last year, while John Simon, Nate Williams and more lose out on what could have been a national title run in 2012. 
2012 will still have a lot of meaning, with or without a postseason. Root like crazy for Simon, Stoney and Williams and more to dominate each and every game they play, so that they all end up first round picks in the 2013 draft. Cheer like mad when the Buckeyes dismantle teams every week as our new coach and his band of cohorts teach the B1G that Ohio State will no longer "play nice". Celebrate the incoming talent and know that the "Golden Age" of Buckeye football that we feared would end with the NCAA investigation was merely paused, and know that in 2012 and beyond, Ohio State will be as strong as ever.
Sorry, Bret Bielema, but it's still a good day to be a Buckeye.
BUT WHAT ABOUT THE KIDS! In most cases, when an NCAA investigation occurs, there is a mad dash by other schools to try and quickly swoop in on the offending school's highly recruited commitments, as we saw in July when Kyle Kalis decommitted from Ohio State, and Se'Von Pittman and Kyle Dodson and others virtually eliminated Ohio State from their thinking. Coaches will say pretty much anything to try and sway a kid from choosing a rival school in a "normal" scenario, and when you add in the possibility of NCAA sanctions, the hyperbole and sensationalism that comes along with it can be too much for a kid to ignore.
Even though most knew that Ohio State's penalties wouldn't be as severe as the national media and Michigan fans were clamoring for over the summer ("death penalty", multi-year bowl bans, TV bans???), that didn't stop schools from spewing venom recently. One B1G assistant coach told a Buckeye recruit that "Urban Meyer is a bad man", hoping to sway him on his school choice. Another commit told me that a lot of schools continued to bad mouth OSU in their pursuit of him. 
In the time since his hiring, Urban Meyer and his nine different coaching staffs have put Ohio State back on the national scene recruiting wise, and Tuesday's announcement could have been a serious blow to the momentum he has created, but it doesn't appear it will have any ramifications with the newest Buckeye commitments.
Se'Von Pittman and Bri'onte Dunn have both stated to Scout.com's Bill Greene that they will not be changing their mind, and Noah Spence and Tommy Schutt have each reaffirmed their commitment to other sources. It would take a virtual destruction of the campus and eradication of Ohio State as a football program for any of the original 12 commitments to look elsewhere, so I think they're all safe. 
In truth, the one year bowl ban should have zero affect on this year's recruiting class and moving forward. The only affect it may have is that Urban Meyer will get more time to focus on recruiting for 2013. Tough break for those who wish to recruit against him. 
SCHOOL'S OUT. With the ringing of yesterday's school bell, most high schools around the country put 2011 to bed and will not be back in session until early 2012. For the Buckeyes, that's a pretty darn good thing. 
Yesterday, the Buckeyes received the news that the recently committed Dunn would in fact be able to get enrolled in January, putting to rest any hopes that Brady Hoke and UM had about a signing day switch. 
Dunn joins fellow 2012 commitments Cardale Jones, Mike Thomas, Tyvis Powell, Jacoby Boren, Josh Perry and Luke Roberts as early enrollees. Steubenville DB Najee Murray was working with his school to enroll early, but was unable to. He hopes to enroll in March. 
For the players who enroll early, they get a huge head start not only on learning the playbook, but also getting acclimated to collegiate classes and college life. It's a tremendous advantage, which I am sure Michigan's AD will complain about.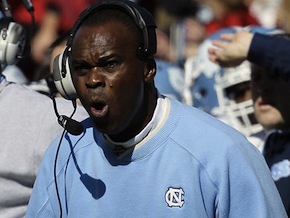 STAFF STARTING TO FILL OUT. As we saw yesterday, the Ohio State defensive coaching staff added it's final two pieces yesterday, with the announcement that North Carolina DC and interim head coach Everett Withers would join Urban's staff, and that Mike Vrabel would be retained. 
While the rumors about Withers have been around a while now and his hiring is not a surprise, the retention of Vrabel is in fact interesting. Over the past few weeks, Mike has been on the recruiting war-path, attempting to "prove himself" to Meyer. Urban's assistant coaches don't always last long under his watch because of the amount of pressure he puts on those who work under him, and he was worried that the Vrab-bro might not have the "fire in the belly" that a non-millionaire, former NFL player might. 
Apparently Meyer was satisfied with the work ethic and drive that Vrabel displayed, and coupled with the recommendation of Bill Belichick, he decided that Vrabel would be worth a spot on what he expects to be the "nation's best coaching staff." 
 BIG WILLIE STYLE. Jared Sullinger is a consensus All-American and a favorite to win Player of the Year nationally. Aaron Craft is the dreamiest dream boat since dreams boats were dreamed, and a hustle-machine that has won the hearts of people all over the country. Deshaun Thomas has turned into a good-shot-taking scoring machine. 
William Buford, the senior from Toledo, continues to draw the ire of Buckeye fans with what many deem as "inconsistent" play. People argue that Buford doesn't seem to be involved for a full 40 minutes, especially against the lower-level opponents that Ohio State has played, but the numbers don't support that debate. Yes, he struggled mightily against Texas Pan-American, shooting 1-7 from the floor, finishing with only 2 points; and yes he struggled in the first half against Kansas, where he matched the shooting numbers he recorded against UTPA. On Tuesday night against Lamar he only went for 7, on a night when the entire team (and crowd) seemed to be sleepwalking.
With his first assist in tonight's game against Miami of Ohio, Buford will become only the fourth Buckeye in the program's history to have 1,500 points, 500 rebounds and 300 assists in his career. 
Buford has scored 20 or more points five times this year, including leading the team in scoring in all three of their contests against ranked opponents (Florida, Duke and Kansas), and he leads the team in minutes per game for the season. 
He continues to move his way up the Ohio State record books, but most people don't seem to notice it, here's hoping that he will get some well-deserved respect from Buckeye fans sometime before this season is over.
FICKELL STAYING STEADY. It appears that Wisconsin offensive coordinator Paul Chryst has taken the head coaching job at the University of Pittsburgh, vacated last week by Todd Graham, who screwed over Pitt and his players by bolting for Arizona State after a less than a year at the helm. Chryst was one of three candidates rumored to have been interviewed by the Panthers, with Ohio State's Luke Fickell and FIU's Mario Cristobal being the other two.
The news that Chryst will be taking the job is a win/win for Buckeye fans, as he has been a major factor at Wisconsin in this century; but also obviously because Fickell will be remaining in Columbus. There were reports that Luke was offered a 5 year, 10 million dollar deal by Pittsburgh, and if that's true and he turned it down he skyrockets up the list of "most Buckeye dudes ever."
QUICK SLANTS. Coastal Carolina's new head coach is a baller... tried not think this was funny, but I laughed anyway... in a year full of horrible sports news, this should be getting more publicity... the full video of Bobby's special "Knight" in Columbus... Well, Microsoft, your next move? Also, this really excites me (watch the trailer!!), but I am a nerd, so what?