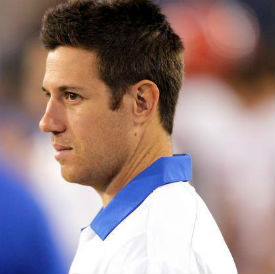 It's been a tough week right before the holidays, but the only thing keeping me going is the buzz in the recruiting world.
While many are worried about next season's purpose, I had to get to the grind to see how things were going on the recruiting front. More on that in just a minute, but the good thing about the bowl ban being just one season is the minimal impact this whole thing will have on recruitment.
Having contacted a majority of the 2012 recruiting class, I can safely that the sanctions handed down on Tuesday will have no impact on their commitment to Ohio State. The ones I didn't contact, I have read about and all signs are good if you are a Buckeye fan. In fact, two of the members of the class, signed their letters of intent yesterday (join us after the jump for that one) and I would expect all 19 current verbals to sign with OSU when it is all said and done, unless something other than the sanctions cause them to de-commit (see: Southward, Ricquan and Gators, Florida).
So take a deep breath Buckeye fans and join us for another edition of the 11W Recruiting Notebook. After the jump you will see what players are enrolling early in Columbus, who is expected to visit in January, and catch up with one of the class of 2013's top offensive linemen. Join us after the jump for some news you'll actually want to read about the Buckeyes this week.
OSU Early Enrollees
As Jeremy mentioned earlier, Ohio State is expecting a total of seven early enrollees to the football program starting January 2, the day of the Gator Bowl, which is also the day classes resume for winter quarter at the institution.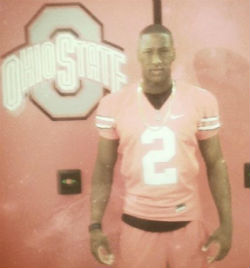 Two of those players, Michael Thomas and Cardale Jones, are officially in the fold, as they signed their letters of intent to The Ohio State University yesterday. Because both Thomas and Jones went to prep school this past semester after graduating high school last spring, they were eligible to sign early in the JuCo/Prep signing period that began yesterday. Glad to have both of these players in the fold and on campus early to get involved in off-season weight training.
The other five players definitely expected to enroll early are Bri'onte Dunn, Josh Perry, Jacoby Boren, Luke Roberts, and Tyvis Powell. These five prospects committed to and stayed committed (it was close with Dunn) to Ohio State during all of the turmoil and it will be great to see them get on campus and get to work. Enrolling early gives them an advantage on the other freshmen who come in first during summer quarter in June and don't get the playbook or participation in spring ball like these four will.
Finally,Najee Murray was trying to enroll early, but that is not going to happen in time for winter quarter. Murray said yesterday he is more likely going to come in for spring ball in March, which would still be great, but there is no guarantee everything he needs to have completed will be done by then.
Remember, the good thing about OSU being on the quarters system is that recruits have two chances to enroll early: in January and in March. Next year that will change as the school moves to semester and January will be the only opportunity.
January Visitors
Since Urban Meyer has become head coach of Ohio State, recruiting has taken off faster than a speeding bullet. There have been some big time names coming through Columbus to check out the new era in Buckeye football, and from the look of it, that won't change in the new year.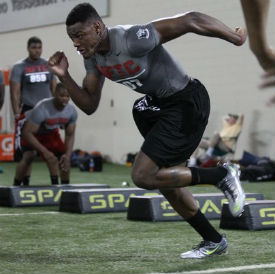 During the weekend of January 13-15, the Buckeyes are expecting another all-star cast of 2012 prospects on campus. That group includes South Bend (IN) Washington LB/RB David Perkins, Scottsdale (AZ) Chaparral ATH Davonte' Neal, and Windsor (CO) OL Joey O'Connor.
Perkins is definitely a candidate to fill a spot in this class and the former Notre Dame commit has a final list of Missouri, Michigan State, Michigan, Ohio State, LSU, and Tennessee. The Buckeyes have a good shot at landing him and the good news was that he said the sanctions handed down on Tuesday will have no impact on his decision. Perkins definitely says the right things about Ohio State, but if he leaves campus without committing, I'm not sure the Buckeyes will win out, or if Cam Williams commits first, there may not be enough room for him in this class.
Neal is a stud athlete who could play wide receiver or defensive back at the next level. He is a two-time Gatorade Arizona Player of the Year and grew up in Akron until his family moved to Scottsdale when he was 9 years old. Neal seems to be set on going out of state and is very excited to make the return trip to the Buckeye state. He also said the sanctions wouldn't hurt OSU and I think if you give Urban Meyer a few days with this kid, things will be looking really good for the Buckeyes.
Finally, O'Connor does not have an offer yet, but I think OSU jumps to the top of his list if he receives one. By his visit, the Bucks will have a better read on Kyle Dodson and Jordan Diamond and can likely make a decision regarding whether to offer O'Connor. If the offer doesn't come on the visit, I'm not sure if it ever will. This former Penn State commit is "Plan B" right now and time will tell how this plays out.
Two other players who say they plan to visit Columbus in January include Hueytown (AL) QB Jameis Winston and Olney (MD) Good Counsel ATH Stefon Diggs. Both of these prospects are unanimous top 20 players in the class of 2012, but until they actually schedule the visit and come to campus, I am skeptical of Ohio State's chances.
Catching Up With Logan Tuley-Tillman
One of the top offensive linemen in the class of 2013 is Peoria (IL) Manual OT Logan Tuley-Tillman. Tuley-Tillman was recently offered by Urban Meyer and Ohio State, and the 6-7/275 lineman also has offers from Indiana, Illinois, Michigan, Notre Dame, Missouri, and many others.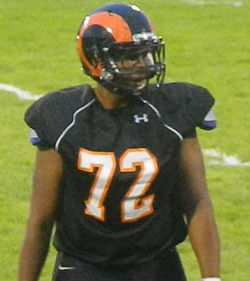 While Meyer would like to land at least two more linemen in the class of 2012 to go with Jacoby Boren and Pat Elflein, don't think the new OSU coaching staff is going to be done recruiting the position for a while. I would expect the Buckeyes to take another 4-5 linemen in the class of 2013 and Tuley-Tillman, along with some great Ohioans and other national stars will all be in the mix to join what could be the best class in school history.
We got the chance to catch up with Tuley-Tillman to discuss his junior season, his thoughts on Urban Meyer, what his future plans are and more. Check out the latest on one of Illinois' best players and a potential future Buckeye:
How did your junior season go? How did your team perform and how did you play?
My junior season was rough. Our team got hit hard with a lot of injuries so we had to play a lot of freshmen. I played well this season. I played stronger, faster, and more under control than in the past.
How is recruiting going? What schools have offered and what schools are showing interest?
Recruitment is great. I have offers from Ohio State, Notre Dame, Michigan, Tennessee, Missouri, Illinois, and Indiana. I am getting strong interest shown from Oregon, Florida, Oklahoma, Miami (FL), Oklahoma State, Arkansas, Nebraska, Boise State, and Wisconsin. 
What visits have you already taken? What visits do you plan to take in the future?
I've visited Michigan twice, Notre Dame, Illinois three times, Missouri, and Indiana twice. I am planning to visit Ohio State, Arkansas, and Tennessee, and also plan to go back up to Notre Dame and Michigan as well.
Do you have a top school or a list of favorite schools?
I don't really have a list of favorites right now. My recruitment is really wide open.
What are the important factors to you when you make your college decision?
Some factors that will be important when making my decision are what my mom thinks of the school, what the academic support is like, and if the school will contend for a BCS National Championship.
Do you have a timeline on when you will make your college decision?
Yes I do. I will announce my decision right before the first game of my senior season.
Ohio State just offered you. Tell us about how that came about. 
The Ohio State offer came a day after I got offered by Michigan. Mark Pantoni got in contact with me and started selling Ohio State to me. He reviewed my film and gave it to Urban Meyer. Then I got Coach Meyer's number and called him and he told me how much I impressed him and he then offered me a scholarship.
What is your opinion of Urban Meyer being hired as head coach at Ohio State?
My opinion is that he is reviving Buckeye Nation and it's very exciting for the school to have another great leader.
What is your plan in regards to Ohio State? Have you spoken to anyone since being offered? Are they a serious contender to land you?
My plan with Ohio State is to get out to campus, meet the guys, and see how it is out there. I just spoke again to Coach Meyer and Coach Vrabel. I already have a solid relationship going with Coach Vrabel, as I have spoken to him numerous times. He is has had an esteemed and championship-filled NFL career and is a great guy. If all goes well, yes sir they can definitely land me.
What are your strengths in your game? What do you want to work on before your senior season?
My strengths are my size, quick feet, flexibility, my big hands, power at the point of attack, and understanding of the game. I just like to line-up, and go bone for bone, punching my opponent in the mouth. I really want to work on perfecting my cut-off and reach blocks in the second and third level.
HIGHLIGHTS: