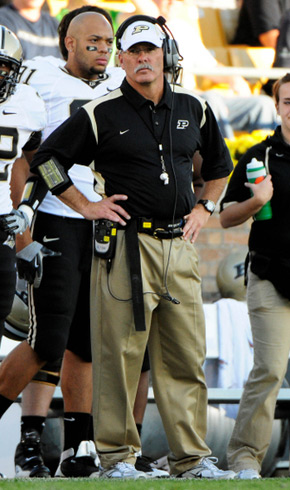 This is it. The home stretch. We're three games and probably about 12 gray boxes away from wrapping up the regular season; as soon as the last second ticks off the Michigan game, all hell will break loose as OSU frantically begins its' search for a head football coach in the face of near-certain NCAA penalties and I begin my search for an instructor willing to teach me the deadliest dance of all: the Dance of Love.
Barring an appearance in the Big Ten Championship game, those things (combined with family and friends, I GUESS) should keep us occupied for the month between the last regular season game and the bowl game. But, to get there, Ohio State needs to once again successfully navigate a month that in the past has been very kind to them.
The Buckeyes haven't lost a game in November since 2007, and starting with the 2002 championship season, OSU is a ridiculous 25-3 in the turkey month. This record is a testament to a quality almost all of Jim Tressel's teams showed: consistent improvement. Starting with an incredibly mediocre Purdue team, the Buckeyes now have a chance to show that this was not some fluke related to sweatervest mojo, that Ohio State will not go gently into that good night, and that Luke Fickell will have a better than decent chance at landing a legitimate interview with whoever ends up as AD after the inevitable firing of Gene Smith.
As far as Purdue goes, well, they aren't great. But they might just be not great enough to knock off the Buckeyes at home, especially if Ohio State can't get the running game going. Let's take a look at the inner workings of the Ramblin' Wreck of the north (except about 1/3rd as fun to watch), the Purdue Boilermakers.
Opponent
As discussed in the Dubcast yesterday, Basketball on Grass is more or less dead. Purdue's starting QB, Caleb TerBush, is no Drew Brees. He isn't even a Curtis Painter, although he kind of looks what a 7th generation clone of Painter would look like, after the cloning machine started spitting out weird looking copies with stuff like webbed feet or a propensity for some amazing inconsistency. TerBush is not a bad QB, per se, but unlike a lot of his predecessors he isn't the focal point of the offense. He's serviceable (~60% completion rate, has thrown a touchdown in every game but one this year, etc) but not spectacular. Backup and last year's starter before injury Robert Marve should play as well, but in a much more limited capacity.
The reality of the situation though is that Purdue is, or should be, a run-first team. Ralph "Mo Wells Junior" Bolden is a smaller RB with some serious speed, and frankly that's about as exciting as it gets for the Boilermaker offense. Bolden, like TerBush and the rest of the team, is about as reliable as an Amtrak train conducted by Homer Simpson ("I call the big one 'Bitey'"). He's only had one 100 yard game this year, and managed to average a pretty pathetic 2.8 yards per carry or worse against Minnesota, Michigan, Illinois, and Notre Dame. Bolden's best game came against Penn State, where he rolled up 97 yards and averaged 7.5 ypc. Point is, the dude has talent, but his lack of consistency hurts him.
The offensive line and skill positions have a few interesting quirks; the O-line is absolutely massive, averaging about 6 foot 6, although that hasn't especially helped them in pass protection, as they've given up 18 sacks so far this year. Justin Siller, a WR, has more catches than anyone on the team, and might pose some matchup problems with his 6 foot 3 frame. If TerBush is having any kind of success in the passing game, it's likely going to come through Purdue exploiting OSU's somewhat undersized corners.
Defensively Purdue slides from just "meh" to "straight up bad." Giving up 35 points or more 5 times during the season, including 62 to Wisconsin last week, is not the sign of a team that is finding its footing on the defensive side of the ball as the year goes on. Losing Ryan Kerrigan was a massive blow to the defensive line, which is helping give up 191 rushing yards per game, and 330 rushing yards or more in each of the last two contests. DT Kawann Short is the lone bright spot here, with 3.5 sacks and 13 tackles for loss. Expect to hear his name quite a bit.
The secondary is anchored by teeny Ricardo Allen, he of three picks this season. It isn't a great unit, and their numbers are inflated somewhat by opposing teams running at will, but they can capitalize on mistakes. With their size advantage, this might be a good opportunity for Devin Smith and Jake Stoneburner to make a return to the spotlight, especially on intermediate and deep routes.
Buckeye Breakdown
With that said, it's kind of funny that I mention the passing game as if it were some kind of entity to be utilized and improved upon, instead of what it really is, a horrible disease which must be stamped out and obliterated. Ohio State is now is the 118th ranked passing offense in the country. That's not a stat that I just made up; the Buckeyes are averaging 115 yards passing per game on the season, ahead of only Navy and Army.
This pretty much has to change. Last week we were enamored by three 100 yard rushers taking over the game in the second half, and while that's great, someone needs to get open and Braxton Miller needs to stop floating easy passes. Another thing that Braxton needs to work on is throwing the ball away to avoid sacks, having been sacked a Jay Cutlerian 21 times this season.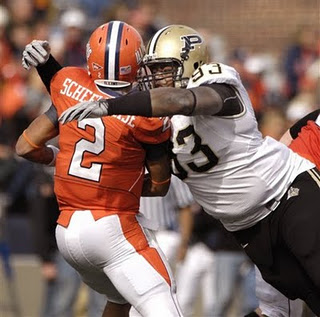 I don't want to short change the rushing game, however. The return of Mike Adams has been a tremendous boost, and Boom Herron has been terrific. I also have to think that despite being listed alongside Jordan Hall as the 2nd string RB, Carlos Hyde has pretty much cemented himself as the go to guy in that position, especially given Hall's injury a few weeks ago.
In this week's depth chart there was some weird shuffling with the defensive line that ultimately I don't think means a whole lot, except that they want to get some of the younger guys more playing time. Simon and Hankins continue to play out of their minds, but what's encouraging to me is that we're beginning to hear more names called out than just theirs. Keep in mind that the d-line is still one of the youngest units on the team; Evan Blankenship is the only senior in the two deep.
The secondary remains a concern. I hate beating a dead horse, but Indiana converted on third and five or longer six times last Saturday, most of which were on scoring drives. The safties and the corners simply were not able to defend the middle of the field. Some of this might have been attributed to Tre Roberson extending plays with his legs, but a good portion also has to fall on the DBs simply not understanding their assignments. Watch for Purdue to try and copy that formula.
Prediction
Part of me wants to be nervous for this game; it's at Purdue, where the Boilermakers have played much better this season. In recent years they've taken it to Ohio State in West Lafayette, so if you're into meaningless historical records there's that, too. Still, I remain unimpressed by Ralph Bolden and the rest of the Purdue RBs. They've been inconsistent at best, and unless Bolden is able to pop a long run for a touchdown, I don't envision them having an effect on the outcome of the game. The real test will be to see how well Braxton Miller performs on the road, especially since in his last road game he completed exactly one pass on four attempts. If he can maintain his composure and at least complete the illusion that OSU would like to throw the ball at times (even if they really, really don't), then the rushing game should open up and eventually take over.
I, in fact, was King Cool Guy last week, proving once again that I am both a King and a Cool Guy. You can e-mail me any requests for signed headshots; they're only 5 dollars each, which is really a bargain for something that's bound to appreciate in value. Anyway, this week I deigned to combine my brilliant prediction with the rest of the 11W rabble, and together we came up with the score of...
Ohio State 25, Purdue 15