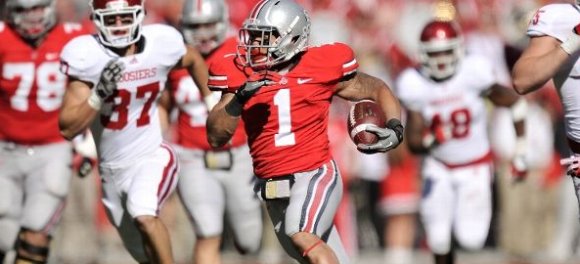 It was the epitome of gridiron butterface but Ohio State capitalized on a big play rushing attack that saw Boom Herron, Braxton Miller and Carlos Hyde each eclipse the century mark, another strong showing from the defensive line and a key interception from Travis Howard to pull away from Indiana 34-20 yesterday afternoon in the 'Shoe. 
The up and down performance wasn't what Buckeye fans were starving for following the conference championship hope-inducing victory of a week ago but the W did improve Ohio State to 3-2 in the B1G - keeping their Indy-bound hopes alive - and boosted the program's November record since the 2005 season to 15-1. 
Before we turn our attention on the upcoming trip to West Lafayette where OSU will battle the Fightin' 'Stache's, let's take a look at this week's edition of Five Things...
growing pains
We talked in the roundtable about whether or not Braxton Miller would settle into a more consistent groove or if he would still flash some freshman moments mixed in with his ridiculously athletic playmaking skills.  No question the young QB had some gamechanging plays today - mixed in with some very freshman looking plays along the way. 
Again playing it close to the vest as an offense especially with the rushing attack having so much success, Miller was just 5/11 through the air for 55 yards and a pick, complementing his sick 14 carry, 105 yard, 2 TD performance on the ground. 
At times, he was simply electric with his feet. Miller's 81 yard burst to paydirt cutting the Indiana lead to three at 10-7 was barely believable as he got to the second level in an instant before using some weave action to take advantage of great downfield blocking from his receivers. The run was the longest ever by an OSU QB and was the sixth longest rush in OSU history. Later, he would convert a 3rd and goal from the 20 taking a QB draw to the house thanks to an ankle shattering cut around the 10 yard line. 
Conversely, he struggled to feel the pass rush on a few dropbacks. He was sacked six times today for -41 yards. Clearly, not all of those were his fault but there were a few instances in which it appeared he should've felt the pressure a little sooner. This issue was aided by the fact that when OSU is in max protect, the wide receivers often struggle mightily to get open. Of course, this problem was further magnified by things like Bollman dialing up PLAY ACTION ON 3RD AND 18. Miller also turned it over on OSU's first possession as Shugarts whiffed on a block allowing his man to hit Miller while he was carrying the ball in one hand nearly above his head. 
Through the air, he had a few great moments early on. Trailing 10-7 but given possession at his own 41, Miller coverted a 3rd and 19 with a perfectly thrown ball to Fields on a seam route for 21 yards. The timing and placement of the ball were both perfect. Three plays later on 2nd and 11, he showed great patience as he ran through his progressions before finding Boren all alone in the right flat for a 25 yard gain. The drive would eventually result in a field goal and a 10-10 tie after the refs refused to call PI as Philly was ridden out of bounds on a fly route near the front left pylon on 3rd and 13. 
Arguably his worst series of the day occurred just before halftime as he went 0/3 missing badly on each attempt. On 2nd and 11, he misfired badly to Philly on an out route. Two plays later on 2nd and 9, he bobbled the shotgun snap and tried to compensate by rushing a throw to Philly that sailed five yards over his head. On the next snap, he launched another terrible throw, this time badly misfiring toward a tight end over the middle. 
No question, Braxton's contributions were crucial to securing victory and he showed his usual flashes of insane brilliance on the ground but the passing game continues to evolve at an unsteady pace. The green receiving corps struggles at times to get open and Miller didn't always have all day to throw so clearly it's not all on him but the fact remains this team is going to have to get a little more proficient at throwing the football if they want to achieve the type of balance that is usually required to beat a truly legit defense. 
I still feel like Miller's definitely going to mature into a deadly consistent passer, it's just going to take some time especially without the aid of experienced receivers this season. I can't wait to see what happens when Posey gets out there with him.
Big Play Boom
Boom Herron amassed 141 yards on 14 carries, good for a ridiculous 10.1 yards per carry but those numbers only tell part of the story. 
A complete back, Boom's contributions weren't just with the football in hand as he did his part to put the Buckeyes in the winners circle. 
Boom's presence was felt early as his seal block helped Braxton reach the 2nd level at top speed, allowing him to then play off some fine downfield blocking from his receivers en route to his 81 yard TD run, the longest by a quarterback in OSU history, cutting the Hoosier lead to 10-7. 
Two possessions later, Boom went Ginsu on the Indiana defense taking a 1st and 10 handoff for 48 yards, cutting at least six times in the process. The drive would eventually stall but a 45 yard FG from Basil gave OSU their first lead of the day at 13-10 midway through the 2nd quarter. 
With the game tied at 13 coming out of the locker room, Boom offered up a little deja vu action as he took the first handoff the 2nd half and swept right for 40 yards moving the ball from the OSU 29 to the Indiana 31 yard line. Miller would get intercepted at the 2 yard line three plays later but Boom's run at least flipped the field. The defense responded forcing a quick three and out and after a 43 yard punt the Buckeyes were again in business at the Indiana 48 yard line. 
Afte Miller gashed Indy for 13 yards on 1st down, Boom got loose for 20 up the gut moving the ball to the Hoosier 15 yard line. Following a run for no gain on 1st down, Boom showed great vision and patience as he waited for the blocks to develop and raced through the left side before diving to the left pylon for six. The heady run put OSU in front 20-13 with 10:05 left in the 3rd quarter. 
The pesky Hoosiers responded with a 64 yard march to knot the game at 20 before Ohio State took over at their own 20 yard line. Boom wasn't a huge factor rushing for 17 yards on four carries as OSU moved the ball to the Indiana eight yard line. It looked like the drive would stall as Miller took a big sack putting the Bucks in a 3rd and goal from the 20 but Boom again made a crucial block before Miller used that ridiculously unfair juke to reach the endzone giving the good guys at 27-20 edge with just seconds left in the 3rd quarter. 
Combine Boom's rushing ability with his pass and run blocking skills and I just hope this dude gets a fair chance to show he can contribute on Sunday's. 
D-Line doin' work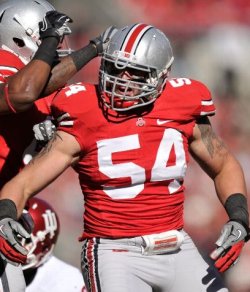 Once again, the story on defense was Johnny Simon and Jonathan Hankins stealing the lunch money of opposing offensive linemen. Their all conference efforts up front got a welcome assist from Garrett Goebel.    
Simon was all over the field registering a career high 10 stops including three for loss and his team leading sixth sack of the season. He made his presence felt right from the start blowing up a read/option on 3rd and 3, holding the Hoosiers to just three points on their opening drive.
Alongside him, Hank bullied his way to eight tackles, 1.5 for loss, including a sack. He continues to show improved conditioning which was much needed today as Indiana went with a sped up offense and used the shifty Roberson and Houston to try and run away from Hankins in the middle. 
Last week it was Adam Bellamy that stepped up to assist Simon and Hank up front but this week it was the Goebel show. The redshirt junior played his best game in the scarlet and gray recording a career high seven tackles with a pass breakup tossed in for GP which was much needed as Bellamy was a non factor.  
It seems the complement to the two John's will be filled with a by-committee approach but props to Goebel form showing up big today. If one of the Goebel/Bellamy/Bennett can step up each week the rest of the way, that will go a long way in helping compensate for a sometimes shaky back seven. 
Looking further into the future, with Hankins guaranteed to return since he'll just be a junior in 2012, the key to OSU having a truly dominant line next year rest's in Simon's decision to stay in Columbus or jump to the league. If Simon comes back and Williams can get healthy, the Buckeyes would have sick defensive line with Simon (would be a Sr.), Hank (Jr.), Goebel (RS Sr.), Williams (Med RS Sr.) with Bellamy (RS Jr.), Bennett (So.) and a slew of young guys providing depth. 
The Back Seven
I wish I felt more confident about the Bullets lining up behind the defensive line.
Andrew Sweat was active today with nine stops but fellow linebackers Sabino and Klein were non-factors when on the field. Sweat did a nice job in run support but all the linebackers and Stars seem to struggle with getting sucked up when playing zone, leaving big gaps in between themselves and the safeties.
It looked like Ohio State played almost exclusively zone today, most likely to keep eyes on Roberson and the read/option but when Indiana passed against the zone, they seemed to have decent success. Though Roberson was just 11/21 passing on the day, he was 7/11 on 3rd down with a 34 yard TD strike to Kofi Hughes. Overall, the Hoosiers converted a ridiculous 10 of 17 third downs. 
Bradley Roby has been a redshirt freshman sensation for the most part but he struggled a bit today in especially on 3rd down. Though his coverage was far from awful, he gave up a 10 yard slant on 3rd and 8 on IU's first possession leading to a field goal and on IU's fifth possession of the day, also resulting in a FG to make it 13-13, Roby was beaten on 3rd and 7 by a nine yard slant and later on 3rd and 4 via an eight yard crossing route. Roby was also in the vacinity of what may have been a busted coverage when Roberson hit Hughes for the aforementioned TD toss to tie the game at 20 midway through the 3rd quarter. Now, I love Roby and he did lay some wood in run support but he probably had his worst game of the season. 
Christian Bryant racked up seven stops and a pass breakup plus I didn't notice him missing as many tackles this week though he was burnt for a 43 yard completion leading to a Hoosier FG that tied the score at 13 when he let Hughes get behind him and failed to look back for the ball despite showing decent closing ability. 
Travis Howard's interception was a huge play paving the way for OSU to seal the deal. It looked like Roby has decent coverage on the intended receiver as Howard rolled over to his right and easily picked off the ill-advised throw. Leading just 27-20 at the time and with Indiana having chewed up 28 yards the previous two plays, Howard's effort was a difference maker. Of course the Buckeyes capitalized on the turnover as Hyde eventually punched in a TD from the 2 yard line to put the game on ice. 
Overall, the back seven weren't awful but the 3rd down conversions surrendered against such a sketchy squad thanks to some wide open receivers not named Damarlo Belcher were a little tough on the eyes. 
hyde vs. hall
The Carlos Hyde vs. Jordan Hall for 2nd string RB debate was already heating up prior to the Wisconsin game. Hyde didn't register a carry against the Badgers while Hall carried it six times for a not so impressive nine yards. Hall obviously had the huge kickoff return to set up Braxton's heroics but from an RB standpoint, he was a no-show. 
The six for nine effort already figured to fuel the debate and with Hall suffering an ankle sprain on the big KO return against Bucky, he was unable to play yesterday. Hyde, clearly hungry to prove himself based on comments via twitter, seized his opportunity carrying it 15 times for 105 yards, a hefty 7.0 yards per carry, with a TD. 
As noted, he put the game out of reach with his 2 yard TD run that provided the final margin with 2:46 to play but it was his 47 yard dash up the right sideline to set up the score that was most impressive. 
Interestingly, the general school of thought coming into the season was that Hall was the bigger homerun threat - and that is certainly true on special teams - but Hyde has been the guy in the backfield churning out the bigger plays. He's currently averaging 5.2 ypc with big hitters of 36, 47 and 63 yards. Meanwhile, Hall is averaging just 3.9 ypc with a season long of 20 yards. 
I certainly appreciate the versatility Hall brings to the table and I've been in his corner from day one but it looks like it's time for El Guapo to be Boom's primary backup. With that, Bollman needs to figure out a way to get Hall the ball in space because I still believe he can help the team if he gets touches that aren't typically between the tackles.