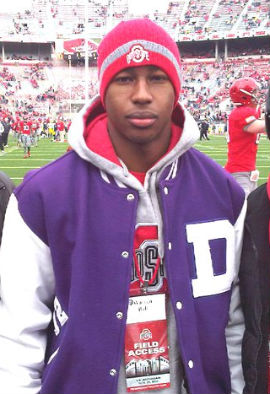 Ohio State has traditionally been known for great running backs. From Archie Griffin to Eddie George to Beanie Wells, the Bucks have continually gotten it done on the ground over the years, and have had some great players featured in the "three yards and a cloud of dust" style of offense associated with the football program.
While Jordan Hall, Jaamal Berry, Carlos Hyde, and Rod Smith are all vying to be the next great back to don the Scarlet and Gray, the man to grace that role may not be in Columbus just yet. The young man we are talking about is Columbus St. Francis DeSales' Warren Ball, who is one of five current players commited to OSU for the recruiting class of 2012.
Standing at 6-2/215, Ball has the pedigree and strong work ethic to be a tremendous college football player. Growing up just a few miles from campus, it was always his dream to be a Buckeye. That fantasy became a reality back in September when he gave his pledge to Jim Tressel and the OSU coaching staff, and ever since then Ball has been working hard to not only improve his personal game, but also to bring some other great players along with him to campus in fall of 2012.
During his junior season, Ball was hampered by a high ankle sprain and missed all or parts of 6 games, after missing parts of the 2009 season as well. Despite not playing a full season for the past two years, Ball stil held offers from Cincinnati, Iowa, Notre Dame, Pittsburgh, Purdue, Tennessee, and Wisconsin, among others before committing to the hometown school. Some say when healthy he is the best at his position in the entire nation and he is certainly out to prove that during his senior season.
We got the chance to sit down with Ball to talk about his commitment to OSU, what he feels about having another running back in Brionte Dunn in the class, what hs goals for his senior season are, and much more. Get to know Warren Ball after the jump.
You committed to Ohio State pretty early. How did you know that OSU was the right school for you from the start?
I grew up a Buckeye fan and have watched them on TV since the age of 8. I love their tradition and their entire program, so I knew that was the school I wanted to go to.
OSU also has Brionte Dunn as a running back coming in with this class. How do you feel about that and do you think you both can play together in Columbus?
Dunn is a very talented back who can make big plays. I'm excited for the road that lies ahead at OSU and I feel we can do great things together.
What current or former player would you compare your style to?
I model my game after the late Walter Payton. I loved his heart and determination and the mentality of never dying easy.
What coach recruited you at OSU? What is your relationship like with the staff? What is your relationship like with Coach Tressel?
Coach Paul Haynes recruited me. I have a great relationship with the running backs coach Dick Tressel also, as well as the entire coaching staff. I have a good relationship with Coach Jim Tressel , he's a great guy.
Do you know what you will study at OSU yet?
I'm not sure what I will study quite yet. Maybe somewhere in the engineering field and I have a 4.0 GPA currently.
Have you started to or do you plan to help recruit the rest of the 2012 class? Do you know any of the current players committed?
I definitely have began to attempt recruiting 2012 players and I know all the current commits.
What do you feel are your strengths? What do you feel you need to work on before starting at OSU?
I'm a runner who will fight for every yard and will give 150% percent to help his team win. I want to become a complete player, from blocking, carrying out fakes, to catching. I want to improve my entire game.
What are your goals for your senior season?
My goals for this senior season are finishing with an undefeated record and winning the state title.
Adam Griffin is a former teammate of yours. What has he told you about OSU?
I speak to Adam often and he told me OSU is a great place.
If you could tell Buckeye nation one thing, what would it be?
Go Bucks!