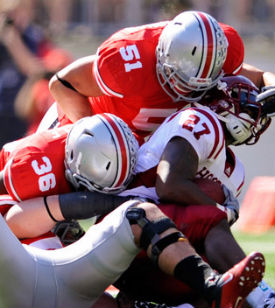 Earlier today at the Woody Hayes Athletic Center, members of the Ohio State Buckeyes football team worked out in front of a group of NFL scouts, coaches, and media members for their annual pro day. In addition to this year's past seniors, hoping to impress the on-lookers were former Buckeyes Lawrence Wilson, Ray Small, and Antonio Pittman, as well as former Minnesota defensive back and Brookhaven graduate, Dominic Jones, who finished up his career at Otterbein, among other local college prospects. 
While the media was kind of boxed off and not given the best access for reporting purposes, we were able to see that representatives from at least the Rams, Ravens, Giants, Colts, Lions, Patriots, Bengals, Packers, and Jets were there. While I'm sure many others (including the Browns) were represented, we weren't able to track down personnel from those teams during the four hour event.
Although they didn't need to work out, two notable attendees for the event were former OSU All-Americans and rising NFL stars, James Laurinaitis and Malcolm Jenkins, who were there giving support to their former teammates. Always good to see classy guys like Little Animal and Malcolm around the WHAC. Finally, in case you were wondering, Jim Tressel was indeed in attendance at the Woody and was making the rounds throughout the day with everyone on hand. He looked to be in good spirits just three days after Tuesday's gut-wrenching presser. 
The day started with height and weight measurements to which the media was not privy too. The rest of the day consisted of various offensive, defensive, and special teams drills, as well as 40-yard dash runs and the famed bench press. As stated before, it was really hard to get a view of everything going on but we were able to get some really cool video of some of the drills and player interviews that took place throughout the day. Cameron Heyward was not able to participate today, as he is still recovering from elbow surgery from after the Sugar Bowl. The only other notable Buckeye to sit out was Bryant Browning, who was scheduled to take part in events, but must have come down with a late injury. Players who did participate included Jermale Hines, Ross Homan, Brian Rolle, Dane Sanzenbacher, Taurian Washington, Dexter Larimore, Devon Torrence, Brandon Saine, Grant Schwartz, Devin Barclay, Jake McQuaide, Ricky Crawford, Connor Smith, and Chimdi Chekwa, although he didn't run the 40 under the advice of his agent, Drew Rosenhaus.
Some Buckeyes who definitely helped their stocks today were Dane Sanzenbacher, Brandon Saine, Jermale Hines, and Justin Boren. Sanzenbacher ran a 4.48 40-yard dash, faster than his NFL combine time of 4.56, and looked very good during position drills as well. I'm thinking he could be a 4th round pick and I think he will be a steal for whichever team he goes to. Saine continued to show his blazing speed with a 4.4 time, matching his NFL combine best. Saine is an excellent receiving running back who has good size, which could bode well for him at the next level. I don't expect him to be drafted, but I think he will definitely get a crack with a team as a versatility guy who could play running back, receiver, or on special teams. Hines didn't stand out at the NFL combine, but at pro day he looked to be in the best shape of his career. He notched a 4.57 time (better than his NFL time of 4.61) and certified himself as a middle round pick come April. Finally, Boren had a really poor showing at the NFL combine, running a 5.4 40-yard dash and bench pressing a non-eye opening 28 reps. He definitely looked more comfortable on his home turf, running a 5.19 and looking good in drills. He will hear his name called late in the draft for sure. Other 40 times from the Buckeyes included a 5.16 for Larimore, a 4.6 for Homan, a 4.51 for Rolle, a 4.47 for Washington, a 4.5 for Torrence, a 4.55 for Schwartz, a 4.99 for McQuaide, and a 4.73 for Crawford. Ray Small ran a 4.37 as he tries to latch on to a team after failing to stick with the Vikings and Redskins last year.
Overall it was a pretty good day for the Buckeye players hoping to extend their careers into the professional ranks. While we weren't able to get access to everything going on, we will have some video footage of drills and interviews, and provide you with more information as the day goes on.