Celebrating America's birthday with a customary weekend tee time, the topic of the Yankees passed through our group like one of my patented shin-seeking 8-iron blade shots. While discussion of the Buckeyes, Yankees and various other current sports topics are typical course fodder as a way to overlook the fact that we've all played together for years but miraculously still suck just as bad as we did 15 years ago, this day was also marked by not only wishing the USA a Happy Birthday but also the great George M. Steinbrenner.
The Boss turned 80 on Sunday and it could very well be the last birthday he spends with friends and family due to declining health. The uber owner and completely legit Buckeye fan has come to be known as one of the biggest villains in the history of sport. As a life long Yankee fan thanks to watching many of the greats (Mattingly above all others) pass through Columbus when the Clippers were the AAA farm team from '77-'06, I've had Steinbrenner's back in arguments with fans of all teams and baseball haters in general for as long as I can remember though he's certainly done enough questionable things that 'winning' such a debate is about as easy as making it through a college football game featuring Andre Ware as analyst.
Anyhoo, by now I'm quite sure you are wondering where I'm going with this...As I lined up a putt prior to running it 10 feet past the hole, I began thinking about famous, or sometimes infamous Buckeye villains and how they rank in your world. Then, I wondered, if you go all-out in your efforts to defend them in arguments with "outsiders"? If so, is it out of your implied "responsibility" as a die-hard fan of the program or are you truly on board with some or all of the Buckeye bad guys? I want to highlight a few, in particular, and ask they you weigh in on each based on my questions above.
Robert Reynolds
It was a bit surreal as we watched Reynolds channel his inner Rowdy Roddy Piper on Jim Sorgi's neck in what became an incredibly dismal night as Wisconsin stopped OSU's 19 game winning streak with a 17-10 win in Madison. No penalty was whistled on the play however the media outcry afterward was strong and Tressel eventually rightfully
suspended Reynolds
for one game.
This one was fairly easy to defend when fielding antagonistic barbs from non-fans of the program by using the "heat of the moment" card whether I believed it or not. I didn't personally excuse it when stating "our" case to outsiders but I really didn't care that much about it either. It was dumb. It made OSU look bad but the loss was way more important to my me than any bad pub associated with the choke.
Bottom line: I defend Reynolds moreso out of the implied responsibility mentioned above. While effective, he never overwhelmed me enough to make me want to stick up for him out of personal admiration.
Santonio Holmes
Santizzy's had his share of brushes with the law and even
admitted to selling drugs
before becoming a Buckeye. His troubles include having a penchant for the hippie lettuce to having charges dropped for disorderly conduct and domestic violence. The mother of his young daughter asked the court to drop the DV charges and Holmes was eventually exonerated. Recently, he was accused of throwing a glass at what appears to be a
potential
hoochie mama during a fracas at an Orlando nightclub.
Bottom line: Clearly, Santonio's no genius when it comes to avoiding trouble and while I certainly don't defend crimes against the ladies, his issues aren't egregious enough that I can't get his back during verbal jousts with the enemy. Of course, his 18.4 YPC in '05 and 18 TD's in two years make defending him much less difficult. I'll always stick up for Holmes based on his time at OSU.
Maurice Clarett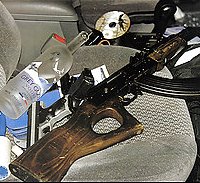 Easily the hardest to defend, especially for older fans who already had a national title under their belt by the time Clarett burst onto the scene. Mo's act featured some things that many deem unforgivable including accusing Andy Geiger and other OSU officials of lying about whether or not he filled out necessary paperwork to leave the team during bowl prep to attend the funeral of a friend, taking a picture for an ESPN the Magazine article in which he is casting aside his OSU jersey, misleading NCAA investigators, lying to police about the value of items stolen from a car loaned to him by a local dealership and hooking up with Jim Brown, amongst other shenanigans. I won't even get to his
post-OSU
dramatics that earned him a trip to the clink.
On the field, Clarett was an absolute beast that did everything he could to play despite painful injuries. Despite those injuries, he still racked up 5.6 per carry, 1,237 yards and 18 TD's as the key cog in an offense that struggled to move the ball when he wasn't in the lineup - and sometimes when he was. And don't forget his strip of Sean Taylor after an INT that nearly ripped my heart out.
Bottom line: Whew. After typing that first paragraph, I still have to be brutally honest and type this: I will still always attempt to get Clarett's back because without him my ultimate favorite team would still be without a national title during my lifetime. The losses to Florida and LSU have only solidified my stance on this. I can't imagine being 36 and never having witnessed Ohio State earn the crystal. Thanks in large part to Clarett, that's not the case.
Jack Tatum
The Assassin played at Ohio State before my time but his history is well publicized, most notably the paralyzing hit he delivered on Darryl Stingley as a member of the Oakland Raiders in a pre-season game back in 1978. The hit itself is viewed as a clean one but Tatum has always had detractors for opined lack of remorse and the absence of Tatum reaching out to Stingley for a meeting, or even an apology.
An old school player, Tatum matter of factly maintained on many occasions that he didn't feel an apology was necessary because the hit was clean therefore he didn't do anything wrong and the collision of circumstance could have happened to anyone.
Bottom line: Again, not afforded the luxury of seeing him play live, I am forced to rely on books, articles, scattered game video and the opinions of others that I trust. The unanimous verdict is that Tatum was the kind of player ever fan, coach, player wants on their team. He played with a reckless abandon intent on intimidating opponents, inflicting pain and winning games. Sounds and looks like my kinda player. In fact, since I'm really too old for jerseys, I only have two. Chris Spielman's #36 and Jack Tatum's #32. If you know me, that says something. I assume you guys don't typically click on many of the links we include - don't make that mistake and miss these bombs.
Woody Hayes
The Old Man has always been a lightning rod whether it be the militaristic way in which he ran his program, running up the score on hated rivals, chastising refs and shredding yard markers, or throwing blows at a cameramen, media members and players.
Sure, he did some things that were out of line but ultimately, he paid the price on December 30, 1978. There's also the positives beyond the five national titles, 13 conference championships, 56 all-americans, three Heisman trophy winners including his commitment to academics, his country and all his personal and financial contributions to help the sick and needy.
Bottom line: It goes without saying for 99% of us. The good far outweighed the bad with Woody and any OSU fan of worth would not only go to bat for Woody, they would do it vigorously in an effort to educate the verbal combatant. If that failed, they should punch the idiot in the neck. Word.