Michigan defensive end Brandon Graham caused a bit of a stir Monday when he showed up at a press conference Monday and didn't pull any punches. Among the choicer quotes was this take on Justin Boren: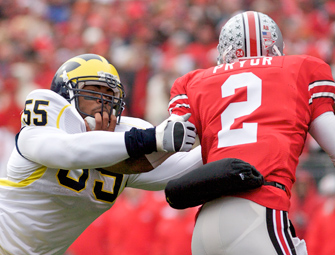 "It's just somebody who shouldn't have been here in the first place. That's over and done with. Justin we will see on Saturday, and I hope he can contain our D-line."
Buckeye fans responded the way any good fan would when a Wolverine assails the program: by highlighting Graham's record in the series and spending a few minutes laughing at his coach. But deep down, I think they liked the talk. What he said represents the kind of hate that makes this rivalry so special.
It's the kind of hate that has fueled pre-game skirmishes each of the past two years (which, for the record, should be allowed in just this game -- we should borrow a hockey rule and give the starters minors for fighting and make the backups execute the opening kickoff). It's the kind of hate that caused Woody Hayes to coast over the state line on fumes. It's the best kind of hate.
And who better to step up and do the talking than Graham, by far the Wolverine's best player? He may just be the best player in the Big Ten this season.
A hard-nosed player out of Detroit, Graham attended a high school, Crockett Vocation Tech, that didn't start playing football until 1996. His team didn't have a proper locker room until his senior season and parents of the players were forced to use their car lights to enable practice after daylight savings set in. Still, his team didn't lose a regular season game his final two seasons and he parlayed five star rankings out of both major services into becoming a captain for the East squad in the '06 Army All-American game. With Boren as a teammate, Graham recorded four tackles and a blocked field goal as a starting linebacker in the event.
Studying behind LaMarr Woodley and taking cues from Shawn Crable, Graham earned his first letter as a freshman, appearing in all 11 games. As a sophomore, he elevated his play, finishing first on his team and seventh in the Big Ten with 8.5 sacks. In his junior season of 2008, he took things up another notch, earning all-Big Ten and the Bo Schembechler Team MVP award.
This season, more of the same. Graham leads the nation with 21 TFLs (becoming only the second Wolverine in school history to post back-to-back seasons of 20 or more) and has already put up 8.5 sacks on the year. Further, he has recorded two blocked punts -- one of which he returned for a touchdown. Yes, big #55 can motor a little.
Michigan has been playing football since the Hayes (as in Rutherford B.) administration and Graham has moved into 2nd and 3rd on the program's all-time sacks and TFL lists, respectively. His motor never stops and throughout the darkness of the past two Wolverine seasons, he's been the consistent bright spot. But what's most impressive about him is the fact that he saves his best performances for the big conference games. Against the Buckeyes last season in Columbus, he recorded 2 TFLs and a sack on Pryor. Take a look at what he's done in his three biggest league games to date this year:
Penn State: 3.5 TFLs and a half sack
Iowa: 3.5 TFLs and two sacks
Wisconsin: 4 TFLs, two more sacks and a forced fumble that was scooped up by teammate Ryan Van Bergen and returned for six
Sure, those were also three losses, but not because Brandon Graham failed to show up. His play has been so exceptional this year, that ESPN's Adam Rittenberg believes he should get some consideration for not just the conference's defensive player of the year, but for the Silver Football as league MVP.
Based on his numbers and the highlights I've seen, I'm finding it hard to disagree.