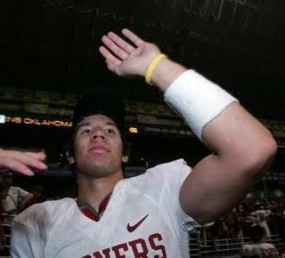 The fifth football Saturday of 2009 starts with a whimper, but ends with somewhat of a bang. If you haven't added that second TV to the Man Cave yet, this may be the perfect weekend to do so as the evening slate may just necessitate something more than picture-in-picture. While the early afternoon slate may only appeal to the most hardcore of Big Ten devotees, the momentum picks up in the late afternoon and carries on into the best collection of late games 2009's offered to date.
Also in a bit of homage to 11W Weekend Update's predecessor, this week marks the return of lines and predictions. After 4 consecutive de facto bye weeks, I start the season 0-0. While I strongly discourage any of you from taking out a second mortgage just quite yet, your jeers are fully welcome in the weeks to come as we see how close (or more likely how far) I can get to breaking even.
National Games
#7 LSU at #17 Georgia (-1) 3:30 p.m. - CBS
The #7 team in the nation are underdogs on the road at a team that is one A.J. Green away from a 2-2 start? While the Tigers needed a near miraculous goal line stand to escape the likes of Mississippi State, Georgia needed both a field goal block and game winning touch down grab from their sophomore wide out against Arizona State. LSU's 1.0 yard per carry aberration last week aside, the Tigers should rediscover the ground game en route to a 34-28 victory.
UCLA at Stanford (-4.5) 3:30 p.m. - ABC (Regional)
The odd ball of the Week 5 bunch, this matchup pits the surprising early top two teams in the Pac-10 standings. Rick Neuheisel's Bruins will have to make do without redshirt freshman quarterback Kevin Prince, who suffered a brutal broken jaw in garbage time against Tennessee two weeks prior. All logic would dictate that having to invest any kind of faith in former arm punter Kevin Craft shouldn't exactly yield the best results. With Craft under center for the Bruins and great white hope Toby Gerhart coming off a stunning 200 yard rushing performance against USC killer Washington, Stanford is your horse in the race, 24-13.
#11 Oklahoma at #15 Miami (+6.5) 8:00 p.m. - ABC (Regional)
Despite failing to live up to their namesake and getting whitewashed out of Blacksboro a week prior, The U look to square off with either Heisman golden boy Sam Bradford or B.J. Byron Mullens' cousin Landry Jones. After slipping up against one-time non-BCS conference darling BYU, Oklahoma's slowly settled into an offensive comfort zone. Despite Bob Stoops channeling his inner-Mangenius, Oklahoma's defense will be just too much for the Hurricanes, though the 'Canes keep it closer than the experts predict, 22-25.
#8 USC at #24 California (+6.5) 8:00 p.m. - ABC (Regional)
With Stafon Johnson making progress on a remarkable recovery it'd be easy to overlook the Trojans many flaws and see this team potentially rallying around their fallen comrade en route to a road W. Cal's embarrassing road defeat at the hands of Oregon leaves a rather bitter taste, though the thought of Jahvid Best being restrained two weeks consecutively seems awfully unsettling. Matt Barkley, on the road in an environment Cal seemingly finds a way to steal a victory once every 4 years or so, finally plays like a true freshman and Cal wins outright 31-21.
Big Ten Games
#20 Michigan at Michigan State (+1) 12:00 p.m. - Big Ten Network
How far have the Spartans fallen? After a loss to Wisconsin so upending Coach D is having to consider a midseason quarterback switch, you have to wonder at what point this becomes a rebuilding season in East Lansing. Though with a banged up Tate Forcier and a Greg Robinson defense the 11W flag football team put up 28 on coming to town, if MSU can find a way to put 4 competent quarters together, they could steal the victory that eluded them against the Irish 2 weeks prior. Despite Michigan's talent advantage, Michigan State salvages some bowl seeding capital with a shocker against the rival Wolverines, 31-27.
Northwestern at Purdue (-6.5) 12:00 p.m. - Big Ten Network
A game only LTP and Boiled Sports could love. Both of these teams seek to rebound from a string of disappointing performances and look to get their bowl aspirations headed back in the right direction. Northwestern, whom some Wildcat fans had pegged as 8-10 wins good, travel to East Lafeyatte where the Moustached One's squad look to Boiler Up and bounce back from a very winnable game against Notre Dame. Unless Purdue can't find a way to get tailback Ralph Bolden back on track, I'm going with the road 'Cats, NW 33-28.
Wisconsin at Minnesota (-1.5) 12:00 p.m. - ESPN
The undefeated Wisconsin Badgers travel to Minneapolis to explore the cozy confines of TCF Bank Stadium for the first time and tee off with the Brew Crew (though the stadium sadly serves none these days). The Gophers' have managed to put together a rather respectable resume up to this point: a road win over Doug Marrone's suddenly resurgent Syracuse Orange, a victory over '08 bowl team Air Force, a tough, close loss to #24 Cal, then a double digit road victory over Northwestern. With Bielema cynicism still very much en vogue, Minnesota takes it 27-21.
#18 Penn State at Illinois (+6) 3:30 p.m. - ESPN / ABC (Regional)
Perhaps the only truly surprising line of the week, Penn State looks to get back on track after falling flat on their faces against the Hawkeyes last weekend. Ron Zook's bunch, who in their two biggest games of the season have put up a grand total of 7 points, inexplicably find themselves just 6 point underdogs to a Penn State team who's Spread HD's suddenly looking vastly more 480p. Despite the health of star linebacker Sean Lee still being in question, PSU further encourages the Zookster to peruse Monster.com 31-17.