YTOWNBUCKI
La Plata, MD
Member since 20 November 2011 | Blog
Helmet Stickers: 1,713 | Leaderboard
Favorites
SPORTS MOMENT: Happy Moment: '03 National Championship when Cie Grant assaulted Ken Dorsey.
Sad Moment: Seeing my father shed a tear for the first time when the Indians blew game 7 in '97 World Series.
COLLEGE FOOTBALL PLAYER: Eddie George
COLLEGE BASKETBALL PLAYER: Michael Redd
NFL TEAM: Pittsburgh Steelers
NHL TEAM: Pittsburgh Penguins
NBA TEAM: Cleveland Cavaliers
MLB TEAM: Cleveland Indians
Recent Activity
It's things like this that make my head hurt. Can't we all just get along?
I honestly have no idea what to think of this whole thing. Bringing up cheating in collegiate sports is going to rattle some cages especially with the recent scandals of the past 10 years with USC, Ohio State, The U and UNC. It's a tough pill to swallow when you think about the inevitable change that's about to take place.
Andy loves his farmin' equipment. I completely expected a comment from AV on the John Deere Iowa thing.
Make it cheaper. I can't believe no one has said this yet.
OBC's face with Nicky next to him is priceless.
I don't think I have a beef with Windhorst riding LeBron to the top of his career. I do, however, have a problem with his writing. I just can't stand the dude.
Pretty awful to think about.
My wife has pissed me off from time to time but I can't say it's been enough to punch through windows.
Playing Xbox on the other hand, yeah, I could see that.
That flag may be ugly but the people here in Maryland worship it. They also worship the Natty Boh guy and numerous people have tattoos of this.
There is no flag better than that of the Great State of Ohio though. I have a rather large one hanging in my basement man cave.
Premium Lounge membership used to be 1,000 stickers. I found out the hard way when I hit that mark that inflation and lack of resources in the lounge have increased membership requirements. Now I just speculate how awesome it is...
This man is a certified moron. That is all.
The osu.edu website used to have some. No idea if they still do.
My weakness is pizza.
Ohio State on the other hand, may have press coverage deficiencies. Hopefully not, but maybe.
I can see that after some thought. I just looked at the negative...it's monday.
Is it just me or can you just never get tired of John Daly?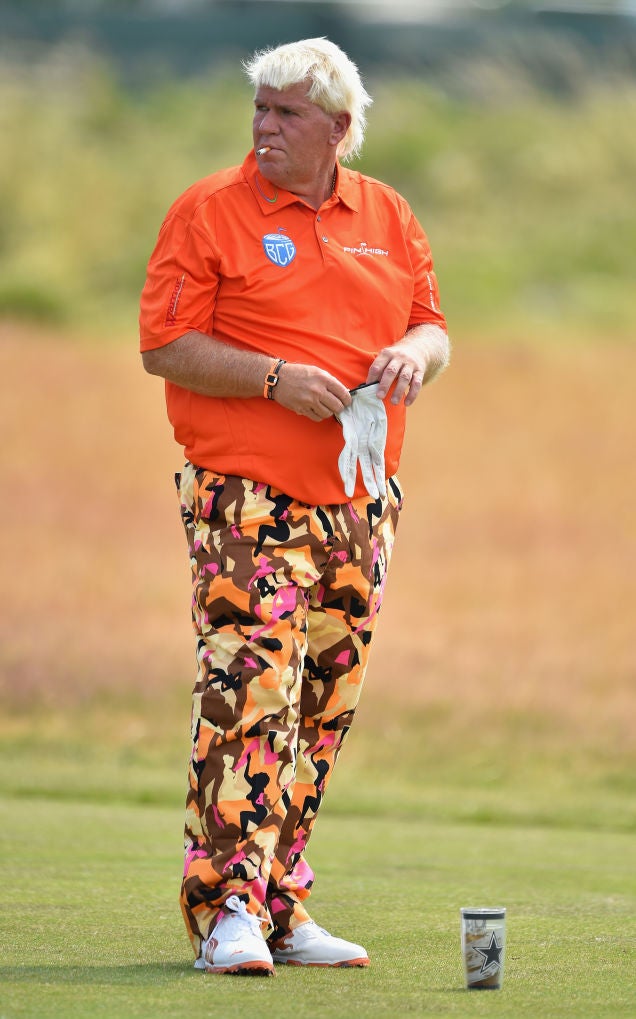 "No touching of the hair or face...AND THAT"S IT!"
A lot of that is thanks to Coach Tressel and the things he did.
Is that supposed to be a slight towards Urban Meyer? And isn't Ohio State where they are because they're Ohio State? Granted, much credit to Tress and what he's done at OSU, but that quote seemed a little off to me.
I think I'm more surprised that Marshall has a better chance of going undefeated per that graphic. Marshall!?
I wouldn't walk my incredible ass on any field that Bert is in charge of. Kind of skeeves me out that he even said it.
Definitely not credible IMO. It looks like a high school kid wrote this.
I kind of hope this isn't true honestly. The recruit walked out and said he didn't think highly of the coaching staff. That is not a win by any means even if it does belittle Michigan.
I have a hard time believing the Ohio State coaching staff being this ignorant and unprofessional.
I gotta go with 6 even though I have multiple 23 jerseys of LeBron.
He's won Olympic gold medals and NBA Championships while wearing 6.
I root for Toledo as well, DJ. They have a Mount Union guy, Matt Campbell, as their coach so it's tough not to.
I hope Urban coaches more than 3-4 more years. Coaching searches suck.
Great write up. A major piece I think should be taken from this is that grown men are belittling 20 year old kids publicly. Let's, you know, not do that. Would you want the entire world reading a rant from one of your co-workers about how terrible you are at your job? Let's have class. Let's support these kids so that they not only have stellar college football careers, they have success in life.