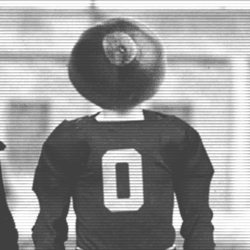 yrro
---
Member since 01 September 2010 | Blog
Helmet Stickers: 2,365 | Leaderboard
Recent Activity
Not the biggest fan of DJ's skull sessions, but I've never understood the point of writing comments every article just to piss on a guy's writing. If you don't like the skull sessions don't read them. If you don't like DJ, don't read his work. If you would like a change in authors for 11W in general, send private, respectful feedback to the staff saying that you don't like his writing as much. Don't be surprised if they ignore it.
I *do* consider every opinion a blogger posts something that can be debated and responded to in the comments, on the merits of the individual point. But engaging with someone's claims is very different from attacking them for writing.
I don't think there's any way that OSU hires a guy who hasn't been a successful HC at some level. We're football royalty - we don't have to take gambles on promising coordinators.
One thing - the media coverage, and much of the discussion, has been focussing on how this affects young women. If you read the report, it was most definitely sexualized in a gender-neutral "this is crass, pushes boundaries, and is therefore embarrassing" way, not in a "let's take sexual advantage of all of the young co-eds" way. Personally I see that as a *huge* moral difference. This isn't "oh you have to sleep with the boss to get ahead."
Neutral fields are so much worse than home and homes. Only reason I see to do it is if neither team can fit the return trip on their schedule, or if it were part of some kind of cross-conference B1G-ACC challenge sort of thing.
I think it really shows how much the defense is about being on the same page. We haven't had that the last few years.
I think the 2009 and 2010 defenses were some of the best we've had here. Look at how few of those guys were drafted high. But we didn't have any real weak links. The last two years we've had some good players, and some holes, and some guys not playing together. And it didn't matter how otherworldly Shazier was, because you only need one hole to get a big gain.
This is a political firing. It is entirely motivated by a Title IX investigation.
You can talk about whether or not we should feel outraged about the behaviors in the band without talking politics, but you can't talk about why Waters was actually fired without bringing it up.
Arguing the legal ramifications is different from arguing the moral ramifications.
I can completely see why the university felt legal pressure to do this. That doesn't mean I have to agree with the law, or not agitate against it. If the 11W staff are going to dismiss members of the band alumni for protesting that they disagree with the report, I'm going to call out the 11W staff.
What I have a real problem with now is how the coverage is ignoring the opinions of these young men and women in the name of protecting them.
So question for you:
Say the band report lists ten examples of harassment, from talking to several witnesses (witness, not victims).
If in 9 of those examples, the "victims" come forward and say they weren't victims, that they were in on the fun, and were consenting... do you still have 10 examples of harassment, or 1?
Because that seems to be what the actual band alumni are saying. That *doesn't* mean the victim of the 1 example should be ignored. But to me when we're talking about firing someone for a "pervasive culture" of harassment, it hurts your argument a bit.
See this article from the band member "Joobs" for an example http://www.thebuckeyebattlecry.com/2014/07/a-former-band-member-named-in-the-tbdbitl-investigation-report-speaks/
Well, given the level of "looking-down-on-those-rednecks" attitude I've seen around here fairly often, I don't blame them.
I grew up in Kentucky, moved to Ohio in high school. Biggest impression I got was how much time people here spend looking down on others just because they come from farther south. Even if it's the biggest hick talking.
Never made sense to me. There are idiots and good people both places, and I've enjoyed my time in both.
I was watching from film from Smith in 2005. I think if Braxton were throwing to Holmes, Ginn, and Gonzalez, we'd probably we talking a bit more about his passing abilities. Hopefully some receivers step up.
Love our guys, but I don't think think our receiving corps scared anyone last year.
Well said. I think a lot of people are overlooking just how big of a task this is going to be for the next person in charge.
I agree *completely*.
My point is that in the current circumstances, there's going to be strong pressure to do more than say "no sexual rookie tricks" or "no sexually-themed nicknames." It'll be "no rookie nicknames", "no rookie tricks," and that's striking at the heart of the traditional structure of the band, rather than just trying to sanitize it. It's the sort of thing that can split the senior leadership of the band, split the alumni base.
Changing the culture of an institution like that is a *big deal.* Look at Michigan football.
Part of what makes the band is its tradition. Whoever is hired is going to need to go at that tradition with a scalpel, not a chain saw, if they want TBDBITL to still be TBDBITL.
Someone groping, catcalling, or pantsing you by surprise is hard to consent to. Agreeing to perform a sexualized trick on command is exactly the sort of you think are consenting to. There may be pressure to do it, or you may think "that's embarrassing but hilarious, sure" and go along. The fact that you *did* the trick is in no way proof that there was no consent.
Always fun reading these things and trying to guess if they're directed at you :)
Personally I say nothing online I wouldn't have say to someone in person. THAT BEING SAID -- it's much easier to talk past someone or shout at them in one paragraph of forum text than it is in person. Subtlety is very easy to lose in online conversations, and I'm certainly very guilty of that myself.
I think it goes even deeper than that.
The camaraderie within the band, the traditions of the rows, the rookie initiation... they're all a huge part of what makes the band the band. It's a very militaristic institution. The members are fiercely loyal to the band as an institution.
I'm not saying you *can't* have those things without inappropriate hazing. Of course you can. I'm saying that it's going to take a very delicate and skilled hand to not throw the baby out with the bathwater. Whoever they hire for the next band director has a hell of a task in front of them.
I didn't say they'd be appropriate in an office. I consider a college band a different venue. Many here apparently do not.
I'd be fairly unhappy if my coworkers gave all the interns derogative nicknames of *any* sort, let alone sexual ones. I also don't generally go drinking with my coworkers or end up rooming with them, as is common among band rows.
Very well done, thanks! The explanation of the blocking scheme was superb.
Getting the lyrics to those versions of the songs (which I've previously only heard legends of) is the only silver lining to this mess.
I think a better question is - why address this by firing him?
This isn't something that was new with him. It wasn't something that came to a head with a specific incident like with FAMU. It wasn't even something that was unusual with regard to marching bands in general.
Moreover, it is something that would have met *massive* resistance from within the band and the band alumni if he had tried to change it when he started the job.
So my question is, if they want to make this large change to band culture, what does firing him do that an internal ultimatum would not? Or was an internal ultimatum given and then ignored?
It feels very out of the blue, like the administration did this investigation and said "OMG, the band has dirty lyrics to the fight songs!" as if it were a new thing. If you want to change band culture, that's fine... it's the whole shock aspect of this that makes no sense to me.
No, my argument is that in a student social setting, sexual nicknames and most of the embarrassing games mentioned, when run entirely by the students, are entirely appropriate to the setting and context and not morally objectionable.
If this was Michigan's band, I wouldn't have a problem.
Dude, this is marching band culture. We can have a big, long argument about whether marching band culture is bad or not. But it's consistently libertine and puerile at almost every school I've heard of.
You think the football players don't do shit like this? The guys I knew used to have naked wrestling matches in the tiny room in the center of the Lincoln dorm pods.
The people who don't have an issue with this, don't have an issue because in their experience it was all *voluntary.*
The question as an organization is how were people who *didn't* want to be part of this stuff treated.
Yes, because there is no difference between *RAPING YOUNG BOYS* and having an embarrassingly sexual nickname.
So, the funny thing about sexual harassment is consent.
I'd wager pretty strongly that the vast majority of the people subjected to this harassment consented to it, and were slightly embarrassed, but generally thought it was funny. That has been the overwhelming opinion I have received from talking to members of the band. It would have been my opinion if I was in the band.
The real institutional level question - how were the people who were legitimately offended, and not consenting to it, treated? And how were their complaints received by Waters and the other band leaders/culture?
There's a line somewhere. I think the sexually explicit tricks involving another person (note: the vast majority of tricks were not like that) went over it. I don't think embarrassing nicknames did. I don't think the completely voluntary silliness of the underwear ramp did. It sounds like most of the time the bus games did not, but occasionally they sound like they did.