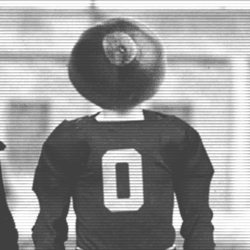 Youngbuck85
---
Member since 22 November 2013 | Blog
Helmet Stickers: 435 | Leaderboard
Favorites
SPORTS MOMENT: Goal line stop against Wisconsin last year
COLLEGE FOOTBALL PLAYER: Bradley Roby
NFL TEAM: Bengals
Recent Activity
Was one of my favorite recruits in the class before he committed and I like him more and more every day. Looks like he'll be a great leader for this class. And I also thought it was cool that he was giving away his jackets from other schools to their fans on twitter
Justin Hilliard followed me out of the blue and direct messaged me a "go bucks" a few months ago.., not gonna say I'm fully responsible for his commitment but...
Were about to get 3 huge prospects in the next few weeks... Atleast.... Looks like our recruiting struggles have officially ended
Early birthday present for me ... Hope these two are buckeyes
Braxton won't win the heisman, and most likely, no one on that list will. When was the last time someone started the year in the top 5 for the heisman watch and ended up winning it? The player that wins is always one that has a breakout year, not a follow up year that is equally as good or slightly better. It's always a dark horse
I didn't think joe bausermann was that bad of a quarterback
I am absolutely "that guy" that bitches and moans when we sign 3 star guys and turn down 5 star guys for "behavior issues"
i think that last year was the best chance osu will have for a long time to win a national championship
jabrill peppers was by far my favorite recruit last year and the one I wanted the most
I've got an entire extra season student ticket pack if you want to go that route. Or I could sell you just Michigan and va tech if you'd like
The original is my all time favorite movie. The trailer looked alright, hope it will live up to the hype
Love president Ono.... HATE UC. Worst fans in college sports
Seriously tho. I will be mad about the whole lawsuit for a long time. I spent like 4 hours the other day making our 2014 roster and I'm now playing through next season.., anything to hold me off until football starts back up
Nope not mine.... We knocked him out of the playoffs my junior year. He's a great player tho, one of the best hs games I've ever seen / played in
I think it's time to stop blaming SEC recruiting on cheating and paying players... It's very naive to think that if things like that happen at SEC schools that they don't also happen everywhere else. I mean our head coach was the SECs best recruiter for years... I just think it's childish and makes us come off as sore losers. People from other schools call us O$U just like we call it the $EC. I hate the SEC too but it's time to stop making excuses
I kinda get the depriest / hicks feeling on him but I was glad to see he visited recently with Raekwon. I really think he's gonna be a special one id hate to lose out on him
RG3 is a little different. He was extremely accurate. He threw more touchdowns than incompletions for a couple of baylors first games that year. Plus RG3 didn't do much last year at all
I still get sick to my stomach anytime I even see that they're showing the big ten championship game on tv
I've seen the 2011 (or whatever year fickell was HC) home game against UW probably 200 times on big ten network. I love watching old games honestly, if an old OSU game is on BTN I'm watching it
Lol I laugh my ass off everytime he says "May god have mercy on your soul"
That's fine, but again, how many qbs that ran that system in college succeed in the pros? Weeden threw for over 4000 yards his senior year and shattered big 12 records... College numbers can be thrown out the window when it comes to spread offenses. Tebow lead the sec in passing efficiency. Its just not the same in the nfl
Hahah I'm so enjoying this
This even furthers my point.... Watch these cut ups. Almost every pass is a comeback route, a bubble/ flash screen, or a 5 yard pass to a slot reciever that are basically extended run plays. . He gets tons of passing yards and completions because that's how his system is designed... Bridgewater will be twice the nfl qb that manziel will be