Yenots11
Dublin
Member since 24 September 2012 | Blog
Helmet Stickers: 235 | Leaderboard
Just your average sports nut. Played some small college ball, always a little undersized for the bigs. Had fun though.
Favorites
NFL TEAM: Dallas
NHL TEAM: Blue Jackets
NBA TEAM: Cavs
MLB TEAM: Indians
Recent Activity
I bet he'll stay right where he's being recruited. Two years of HS (roughly...is he a Jr?) is a lot of time to add weight, and with an offer list like he has, OSU aren't the only ones who think he has the frame to add the needed weight. My guess is they see him as a kid that once Marotti gets his mitts on him, we have a future 240-250# explosive WDE coming down the pipeline. ....my 2 cents anyway.
Wow...people harsh with the DVs here. Lots and lots and lots of confidence in ol' Dr. Andrews me thinks. If JT's in, it's his to win.
Normally I'd agree, but let's see how their next 2 games go. If they lose both (@NU, Terps) they can't go to a bowl. If that happens I think they'll mail it in at The Shoe, and it could be the biggest point differential in the rivalry's history. Win one and beating the Buckeyes makes them bowl eligible (for say, the Zaxby's Heart of Dallas Bowl...big goals there up north).
Even given the latter scenario, I'm leaning more to DJ's line of thinking.
I disagree, however, they have to get the right people in place from the top down. The ring leader of this dumpster fire, Dave "Snarky Email" Brandon, has to be jettisoned immediately. He can't be allowed to make another important hire. The loss of Stephen Ross' support is the biggest step in the right direction that school has seen in years.
While I thoroughly enjoy watching TSUN burn down, the best thing for the Buckeyes and the B1G is for them to be no worse than a 3 loss team going into The Game in any given year.
I agree also. It gets the guys excited, it gets the younger fans/most students excited. You play 13-14 games a year, rolling out a couple sets of alternates isn't the end of the legendary OSU unis. It's just part of the game now. Still...I'll only believe it when they come out the tunnel like that.
I have no soul (it's already been poached by one)...thus my strong attraction and ability to look into the eyes of beautiful ginger women.
Then there's this hot take...take it away Kirk:
Is this Hoke criticism about Morris' injury even a story if UM were 4-0 ranked in the top 10? #witchhunt

— Kirk Herbstreit (@KirkHerbstreit) September 29, 2014
This makes me sad
DJ was very heavy on sarcasm today bud.
They shouldn't go a full calender year without a W. I believe they have Nicholls State next week, so that's something.
Well... i noticed Dontre Wilson at the same time as everyone else...i retract my statement with this edit and give you a gif instead: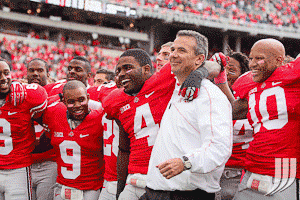 I'm a dog person (hence the profile pic). Have two of them. But my sister's cat was thrust upon me like two years ago because she wasn't in a position to care for her. Have to admit, she's alright. ...two years...i guess she's my cat now. Damnit.
+1 for The League. If you haven't watched this show, what are you doing with your life?
Blaze Ryder makes me sad I don't have a cooler name.
Oh...the horror!!! "BUB, GET OFF THE DAMN COMPUTER, I NEED TO USE THE PHONE!" - Mom.
Even the other staffers have to be like:

When it's an established person, it seems less attention grabby I guess. I, for one, thoroughly enjoy @FauxPelini. Case in point:
I challenge @Lane_Kiffin to dump a bucket of thumbtacks on his head to raise awareness for Restless Leg Syndrome

— Fake Bo Pelini (@FauxPelini) August 17, 2014
Ditto, Oyster.
There's a myriad of ways I could go in on this, but I'm preferring to start my week in zen mode.
I think folks downvote you out of principle sometimes. I see no reason to disagree with this statement. I was thinking the same thing. He could very easily hit 215/220 by the time he graduates. That reads sledgehammer safety material to me. Then, when Coach Mick gets a hold of him...Shazier 2.0 doesn't seem unreasonable.
I took a peek down the mlive comments, and there seems to be legitimate, I guess you could say, "institutional control" concerns coming from a healthy amount of TTUN fans.
@M Man...what say you?