Yenots11
Dublin
Member since 24 September 2012 | Blog
Helmet Stickers: 209 | Leaderboard
Just your average sports nut. Played some small college ball, always a little undersized for the bigs. Had fun though.
Favorites
NFL TEAM: Dallas
NHL TEAM: Blue Jackets
NBA TEAM: Cavs
MLB TEAM: Indians
Recent Activity
This makes me sad
DJ was very heavy on sarcasm today bud.
They shouldn't go a full calender year without a W. I believe they have Nicholls State next week, so that's something.
Well... i noticed Dontre Wilson at the same time as everyone else...i retract my statement with this edit and give you a gif instead: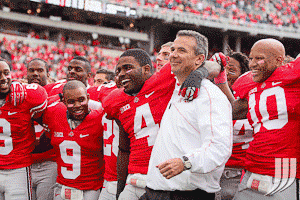 I'm a dog person (hence the profile pic). Have two of them. But my sister's cat was thrust upon me like two years ago because she wasn't in a position to care for her. Have to admit, she's alright. ...two years...i guess she's my cat now. Damnit.
+1 for The League. If you haven't watched this show, what are you doing with your life?
Blaze Ryder makes me sad I don't have a cooler name.
Oh...the horror!!! "BUB, GET OFF THE DAMN COMPUTER, I NEED TO USE THE PHONE!" - Mom.
Even the other staffers have to be like:

When it's an established person, it seems less attention grabby I guess. I, for one, thoroughly enjoy @FauxPelini. Case in point:
I challenge @Lane_Kiffin to dump a bucket of thumbtacks on his head to raise awareness for Restless Leg Syndrome

— Fake Bo Pelini (@FauxPelini) August 17, 2014
Ditto, Oyster.
There's a myriad of ways I could go in on this, but I'm preferring to start my week in zen mode.
I think folks downvote you out of principle sometimes. I see no reason to disagree with this statement. I was thinking the same thing. He could very easily hit 215/220 by the time he graduates. That reads sledgehammer safety material to me. Then, when Coach Mick gets a hold of him...Shazier 2.0 doesn't seem unreasonable.
I took a peek down the mlive comments, and there seems to be legitimate, I guess you could say, "institutional control" concerns coming from a healthy amount of TTUN fans.
@M Man...what say you?
Clearly El Guapo is the belle of the ball, but in other news. Boom Herron scored a TD for the Colts last night (and recently cut Chris Rainey is salty about it). Via PFT (Rainey's Twitter is set to private now):
"Nice TD Boom even tho u was in the hallway with me that nite when we was horsing around with the fire extinguisher. Man up like i did," Rainey wrote.
I read through all of this, and I'm not sad about that.
I knew before I even read the second comment that someone was going to be butthurt. I love this site (and the internet as a whole).
Poor old fella. 58 years....I don't even plan on living that long. Never mind the fact that NO woman would be willing to put up with me for that long.
Katzenmoyer, David Boston and Michael Wiley, with upperclassmen Fickell, Bellisari, Mike Vrabel, Orlando Pace and Shawn Springs
For all of Cooper's shortcomings, that man could recruit. That's a hell of a list of name's right there. For what it's worth that team also had Antoine Winfield, Joe Germaine, Dimitrious Stanley (no idea he averaged almost 20 yds a catch that year...i was 10). Side note: Katz also had 4 picks that year.
And just think, with Urban's recruiting ability, we'll be able to look back in another 18 years, and just go "holy hell, that's a legendary list of names".
Many thanks for the 4th Skully DJ! In homage I've popped open a 6:30 AM PBR for the read through.
Hope everyone has a happy and safe holiday weekend!!
Am I the only one who wants him to commit to OSU and be great so someday we can call him Captain Kirk?
Not sure why you got DV'd on this assessment. I'd get you back to even if I could.
William's HAS only gotten marginally better. I believe a lot of that could be placed on him though. His lack of energy on the floor, I think, is an indication that he just isn't a hard worker; not committed to truly honing his craft.
Re: Oden...I question his coaching chops, but he could be a valuable recruiting tool to target the big guys I suppose.