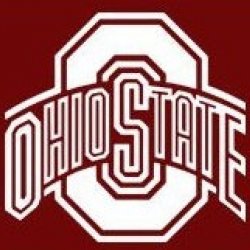 xrox
---
from Clintonville
Member since 02 March 2013 | Blog
Helmet Stickers: 223 | Leaderboard
Favorites
NHL TEAM: Jackets
SOCCER TEAM: Crew
Recent Activity
More Cardale "Fisher-Price" Jones!
"Fisher-Price" because he ain't come to Playskool
As the Atlanta Braves, multiple college football programs, and OSU basketball can tell you, sometimes even that's not enough.
I wonder if Urban's strict punishments have slowed down recruiting outside Ohio. I'm not saying that's a bad thing. If a recruit is pausing because following rules is hard, maybe OSU isn't the place for them. Or it could be the exact opposite, and the fact that OSU has been in the news in the off season is a deterrent. Who knows what goes on in each recruit's head? I trust Urban, and the guys he's brought in so far seem like good fits.
So why don't all teams use this? What are the drawbacks to running this technique? 'Cause it seems pretty awesome here.
Plug for former OSU soccer alum Roger Espinoza playing for Honduras. He took us to the finals a couple years ago and plays for English club Wigan. The Crew had a friendly against Wigan last year, so it was cool to see him back in Columbus!
I agree with you completely. When people try to profit more off of college football than the ton that it already makes, that doesn't sit well with fans, students, and alums. College football isn't pizza. Nobody has an emotional attachment to Domino's. Domino's isn't a university that will shape and become part of your identity as a person.
I always regarded scalpers with a certain level of disgust. I felt the same way about OSU raising ticket prices for "premium" games. Sure, the athletic department could make more on those games. The appropriate response should have been "So what?" Leave the exploitation to the scalpers.
Stars and bars? You support the confederacy?
Seriously though, I'm actually planning on visiting Camp Chase this weekend. I've never been there, even though it's just across town.
I'm a Crew fan. And a CBJ fan. And an OSU fan.
There's room for all these teams in Columbus. And if they win consistently, they'll get all the support they can handle. Did you see the Arena on TV (or in person) last night? Absolute insanity for most of that game. The Crew's supporter section, The Nordecke, has been sold out or close to sold out every home game so far. Not to mention the efforts they make to go to away games. Columbus has the best sports fans anywhere.
This article was also hilarious.
Okay, that was pretty cool. I hope that race becomes a permanent fixture. Branson for president!
The one that I personally hate is "one of the great..."
It's such a cop out. You can say "He's one of the greatest." You can say "He's the greatest." Hell, you can even just say "He's great."
"One of the great" is just trying to sound more intelligent by using more words. You aren't saying anything more profound when you use that phrase.
Who woulda thought that Crean and Groce would be at the bottom of any power rankings ever? Shame about Groce's team.
For a little speedster, he sure falls forward a ton. I think the Buffalo return was the only time he didn't fall forward, and then they could only stop his forward progress. I like what I see from him.
Another god to add to the B1G pantheon?
We have the AIRBHG. Now feel the wrath of the Angry Michigan Jake ACL Hating God (henceforth AMJAHG).
You don't hire an NFL coach just to settle a vendetta. If O'Brien would release Vrabel immediately after signing day, I'd buy your conspiracy theory. That's not gonna happen.
Do you think this is how Tressel applied? I think he may be the only guy that would get hired like this.
I'd like to see Sam Thompson and last year's FGCU team in a slam-dunk contest. I don't want a game. Not an even exhibition. Just straight up slams. Invite Mike Thomas. I would pay so much money to see that live.
I liked those two things, too. I just hope there are some traditions of integrity that are kept, like B1G teams refusing to oversign. It's BS that other conferences do it.
Glavine got 300 wins. Moose didn't.
Look at that bell curve distribution. Beautiful.
The coaching round-about gets nuttier the longer I've been watching. The talent pool just seems so shallow now. USC brings in Steve Sarkisian? Meanwhile, Washington is the BCS school to finally land Chris Petersen...I think UW made out pretty well there.
Who the heck will Texas get? Who do they even WANT? Their coach-in-waiting didn't wait quite long enough and is now at the helm at Florida. Jimbo Fisher worked out succeeding Bowden, but it really looks like Texas dodged a bullet by Muschamp leaving. The problem is...there's not much out there in terms of someone to handle a huge program like Texas. If I was a Texas fan, I might want Ed Orgeron or Rich Rod. Both risky, but there's no one available who wouldn't be a risk. The only surefire hit would be prying away Saban, Meyer, or Fisher...and it doesn't seem like that is even in the "so you're saying there's a chance" probability.
Three HUGE programs look like they'll be replacing coaches this year: USC, Texas, and possibly Penn State. What's weird is that with all of them...whoever they pick will seem like a disappointment upon hire, even if they do well down the line.
We've been REALLY fortunate or blessed or smart or something in our coaching searches. But if Meyer wasn't available...I don't like to think about it. I don't envy any school looking for a coach right now.
With an offense that relies on explosive plays and a short field, is it possible or probable that we see another game like Indiana? Could Cameron be the deciding factor in this game? Creating long fields might be vital.
I wonder how long it will take some people to realize we won this game...if I had turned it off thinking we lost, I know I would've stayed away from any recaps or sports sites until the next game.
I watched that, and I still don't fully understand what happened.
Weird. I was thinking along those lines the other day. Something like wrestling/boxing has in weight classes.
Maybe something like all football teams have to go by the service academy height/weight guidelines?
No idea. Using TEs and RBs for more passing plays is a dangerous trend, I think. Effective, but potentially dangerous for smaller DBs.