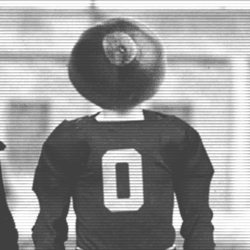 WyoBuckeye
---
Member since 16 October 2010 | Blog
Helmet Stickers: 253 | Leaderboard
Favorites
SPORTS MOMENT: 2002 BCS Championship
COLLEGE FOOTBALL PLAYER: Craig Krenzel
COLLEGE BASKETBALL PLAYER: Clark Kellogg
NFL TEAM: Browns
NHL TEAM: Blue Jackets
NBA TEAM: Cavaliers
MLB TEAM: Tribe
SOCCER TEAM: Crew
Recent Activity
Flounder (Hoke) for sure. But only because he is more unproven. I don't see a huge gap in coaching ability between the two. But only time will tell that for sure.
Downvote me for this all you want, but I kind of like Hoke as a person. He seems like is probably a pretty cool guy to know. Since he's the HC of TTUN, I hate his guts of course. But as a person, he seems like he'd be way nicer than Miles or even Rodriguez or Carr.
Like many others I am over having angst with respect to the polls. If Ohio State does make it to 13-0 and they still miss the BCS CG (which is very unlikely), I'll worry about it then.
Totally agree on the music. I've felt the same way for years. I do like the 'Hells Bells' intro on third downs, but that is it. At least if they're going to use commercial music, use something that isn't already used someplace else and is unique to Ohio State alone. And let the players select a different song each game for their intro. That would make it kind of fun.
Scott McMullen was a pretty good back-up. Got some wins for us when Krenzel was down.
I used to think the same. But these days, style points count more than they used to. Especially if Ohio State is a 1-loss team fighting for a BCSCG berth against other 1-loss teams.
I got chills watching that play. Love it.
Interestingly Cameron Mitchell no longer owns Mitchell's Steak House. He sold it to Ruth's Hospitality Group about 5 years ago or so. He also sold the Mitchell's (Columbus) Fish Market restaurants with them.
Only rarely is a college football team blessed to have a back-up QB with the skills, experience, leadership, and trust from both his team and his coaches as Ohio State is this year with Kenny Guiton. Enjoy it this year Buckeye faithful. Guiton is a priceless insurance policy that you can't buy.
Wow. I wish I had grown up in Iceland!
I think you mean Glendale.
The only one I own belongs to my two year old son. I am not a jersey type of guy myself. I stick to tee-shirts, hoodies, and polos to show my fandom.
They do have a power run game, and a very good one at that. But the power run game in CFB is just not used as much as it was in the past. Ohio State will still use the power run, but not nearly as much as in the past when 1000 yd rushers were more common. And even when the game plan goes heavy on a power run, many coaches try to spread out the carries. I think Ohio State used more of it last year than you might see this year, due to the personnel they were working with. But if the receivers play better, Braxton throws a better ball and makes better decisions, and Meyer uses the h-back more and more, I think you may see less power running than in 2012. So that's why I said what I did. There's a reason why 1000 yd rushers used to be much more common than they are these days.
Many of them make good aquarium fish too. We have an aquarium in our lab that has only small fish from Ohio. Some of the minnows and shiners have some interesting colors, but darters are definitely my favorites.
Sturgeon are definitely very cool, especially for the caviar lovers. Another good candidate along those lines would be the paddlefish which is what we call a 'living fossil' due to its close relationship with ancient fish. Gar are also pretty cool. Sleek and with rows of sharp teeth, they are very menacing looking (although almost completely harmless to humans)
As somebody who works with all of Ohio's fishes (not just game fish), I'd go with the rainbow darter (Etheostoma caeruleum). It's one of my personal favorites.
Another colorful Ohio darter is the greenside darter (Etheostoma blennioides):
In fact, I love all of the darters and there are quite a few that occur in Ohio. I'm also partial to the sand darter (Ammocrypta pellucida) due to it's sleek form.

Apart from the darters, I also like madtoms a lot. Madtoms are miniature catfish. Here is a mountain madtom (Noturus eleutherus). They grow to only about 4 or 5 inches at the most.

Well, I could go on all day with this discussion as working with fish is what I do. The small fishes are my favorites and the most interesting to me. Everybody knows about the big game fish (walleye, perch, bass, trout, catfish, sunfish, etc) but the small stream fish are rarely seen, yet offer so many interesting characteristics. If Ohio were to adopt an official fish, I would vote for one of the little guys.
Probably not since there are a lot things that need to happen for Hyde to get 1000 yds, but only a thing or two to happen for him to fall short.
When you consider:
potential injuries
a system not as focused on power running as in the past
a QB who can run
and a deep stable of RBs
I don't look for him to do it. I do think he has a decent shot at it though. It will probably hinge more on how many big runs he can break for because I'm not sure he's going to get a large number of carries. One thing I think Hyde has going for him is that he will probably get an extra game to accomplish the feat with the Buckeyes eligible to play in the B1G CG.
If I was a betting man, I would bet against it. But I'll certainly be rooting for him to get there.
I recently moved to UA and love it. Everybody has been very friendly, there are lots of nice parks and other things to do, and it is close to just about everything one could want.
No Boise State? Maybe not elite, but they definitely should be in the argument.
If recruiting QBs is like a box of chocolates, then the recruiting services are like the map they print on the inside of the lid. They give you little help in telling what is really good. You're usually better off trusting somebody who eats a lot of chocolates to tell you what is good and what is not (i.e. the coaches).
More like under my feet. I got the joke. I just decided to respond frankly so not to acknowledge such a lame joke.
LBJ and ESPN could have raised that money in any number of ways. It was about hype and marketing. There was no need to string along our northern brethren to do so. I think if LBJ could do it over, things might be handled differently, as I think he's a good guy overall. But I don't think it is too far fetched for Clevelanders to feel disappointed.