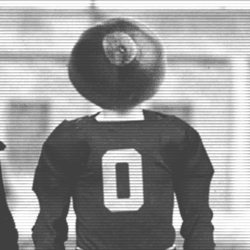 wyatt
---
Member since 03 December 2013 | Blog
Helmet Stickers: 258 | Leaderboard
Recent Activity
Gene Smith against Earl Bruce.
Gene Smith and moron should always be in the same sentence.
I always heard that Jesse Owens won 4 gold medals and upstaged Hitler but couldn't get a room back in the USA nor a mention from the President. Amazing how most people never know the real facts until later.
Charles Manson and Larry Flynt would get some votes.
Just watched UConn beat Kentucky for the national title. OSU sure needs some big men with good hands who can pass, catch and rebound with the big boys. I don't see it at this point, but Myles Turner is still available and could put this program to a new level.
KILBY-LANE sure knows how to hit like a Mac truck. He looks like a man playing against kids. Wow.
I still want Myles Turner.
Keep the Ohio guys. Wisconsin has Traevon Jackson, Nigel Hayes, Michigan got LeVert and Luke Kennard picked Duke. Myles Turner would be nice, but he will probably be a one and done guy.
Josh Perry was slow and didn't make tackles. He was horrible. Move on to faster, better, younger players who can make plays.
Anyone named Denzel who runs a 4.31 is fine with me.
Lee must be legit if Louisville, Indiana, Iowa State and others wanted him.
Now just get a big man with hands. After watching the elite 8, they all have big guys who can catch, pass, defend and play smart. Myles Turner maybe?
Great idea to have a Jack Tatum photo on a morning skull session. Izzo should stay as coach at M.S. and not be a hooker to the money. He is about the only thing in that state up North that I like. Is it just me or does Bobby Knight sound drunk every time I hear him talk?
OSU needs scoring. Only Ross could score and now he's leaving. The ttun and its sister getting Ohio players.....and advancing in the big dance should send a message. Now I hate Duke even more for getting Kennard. Matta needs to step it up in recruiting. We need a center who can catch the ball and looks like he cares about winning.....not tying his shoes during the game.
Enjoy the real pizza and lasagna. Amedeo was one of the bright spots to watch this year. I agree with some other comments but am afraid to voice them or get ten million down votes. Good luck Mr. Della Valle.
The Bucks played like they were in mud, had low bb IQs, made stupid 3 point fouls, an intentional foul on a break away shot, the worst 3 point shooter in college basketball (Lenzelle) and had a center with hands taped shut (it seemed). Sam Thompson was the only player who showed up in Buffalo. Who would know Dayton in the best college basketball team in Ohio?
We've got too many injury prone athletes on the team. Doesn't look good.
Thanks for the updates. Sure hope Gibson or Wimbush verbals to the Buckeyes soon. They could then bring others aboard.
The Flyers against the Buckeyes.......in Buffalo? Now that's funny.
Ready for Selection Sunday to see how the teams celebrate getting into the big dance. Just one suggestion for Thad: have your best shooter at crunch time....not your worst.
I agree with those who say Craft should have stayed on the bench when the team was going well. If it ain't broke, don't fix it.
Lenzelle was MIA. Shannon Scott got my respect though. Didn't understand how Craft can miss so many critical shots, free throws and have turnovers at the worst times. I hate losing to ttun anytime, anywhere in any sport.
Not sharp as we want to be.........how true.
I watched him play in high school in New Jersey:
LaQuinton Ross
Class:
Junior
Hometown:
Jackson, Miss.
High School:
Life Center Academy (N.J.)
Height / Weight:
6-8 / 220
Position:
Forward
Just get the best out there. I expect to see names like Trey Johnson, Camren Williams, Raekwon McMillan, Joe Berger and even Sam Hubbard. If Grant and Perry are our best, it will be a long season.
Shazier performed great in the workouts....but so did Vernon Gholston in 2008. Difference is Shazier can play on the field and blow up runners. I look forward to seeing him on Sundays.