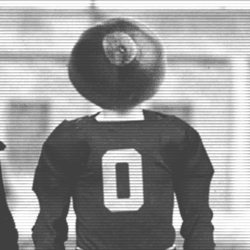 wyatt
---
Member since 03 December 2013 | Blog
Helmet Stickers: 329 | Leaderboard
Recent Activity
It's 2014 (not 2013) isn't it? Raekwon will play. Just don't wear number 45.
If you've seen other school's facilities, you'd be amazed. I've seen both Alabama and Texas and was totally impressed. Playing time, weather, development as a player and relations with coaches all are important. It would be a difficult decision.
Alabama has its own problems with players getting arrested:
http://collegefootballtalk.nbcsports.com/2014/07/13/tide-dt-jarran-reed-arrested-on-dui-charge/?ocid=Yahoo&partner=ya5nbcs
Esa Ahmad from Shaker Heights is also a beast and is the real deal. Get him to OSU.
Testosterone filled young men with no support groups and free time equals trouble.
I've seen Wimbush play here in New Jersey. His mother went to Penn State, so that had an effect. I really wanted him at OSU. His teammate Minkah Fitzpatrick is even better as a cornerback going to bama.
Great update on Robert Smith. I took my kids to the Spring game in 1990 and Robert couldn't have been nicer. He stood and signed autographs to everyone who wanted one. He was a superstar at the time. He's doing a good job on ESPN. Very straight forward with his opinions.
The most dangerous time of year......the off season before practice and games. Keeping my fingers crossed until practice.
He is a much better shooter than shown on the tape. Seems to have a great attitude and willing to work hard. Just what is needed in the paint to defend, rebound and pass. Great news.
It looks like Warren G. Harding was the original Tiger Woods.
Great he is ok. Why is "any" alcohol in his system at 8:30 AM? The most dangerous time of year is the off season when the players have free time to do other things.
He should start on his medical profession and not waste time knocking around the NBA or Europe.
He is too smart and I want him as my next doctor.
Ross made the right decision for him. Let's just say he is not the student type. Much like Daequan Cook a few years ago.
Stop using the TE as only a blocker and develop their game. Any player wants to go where he will develop and be used as an equal part of the offense.
Not sure why OSU is having trouble getting top notch TE players. Chris Clark is the real deal and could help change that.
Nothing like getting the best in Ohio players. Now Justin Hilliard from St. Xavier and Jerome Baker from Cleveland Benedictine.
This Giddens can play. He and Esa Ahmad from Shaker Heights would be an awesome duo.
Combining the mental part of Favre and the physical of Pryor would make quite a QB.
Great news for a slow Sunday. The secondary needs improvement now.
Ahmad can shoot with either hand, can pass and handles the ball well for a big man. And shoot free throws?
Don't write checks your bank can't cover. FFF ichigan
Must be in high demand....they are temporarily out of stock.
http://www.amazon.com/State-Buckeyes-Helmet-Stripe-Dress/dp/B00D8J3700/ref=sr_1_13?ie=UTF8&qid=1401745225&sr=8-13&keywords=OHIO+STATE+SOCKS
I want Hilliard at OSU because (besides being a great football player) seems so intelligent and knowledgeable about what he wants and sees through the BS schools can give out. Sounds like he can be a leader on defense....reminds me of Chris Spielman.
I'd like to see some of these guys see the campus, facilities and know this is the best place for them.
Oden still contributed about as much as Hibbert did for the Pacers.