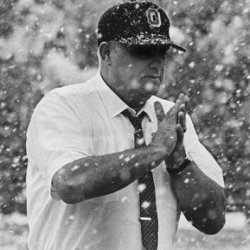 Woodysghost
---
Member since 02 February 2014 | Blog
Helmet Stickers: 163 | Leaderboard
Recent Activity
My heart tells me leave the guy in to watch the magic as much as we can before its over. But my brain knows that any reps we can give those back up QB's are going to go a long way in developing them for next year. I'm torn.
Well imagine that, Torrance Gibson is lining up at WR today in 7-on-7. Guess the ankle is feeling better.

— Jeremy Birmingham (@Birm) July 9, 2014
Torrance Gibson just reiterated that he will not work out at WR during @TheOpening2014 - said his ankle will prohibit him from doing so.

— Jeremy Birmingham (@Birm) July 7, 2014
Birm wrote that Gibson was with the QB's on day one (while saying all day he was a QB and wouldn't be with the WR's) but then I believe did end up moving to the WR's the next day. I don't remember seeing anything on him actually saying why he made the switch after the first day though. There was talk of him having an ankle injury but I'm not sure if that factored into it or not.
Well this was the first year they have tried it that way. It worked really well, was user friendly and makes less work for the university. I could see them rolling it out across all season tickets in the near future.
Doesn't even have to be a common provider. When you sign into say Watch ESPN app it asks you your cable provider and then your username and password through that provider. But I would recommend checking the apps first to make sure they have the cable provider you want to use. Not all the apps have all cable providers.
Most of them should be on the apps espn to go, btn2go and the CBS app. The only problem you might run into is that a lot of those apps make you sign in using a cable username and password. So basically they want you to pay for cable in order to use the streaming services. However, in college I didn't have cable but couldn't miss my buckeye games so i used my parents username and password and it worked great. So really all you need to do is find a nice friend or family member that does have cable and see if you can piggy back off their info (much like many people using the same netflix account).
The only problem with this is the quality is hit or miss. Sometimes its really clear and other times you cant tell what sport you're even watching.
They are through staff of OSU. Though my understanding was it was used for all season ticket holders, but I could of been mistaken.
That's the smart thing to do.
This year when getting our season tickets we were able to choose the section row and specific seats we wanted for the year online. Im not sure why you weren't given the same.
I might have to make one for those her.
Could just be the PSU staff pushing him to come to campus one last time to make sure hes positive in where he wants to go.
Pretty sure I saw in a thread that a staff member said they were in the process of making one again this year. Sorry can't find the actual thread to link to though
Is your first name Michael?
I went to middle school and high school with him. Really nice guy all around. Hopefully that family finally comes around. Also, talk about a psyco ex gf
i think it does have to do with personnel. Last year it was no secret our DB's werent playing to the level we would of liked making it almost impossible to run a press coverage effectively. In order to play press coverage you need to have the confidence in your DB's to not get burnt and stay on their man. Thankfully, its looking like we have that this upcoming year.
Not a big soccer guy normally but i cant miss an opportunity to root for my country!
USA! USA!
CHOO CHOOOOOOOO
If i could i would upvote this gif every. single. time.
I think you have to be a little bit of both to volunteer for something like that.