Woody16111
---
Cleveland Heights, Ohio
Member since 08 July 2013 | Blog
01' OSU Alum
20-17-1 against TTUN
Steelers Suck!
Favorites
SPORTS MOMENT: 3-January-2003
COLLEGE FOOTBALL PLAYER: Anybody who sacks the _ichigan QB
NFL TEAM: Browns
NHL TEAM: Blue Jackets
NBA TEAM: Cavaliers
MLB TEAM: Indians
SOCCER TEAM: Crew
Recent Activity
Same answer for the number of conference games teams should play.
Who was the dweeb "reporter" asking stupid questions about bye weeks and how many conference games each team plays? I hope it's his first day on the job. If that is all I had prior the call I would keep my mouth shut. Why not ask "How many check out lines should be open during peak hours at the grocery store?"
I think the key to this game is in the trenches.
If OSU can get pressure w/ 4 guys OK going to be hurting
If OSU can man handle and run the ball OK going to be hurting
I don't want a shootout, though I think some points will be scored
I was concerned about our D Line but less so now - though this game is a major upgrade in talent
A month ago I pegged this game as an L - now I think it's a coin flip
Not sure what to expect but I like Earle Bruce's motto when playing on the road, "Nothing like a quick 14 to quit the stands"
GO BUCKS!
Best coach of young talent in the country is Urban Meyer
If you have the personality and can connect with people on that level, man you can go places. That is a leader. Urban Meyer is a leader and a winner.
Dripping with talent from one position to the next - OSU is primed for a run at a dynasty.
Win or lose in Norman, these guys are good and if they stay the course championships will follow.
I'm more optimistic about this game than a month ago primarily because of D & O line play.
If OSU wins in the trenches, they win the game. OSU can't let Oklahoma sling it around and drop 30+ and expect to match them and pull out the win in a shootout.
All in baby, all in
I had a feeling PSU was going to lose when I heard Franklin do his best Cooper impression before the game: " This is just another game "
Uh, no it's not. It's a rivalry game and Narduzzi knew it and had his guys ready. PSU looked stuck in the clouds
With that said, it's simply not totally fair to ding Franklin at this point, until PSU has a chance to build some depth w/ added schollies.
Northwestern isn't in a position to demand a whole lot from their football program, but how can it get any worse? Fitz could be on the hot seat if he can't get to .500
OSU defense as a whole is "Stock Up" - now they got to prove it Saturday.
We got hundreds of little versions of Norman in Northeast Ohio but with better beer and strippers.
It's time to fire up the "BOOGER CAM" - $50 says the Harbaugh kid picks his nose again, another $50 says he eats it, again.
Offensive line needs to show up BIG TIME in Norman - could be the key to the game.
How about the creepy dude in the back with the "Did anybody notice I farted" eye scan
Glad Clemson fell out of Top 4
It's not that I don't think they are a good team, I just think they need to earn it
I felt after the Auburn game they should have dropped out
I'm not sure what else Houston can do, they only beat the #2 team??
Houston is going to have to continue to win, and win big and wait for the others to drop so they can rise.
I feel a lot better about the Oklahoma game then a month ago - OSU is clicking, lets hope for a quick start in Norman.
In the words of the immortal Fred Sanford - "This is the big one Elizabeth"
J.T. needs to get rid of the ball a little quicker, especially next week
I'm not concerned in the least about the slow start - we dropped 77 last week and ended up covering this week - nothing to see here
DEFENSE!
Can't wait to see #2 house a punt/kick-off return
I feel a lot better about the Oklahoma game then before the season started
The competition hasn't been good but you can see this Ohio State team is clicking - despite the slow start today - the Defense came through when the O was down
$50 says the Harbaugh kid picks his nose
This is going to be the BEST Week 2 in college football history and last night proved it with that epic Louisville Vs. Syracuse match up
We saw every thing last night - a temperature controlled dome hovering at 85-95 degrees causing Louisville players to cramp-up every time Syracuse got to third and short on a quick huddle - AMAZING
I think Louisville just scored on Syracuse again, five minutes ago
There is nothing that says EPIC then a game that looks like a seven-on-seven drill
Applebee's Happy Hour: Great way to go to jail.
I've been a regular at a lot of bars, a few dive bars, so I don't mean to sound snooty here, but I've seen some regulars at my local Applebee's and I really believe that is where people end up who get banned from other bars.
Also, I think Applebee's is where you go when you don't know where else to go.
Creativity is a good thing, I miss the "Ickey Shuffle" and other dances from the NFL glory days of the 80's early 90's.
Maybe the guys can take a rhythmic gymnastics class to get "In-sync" ? - that would fit in nicely with today's higher education culture.
Would you look at that pussy!
The "life of crime and infamy" part is what sparked my memory of what role, limited as it was, Michigan played in creation.
Scorned for being over passionate, the person who designed that Script Ohio went on to a life of crime and infamy.
Not surprising since Michigan came up with it
he is one of those guys that you wish you could put a franchise tag on in college..
Maybe if we start to pay them ...
Sooo did they have to copy those by hand to pass out to every band member?
You may not remember this, DJ, but before Xerox, there was once upon a time a device called a "Ditto Machine." Think "Betamax" to "VCR"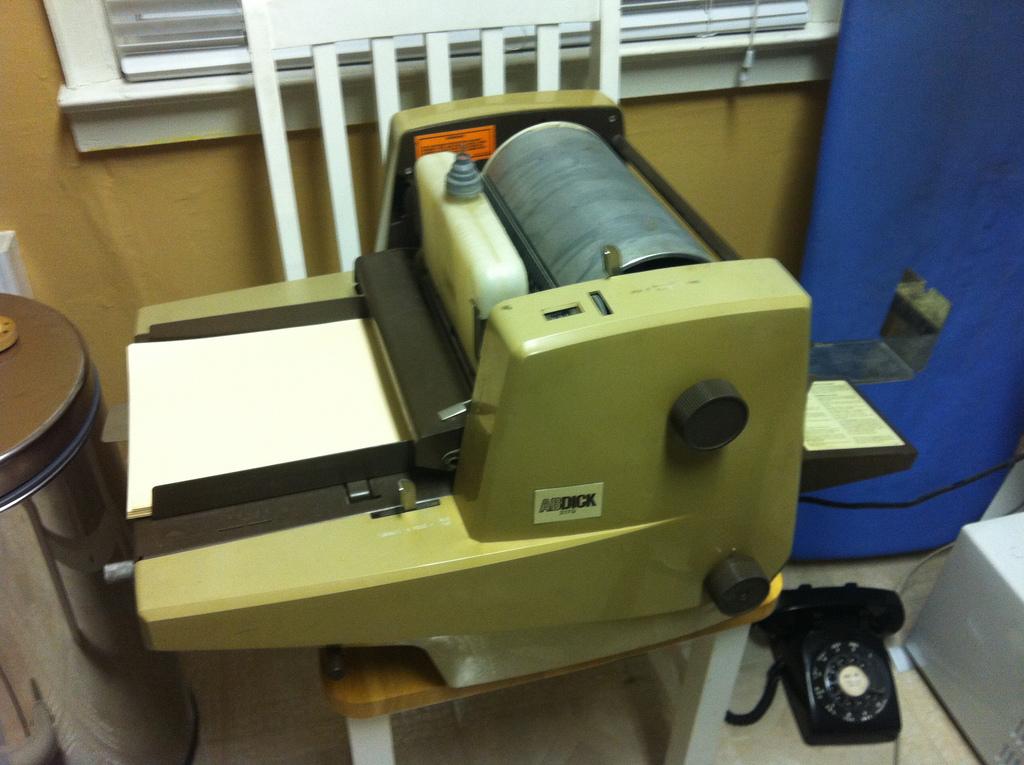 With this beauty - you had one entire font style and color (Purple Ink) and you could hear it from a mile away.
If you remember this giant of technology, it's what what separates Generation X from Millennials
If Samuel stays healthy, there isn't a defense that can defend him across the field and Mike Weber up the middle over four quarters.