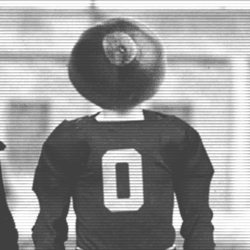 Woodshed
---
Member since 10 August 2012 | Blog
Helmet Stickers: 2,141 | Leaderboard
Recent Activity
I don't think Jefferson will be there.
Afaik Jennings will be a safety. Gibson has also stated he doesn't care.
so 0 effect IMO.
There is no source. It's complete nonsense.
FWIW, IMO there is almost 0 chance Jenkins comes here and I am 100% cool with that for various reasons.
No way. It takes much more than a qb to be top 5-10. They have no depth now and will have 1 more class to add depth between now and then. Then that (lack of) depth has to be developed.
People are vastly underestimating how crippling these scholarship reductions will continue to be.
They aren't getting Fitzpatrick. Probably get wimbush though.
Best news in quite a while!
It is neither convenient nor cheap to come to ohio from Florida.
Tenn has been on him almost as long as OSU. He has visited there quite a few times and his best friend committed to tenn this past class (2014).
in the end he could choose OSU, but it seems like we have seen this movie many times before with the local team winning out in the end.
Richmond is more of a concern than Gonzales IMO. I think he is prob choosing tenn.
Don't know anyone that puts osu as the "favorite" to land him. I assume osu is top 3 as they have always been. Kid has visited osu and mich MANY times and doesn't give much when it comes to clues about his thought process.
I have to admit, I am going to be a little bummed if we don't get a commitment this or next weekend.
Fwiw, it seems like Fitzpatrick hasn't had real interest in psu.
Afaik. No one has said any different.
It is a spur-of-the-moment thing. That is why it is tentative.
This is for everyone clamoring last year about Kentucky coming and getting ohio players and the b10 dropping the ball. MSU is all over ohio this year.
He is an ATH playing QB.
no doubt about it.
0% chance turner is going to osu. IMO they are done for next year.
Meh, IMO it's not other schools' problem that some schools have harder academic requirements. If a kid wants to attend one of those schools badly enough, they will just wait until the normal signing day.
I am all for an early signing period.
Harris
baker
fitzpatrick
wimbush
sweat
honorable mention: richmond
His best friend committed to Tenn. Last year. That and them being being the local school makes him pick them IMO. Sucks, but that's what I think happens.
IMO, OSU needs to stop holding off on future class commits like they have been known to do.
Yes, I know about Jones, EGW, Dean, and Clark but I have to think that there are others that may have wanted to commit but were told to hold off. At some level I think that delay allows other threats to legitimize themselves.