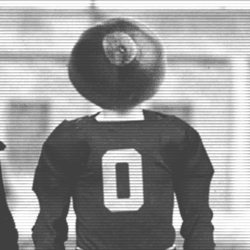 Woodshed
---
Member since 10 August 2012 | Blog
Helmet Stickers: 2,878 | Leaderboard
Recent Activity
Is anyone else hungry for corn rolls after reading this thread?
I dont even know what they are, but they sound DELICIOUS.
I assume they are claiming he is picking them?
The series against Tenn and the series against UGA were cancelled because the B1G and PAC had agreed to schedule intra-conference games with all members playing. Knowing those games were coming, they cancelled those 2 sets of games. Since then, that supid PAC/B1G arrangement fell through and now OSU has to fill those spots.
To insinuate that OSU "chickened out" is nonsense and completely untrue.
Lebron returns, gene returns, ipso facto, gene=lebron James
Quick question. Isn't he actually a year older than his HS grade? Meaning he is going into his soph year, but isn't he old enough to be going into his JR year?
Peppers is 5'10" if that. There was a pic of him from earlier this summer standing next to a couple players (one was Damon Webb) and he was clearly shorter than Webb by at least 2". (and webb is listed at 5'11" on most sites)
Edit: Found it
Peppers(UM) and Webb(OSU) putting in some work today at Harrison H.S pic.twitter.com/7fTGqp7VFY

— damon webb (@webbdamon) July 5, 2014
Regardless, he doesn't play the same position as sweat.
Sweat plays WSDE. Alabi will play SSDE or DT.
I have only heard that he will announce at an AA game and enroll early. I havent seen anywhere that said sweat will announce before his season.
That is also 3 days before richmond's decision date. That would be GREAT if he tagged along for an official that day as well.
I think you guys are thinking too much about his comment. My interpretation is simply that there will be no more lists. Not that his personal preferences won't change before announcing.
Here is an update, Gibson tweeted that he was having breakfast with Richmond this morning. I consider that great news considering I didn't know how long Richmond was staying.
He should be on offense anyway IMO.
I think I read that Gibson is here until Sunday?
I am trying this again.
I want Layne offered!!
Removed exclamation point from thread title............
Let's see a couple 16' commits!!!
IMO osu still wants gallimore badly.
Haha, Adam beat me to it!
Someone claiming Sweat showed up.
Which seems unlikely that no one has said anything but this one guy.