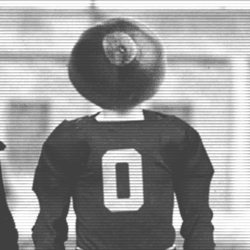 Woodshed
---
Member since 10 August 2012 | Blog
Helmet Stickers: 2,114 | Leaderboard
Recent Activity
Harris
baker
fitzpatrick
wimbush
sweat
honorable mention: richmond
His best friend committed to Tenn. Last year. That and them being being the local school makes him pick them IMO. Sucks, but that's what I think happens.
IMO, OSU needs to stop holding off on future class commits like they have been known to do.
Yes, I know about Jones, EGW, Dean, and Clark but I have to think that there are others that may have wanted to commit but were told to hold off. At some level I think that delay allows other threats to legitimize themselves.
Baker, EGW, Hilliard, Conner, Daniels, and Crawford
Fwiw, he has been on campus before.
FWIW Troy Smith was a consensus 4* ATH and an elite 11 invitee.
Does that dude EVER have fun??
Posts like this make me realize that we have just as many clueless fans as people claim that we do.
Baker as well. He was quoted at one point that he noticed all of the LB's coming in.
Man, I really hope osu can keep kennard and bragg in state.
Reading the tea leaves is certainly not very encouraging on kennard but I suppose a bit more encouraging on bragg.
With the 2 commits already in hopefully it helps encourage these guy to come in and complete one of the best classes in the country.
BOB also knew vrabel very well from their time together with the pats.
People won't like to hear this, but I am not sure that the absence of short passing is due to the OC. imo he is aware of the limitations of his starters....
I said absolutely nothing about osu.
I am replying to the notion that stanford is overrated. imo they are and have been for the last couple years. Their 18 returning starters lost to Utah this year and I just don't think the PAC12 is that good.
This x1000000.
i saw this and my first thought was "Stanford?? Really? Stanford??" Unreal.
That play was one of the best defensive efforts by one player that I have ever seen.
i had to watch it 3-4 times. It had it all. Instincts, athleticism, intelligence, and hands. Just awesome.
Jalyn Holmes: Such an important piece to this class for SO many reasons.
IMO many forget what a coup he was. Kid will be a stud and is obviously a HUGE asset in osu recruiting.
Agree.
The worst part about the uga-tenn series is that they were canceled for that pac12/b10 agreement that never even happened....
Lame
The reductions are still in place for this class.
Anyone besides me VERY curious where these last 5-6 spots are going to come from?
I don't think they are bad. I just don't think they are good.
Average IMO.
Mich is 6-4.
I don't think they are good.
I very rarely literally LOL reading boards.
I just did at that one. Well done.
Great question. We have all heard the quote from someone that said it may be impossible to keep him from that side of the ball.
I am hoping he is an early commit. Kid is a stud.