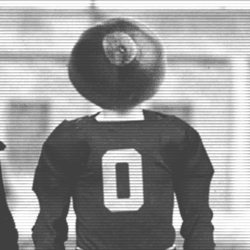 woodcocklives@osu
---
Member since 13 November 2013 | Blog
Helmet Stickers: 27 | Leaderboard
Recent Activity
OSU's first ranked opponent in 2014 will likely be MSU, in November, fwiw.
He coached his way to a B1G title and Rose Bowl win. Warinner didn't.....his line actually regressed, or just showed their true colors when they faced a legitimate defensive front.
I get what you're saying, but frankly, the City of Cleveland, proper, represents less than 10% of the NE Ohio population (i.e. Browns "nation"). NE Ohio is a great place to live, invest, and grow. I hope it never becomes as stale and homogenous as some of the other so-called "cultural" hubs in our great state.
And if we are using Michigan as a barometer, then OSU ~= Akron, right?
"The images of Orlando Pace, LeCharles Bentley and Korey Stringer matriculating from Ohio State to the NFL seem as distant as the Berlin Wall. That will change in April when Jack Mewhort, Andrew Norwell and Linsley sign pro contracts. At the center of the rejuvenated line is Warinner." Comparing the current 3 to the historical 3 is simply inaccurate.
Outcoached...in all facets.
Did you finish?
He didn't and he can't.
"just wait" ...that's a familiar refrain.
UM3 has a different approach that the offensive wizards amongst our fan base finds refreshing? Stunning .... Now, back to the absolute worst fundamental defense we've seen at Ohio State in the last 20 years......
Fast forward to 2013. Carlos Hyde had a monster year, but when he's out, Eze was more than ready to fill his shoes; plus many more behind him. This is one example, but I feel is indicative of Tress's OSU teams.
This is just plain silly, on so many levels.
"Most Buckeyes fans disrespect the history of this match-up." Most Buckeye fans disrespect Buckeye history, in general. See this article we're commenting on.....