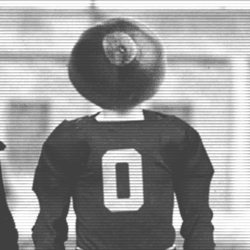 wojodta
---
Member since 23 July 2013 | Blog
Helmet Stickers: 343 | Leaderboard
Favorites
SPORTS MOMENT: OSU beating Miami for the 2002 title.
COLLEGE FOOTBALL PLAYER: Mike Doss
Recent Activity
Agreed. You have to keep the little guys with the big guys. It just makes it more interesting. This could turn CFB into the NFL where the teams aren't really all that different in terms of talent (which is boring to me). Plus what happens with March Madness? They'd have to shrink the field if they're cutting down the number of conferences. Not a good idea IMO.
I think OSU is the most hated team in CFB and arguably in all of sports. So people go out of their way to bash them at all costs, even if they're blowing smoke. If you look at any OSU article on another site, the comments section is basically just a bunch of haters ranting. Those Florida fans that hate Urban have got to be the most butthurt fans I've ever encountered. They're like the clingy ex-GF that can't take the fact you're with somebody else. Even if they really do believe he lied, who cares? The guy won you 2 national championships.
OSU will be on the home side.
I hope they do give some of the young guys a shot, but I'll believe it when I see it.
I have to disagree in that I think CFB is decided on the field. That's the point of the regular season. I am glad the playoff is coming and I think 4 or an 8 team playoff is the way to go. Anything more is excessive and would ruin the regular season. I'd never want a March Madness type playoff which renders the regular season totally pointless.
I wouldn't go so far to say they got exposed. It was a pretty close game and we knew all along that the D wasn't that great.
I'm thinking Sparty will run a bunch of screens and I guarantee you at some point they will run a fake FG or punt. Dantonio is known for running trick plays in big games. Hopefully the Bucks keep an eye out for that BS.
There's a difference between being critical and complaining endlessly. Of course the D looked bad, but at some point you gotta just enjoy the win. Let it go.
No one was hurt so who cares. The punishment should be based on what actually resulted from this not what might have occurred. No more punishment should be necessary.
The D looked fine to me. Who cares what happens in garbage time.
Yeah it boggles my mind why so many people want a 16 team playoff. Do they not realize it would totally ruin the sport? It has to just be casual fans that want a 16 team playoff. The diehards know better.
I've always thought 4 teams was the best. I just don't think you should be able to win the title with multiple losses, even with a tough schedule. I'd hate for CFB to become like the NFL where after loss it's like oh well we got all season to turn it around. 8 teams is definitely far superior to 16 though. I pray the sport never goes to 16.
I don't think that would actually happen but I'm sure many people in the media would be asking for it. To me Auburn has 2 losses right now.
Indiana's offense is very good though. This past week was an aberration because of the conditions. Hopefully it will be ugly this saturday too.
and David Cutcliffe...seriously
They really should not get full credit for that BS win. It was like the opposite of what happened to Wisky.
Baylor's schedule is not tougher. Not sure why the media keeps saying this. By the end of the season, they may have only played 2 ranked teams. If people actually think Baylor is better, then that's fine but don't say they should be ranked higher solely cause of schedule. That's a bunch of BS.
I agree with you completely. People can complain all they want about the BCS. It may not be perfect, but it definitely does a better job of crowning a true champ than the NFL playoffs or March Madness. You have to be good all season long in CFB.
Because of that gap in talent in CFB, I think it makes the upsets so much better. When an upset happens in the NFL it's not even that surprising. Plus an upset in CFB can change the national title picture whereas an upset in NFL doesn't really affect anything.
I still think 4 teams is the best way to go. Just take the top 4 teams in the rankings. I'm not a fan of taking only conference champs because sometimes a crappy team gets lucky and wins their conference.
Illinois actually has a decent offense so I wouldn't be surprised if they put up some points.