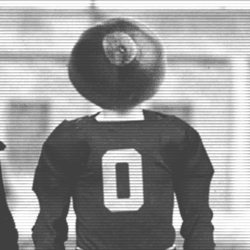 Wobble in our Shoes
---
Member since 01 September 2010 | Blog
Helmet Stickers: 216 | Leaderboard
Recent Activity
Kind of a sidenote, but I totally agree with the bar statement. Between Sugar, Charlie Bear and Gaswerks, I can't imagine three worse places on the planet Earth. Bro central from Thursday to Sunday nights
I would think Shawshank Redemption would make Ohio #1, no?
Anybody notice that when using the '11 Pro Combat unis, the numbers on the helmet are reversed? For example, Hyde's #34 was "43" on his helmet. Just something silly I noticed that I hope doesn't get overlooked.
Agree or not, I think this team overachieved with an Elite 8 trip. Obviously, I wish we would've gone longer. This is the first Matta team I can remember without a first round NBA pick (NIT year nonwithstanding). I'm proud of the boys for having the heart to come back, and hope they all return next year for feasting on a weakened B1G.
How Firm Thy Friendship...
Imagine how good we would be if we had success in the first 8 minutes.
The crowd was particularly impressive, considering all week we heard about 'Zona's "home game". Fuck yes alumnis, way to travel!
I screamed at Craft for taking that shot, then screamed at the basket. Scared everyone on the 3rd floor of Kettering Hospital, but it was worth it. That's destiny shit right there.
Hitting on all cylinders right now
I tried to find out: http://www.ncaa.com/game/basketball-men/d1/2013/03/22/iona-ohio-st?ncaa_mid=interactive-bracket:iona-ohio-st:gamecenter
This NCAA site says 11:00 AM, so maybe the first session?
DISREGARD THIS! It appears to be a placeholder time.
Anybody know when the session lineups are announced? The full ticket is going for like $1000+, but individual sessions are much cheaper.
Deshaun getting those dagger free throws just seals it for me!
On to a 2 seed!!
Thomas sinking these dagger FTs
The Badger tears taste so good!
Alright fellas, just move on and win it CLEAN
Nice to hear the crowd support! BRING IT HOME!!
HE PUT THA TEAM ON HIS BACK!
That being said, it's nice to be playing your best bball the third week of March.
Thompson has been hot playing in his hometown. Got that chip on his shoulder!
I wondered if that was TV Teddy, then I saw the ass-slap on Thompson and knew without a doubt. Gonna be a frustrating day.
I read the story and never pieced a third person into it. As far as I have come tonight, being in the presence of a forced sexual act, and not stopping it, is nearly the same as committing the sexual misconduct. Maybe a third person was in the room and didn't interfere? It's all baseless speculation at this point.
Fuck that's awful. I hope people hold off until the dust settles, but I bet people get cutthroat about this (rightly so). The past few years have made me uber cynical about the media.
Crean's press conference is going to be schadenfreude at its finest!!
Anyone else watching IU's Senior Night on ESPN3? It has to be absolutely deflating for them to do it after that game.