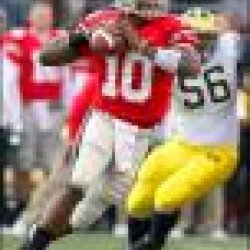 wiz khalifa
---
Member since 18 February 2011 | Blog
Helmet Stickers: 31 | Leaderboard
Voting Record: 0 / 0
Recent Activity
LOLOLOLOLOLOLOL ITZ ALL ABOUT THE U!!!! Death penalty????
For me it has to be NC State '03. My parents had just divorced and everything just sucked and my dad took me and we were in the south stands it was so amazing. We had a huge lead then that last play was the most nervous moment of my life and then they said he was down and i cant remember a more satisfying and relieving moment in my life still to this day lol.
wait so TpeezyJew still never gonna play again after the article proved nothing?
Really sad right now, truly the end of an era. All i gotta say is the Tat5 need to go, right now.
yes more basketball! football is just so depressing sometimes lol
congrats to those guys, makes us all so proud, go bucks!!!
aight good, i really, really want him to stay, i just dont know what to feel right now, should i feel diffrent about this crap from what i did yesterday? i just dont think i grasp the full meaning of what happend today.
so, is it safe to say the vest is gone?
i have nothing to say, i really really thought this team was gonna make it to atleast the elite 8, something i obviously havent learned is to never ever trust a thad matta team
omg reallyyyyyyyyyyyy hope not m man
boston becomes first 16 seed to defeat a 1 seed. im callin it
wow, im really nervous now, id honestly be surprised if we made it through
crap george mason or nova, our bracket is tough
CHADPARKER322 im in lets do it
OSUBUCKS10 i comepletley agree with you, but it is the football thing, basketball will just never have the popularity football does, not that its right, it just is, i was there, it got loud at times but i definitly agree, it could and should be alot better