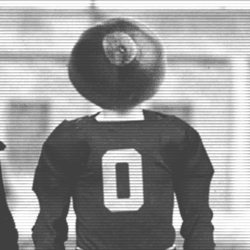 whobdis
---
Member since 13 November 2011 | Blog
Helmet Stickers: 482 | Leaderboard
Recent Activity
Meh...he's a ND fan. His fake girlfriend probably dumped him and he's butt hurt
I was in Mexico for that game..I found a sports bar and most of the people were paying no attention to the game. But when they reshowed the play they were all pointing at the big screen.
Yea..I remember Pagac saying the most important players in his scheme were his corners. He said if they could cover one/one he could do lots of 'fun stuff' with the rest of the players. And he did..always kept teams off balance
The story on A&M is pretty strange..can't believe they can do that
I rewatched a few games during the offseason..as a few have mentioned it's amazing how many runs were just a half step away from breaking it. Maybe he needs to learn that little high step kick that Braxton uses from time to time. And I don't think it was Urban who started the hype as much as other players..I even think Urban said the talk need to be toned down a bit. I think someone had the stats and he still had more yards as a FR than Wiley..who many think had a spectacular FR year (most due to his first game.)
I think your question as to whether Spence may be better is valid..can't remember it being so quiet over the guy who leads the team in sacks.The guy has AA skills though his suspension won't help. Another guy I'm anxious to watch is Michael Hill..I remember the olineman last year talking about how tough it was to block him. Probably won't be a sack guy but another disruptive type lineman is a good thing.
I think it says a lot that they do NOT show ANY comparisons. They usually do in such circumstances and you just know they ran some numbers..but they don't show them because they don't really suppport their story line.Numbers like this mean nothing without some benchmarks or comparisons. Maybe they are bad but I have no idea
The fact that Matta has been here so long and just now someone is writing about losing Ohio players tells us something. There were very few boohooing about these kids as they went elsewhere..it's pretty easy after the fact to pick and choose which guys we should have kept in state. Matta will right the ship and nobody will care how many Ohio kids are on the team..but have an off year and you'll get stuff like this.
I grew up in the Columbus area but moved out about 15 years ago. It was frustrating to see our leaders just miss the boat on so many opportunities. How can these people go to conventions in San Antonio..Indianapolis..ect and come back and see nothing of that magnitude being developed or even in the plans? Much of it as due to bickering amoungst our politicians..the Columbus 500 is a prime example. Not long before I moved I believe it was the Jacobs that wanted to put an entertainment area in the old Lazarus warehouse..but they couldn't obtain what they needed from our city decision makers. It sounds like we have some leaders with some vision stepping up..kudos.
wow..drone footage is cool. Almost took a hit a couple of times
I see more YAC guys than we've had in awhile..guys that can take a 5 yard pass and turn it into a TD. But this will take some adjustment by Braxton (if we go that route) as he generally looks downfield first. I would like to see more short yardage easy passes and let these guys make plays. Early in the season Miller was taking those but for whatever reason as the season wore on I felt he was trying to score the big play every down. It should be fun to watch.
I agree DC..some forget that Clark was the first of the new receivers to see the field prior to his injury..so the coaches must like him. His HS film was crazy (as it is for many of these guys).
I think there is a difference between Harvin and the tradional H-back. Harvin was a freak..it would be like us saying we need someone in that GInn role. I think Marshall could be the perfect H-back as he does have the speed and some power. I don't think Brown plays this year but he may the most interesting of the bunch..Brown and Hubbard will be fun to watch on offense to see how they develop. That's what makes CFB fun..watch these kids grow.
Only Purdue scored less on our godawful D than PSU did last season. I'm sure Hack will get them some points but they still have issues. A bit too much hype is being handed to Franklin. His recruiting is going well but I would think as for just coaching..it's a step back from O'Brian. Still..night games in Happy Valley can be tough.
Having drove trhough South Dakota I have to agree..though the west end seems to have a little more going for it. But the entire drive(from east to west) has a LONG stretch of nothing (but billboards about the Corn Palace and Jellystone Campground)
I've never quite understood some attitudes towards TP. Everyone was fine with Boom when he came back..and the rest of the tatgate crew for that matter. The guy gave it all on the field..played hurt and rarely missed a down. The are lots of reasons for Luke's awful season but most of it was the drop off from TP to Bauserman and a 'not yet ready' Braxton. I've heard from numerous sources that TP could have thrown OSU under the bus but chose to distance himself. The guy said some stupid things but what 19 year old hasn't.
There is some truth to this..but on the other hand..every coach says a great running game opens up the passing game.One would think with Braxton and Carlos in a backfield the defense would be focused on the running game. We SHOULD get some big plays with the guys we have. There are issues with the guys mentioned (starters) but one thing I'd really like to see would be a great YAC guy..someone who can take a short/intermediate pass and make something of it. Wilson looks like he could be that...and Corey Smith showed he excelled in that area (albeit JUCO). Marshall could also help in that area imo..if he ever get's healthy. Should be fun
Brown and Hubbard are the most interesting of the recruits imo. It's hard to speculate where either will end up when it's all said and done. Frankly he looks like a running back to me on the field. He could be another Boston..he could be another Rod Smith that seems to have trouble finding his way on the field (despite impressive physical traits). I do like getting some physical receivers though as we've been pulling in a lot of speed guys. THis is the fun part of CFB though..watching these guys develop.
I really liked Ball coming out of HS. I know Dunn was rated higher but Ball had more in his skillset in my opinion. Like others have said he would be starting at a lot of schools. Last year in camp some coach said he had more long runs than anyone against the first team D. He has the vision, size, balance and speed. I remember seeing this pic of him running track..the kid is a huge
Agree completely..what's strange is..ESPN (and others) have seemingly blew their wad on Ohio State. Since that time period numberous programs have been guilty of all kinds of missgivings but the story lasts a day or two. If a current Bama player came out today and stated he was being paid I'm not sure there would be much uproar. Hell Pat White stated he was offered a car and nobody cares. It's more interesting to dig up stories on Urban's Florida teams apparently
It amazes me how many articles we still get on Myers problems at FL. When he was at Florida and issues reported nobody seemed to care...he's at OSU so NOW it's an issue. And somehow Cam Newton is often mentioned more with Urban/Florida than he is with Auburn. I guess he was criminal until Auburn took him and straightened him out.
I think way to many forget how effective these plays are 99 percent of the time and focus on ONE play against MSU. I know I've seen the play countless times and as many have mentioned if the blocks are made the play works. What I didn't really notice before was how far outside Braxton had intended to run. Easy to say now but if the cuts in(like he frequently does) I think he makes the first down easily. MSU D was very aggressive to the edge and and already had 4 defenders in the area when Braxton was just past the tight end (who missed the block). I hate running these to the short side of the field as well..though I understand the thinking
I just want a guy that can read the defense..go through his progressions..and be accurate. I don't care if he can sling it 80 yards down field.
I thought Billy Price looked pretty good in the Spring game..the guy just moves people. It will be interesting to see if he moves over to guard with Chad coming in.
Every year we have some kid who someone claims has TG speed..this may be the closest we've seen in awhile. He doesn't run anything like Teddy but just the same he seems to blow by everyone. Some of those defenders had great angles and still grasping air.